Haile: "I will run as fast as I can in Berlin"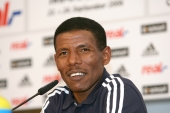 Haile Gebrselassie will make his first appearance at the real,- Berlin Marathon on Sunday. The 33-year-old Ethiopian has already set 21 world records in his outstanding career, but the two-time 10,000 meter Olympic champion is still chasing one major goal: the marathon world record of 2:04:55 hours, set by his long-time rival Paul Tergat in Berlin in 2003. The flat course in Berlin gives Gebrselassie a great chance to improve Tergat's mark. Gebrselassie's personal best stands at 2:06:20, set when winning in Amsterdam last year. He recently spoke about Sunday's race.
What are your goals for Berlin? Are you able to run a world record in Berlin?
Haile Gebrselassie: I want to win the race, and at the same time I want to run fast—both are important. I will definitely run as fast as I can. But I don't want to talk much before the race, but perform well instead. Sure, I know that the course in Berlin is fast. I hope it will be a special race.
One of your rivals is Kenyan Sammy Korir, second-fastest marathon runner of all time with 2:04:56.
Haile: That will be a great duel, which is good for the spectators, though less good for me. But for the race, it is very good indeed. I hope that he is prepared very well, because I will be very well prepared, too.
Your last test race prior to the real,- Berlin Marathon should have been in Sicily. But when the 10 kilometer race was held on August 19, you were not there. What happened?
Haile: There was a problem with the airplane in Addis Ababa. Somehow a rabbit blundered into one engine. After the take-off it started to smell weird. We thought that they were preparing the food, but it was rabbit. After flying an hour and 40 minutes, the captain decided to fly back, and prepared an emergency landing. Due to that, I missed my connection flight and wasn't able to travel to Italy.
Did the missed race affect your marathon preparations?
Haile: It would have been nice to run the 10K, but 10Ks are not a real marathon test anyway. In so far, it is not a problem. Now the real,- Berlin Marathon will be my first race after the Flora London Marathon. Since the race in London, I was just preparing for the race in Berlin. I will come to Berlin, run and see what happens. I don't have any worries.
How was your training, also compared to the Flora London Marathon, where you were only ninth?
Haile: I was in a very good shape before London, but it simply wasn't my day. When I saw that it was raining, I somehow knew that it wouldn't work out well for me. On slippery streets, I have problems with my balance because of my running style. I was fit in London, and now I will be in very good shape again. Additionally, I have now a better feeling for the distance after three marathon races.
What is the biggest achievement in your career?
Haile: That's clear: the Olympic 10,000m final in Sydney 2000. I won it just ahead of Paul Tergat.
How is your relationship with marathon world record holder Paul Tergat?
Haile: Paul is different than anybody else. There are a lot of good runners, but he is special. There is nothing like friendship in a competition, but there is no feud between Kenya and Ethiopia, either. Apart from the competition, we have a really great relationship. When he comes to Addis Ababa, he is part of my family, as well as the other way around when I come to Kenya.
Do you see a limit in marathoning? What is possible?
Haile: Generally, I don't see a limit. I think that my generation should be able to run 2:03 hours. In the future, I hope the world record will be pushed to sub-2:00. But I don't know how long it will take until we will reach that—20 or 50 years? Forty-five years ago, Abebe Bikila was running 2:15. Now we are ten minutes faster.
Are you thinking about a certain time when you will end your career?
Haile: As long as I am the fastest in training, I don't think I have a reason to retire. There is no certain point of time when I plan to step down. But the Olympics 2008 are definitely on my agenda.
Posted September 23, 2006
© Copyright 2006-2022 by Take The Magic Step®. All Rights Reserved.
Article Archive