Haile Gebrselassie Wins the Berlin Marathon Title for Fourth Time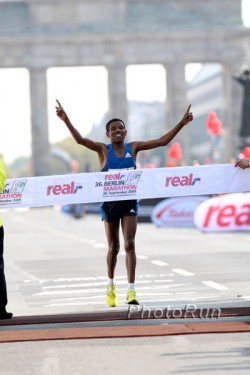 Haile Gebrselassie has just made history! On Sunday, the Ethiopian world record-holder won the real,- Berlin Marathon for the fourth time. No runner has ever achieved four wins before in the event's 36-year history. Uta Pippig, Ingo Sensburg, and Renata Kokowska from Poland had each won the race on three occasions. Gebrselassie missed breaking the world record of 2:03:59 hours, which he set last year in Berlin, but his time of 2:06:08 was nonetheless a world-class performance.
The man reckoned to be Gebrselassie's toughest opponent before the race, Duncan Kibet of Kenya, dropped out after 30 kilometers. Another Kenyan, Francis Kiprop finished second in 2:07:04. The Ethiopian, Negari Terfa, took third place in 2:07:41. Although Gebrselassie missed breaking his own world record for the marathon, he did set a world record for 30K when he was timed at 1:27:49. It's worth noting that at publication this time still awaits official confirmation.
It was indeed a good day for Ethiopia as Atsede Habtamu Besuye ran through the Brandenburg Gate to cross the finish line first in the women's race in 2:24:47. The Russian, Silvia Skvortsova, was second in 2:26:24, while Mamitu Dasku of Ethiopian finished third on her marathon debut in 2:26:38.
The 36th edition of the real,- Berlin Marathon attracted a record entry of 40,923 participants from 122 countries. Around one million spectators cheered on the runners.
The two favorites, Haile Gebrselassie and Duncan Kibet, were accompanied by seven rabbits, which formed the lead pack. This group maintained world-record pace through the half. The lead group went through 10K in 29:15 minutes and 15K in 43:58. This pace and the later half-marathon time of 61:44 indicated a finishing time of around 2:03:30. But there was a surprise in store just before halfway mark: at 19K Duncan Kibet dropped off the pace. The Kenyan was suffering from a hip problem as he explained later and he steadily lost ground on the leaders, dropping out at 32K.
The challenger's exit failed to have any effect on the pace at the front, The Kenyans John Kales and Sammy Kosgei should receive special credit for their excellent pacemaking for Gebrselassie. At 30K they ran 1:27:49. Two kilometers later, Sammy Kosgei, the last of the pacemakers, dropped out of the race.
Haile Gebrselassie's stride was clearly suffering over the final seven kilometers. The world-record holder needed well over three minutes for each of the kilometer splits in order to better his own mark. Gebrselassie reached 40K in what was probably his slowest ever split in a marathon: 3:19 minutes.
By this point, the world record had been out of reach for quite some time. "From 33K, I knew I would not break the world record. It was just too hot. I felt all of a sudden very tired, even though I had prepared very well for this race. It's clear to me that you can't run a world record when the temperature is above 17 degrees Centigrade. It was also a problem mentally. My brain was telling my body, it's getting hard now. I felt as if I were running into unknown territory," explained Gebrselassie afterwards.
In addition to his prize money of 50,000 Euros, he earned a further 30,000 Euros in time bonuses. Turning to the race director Mark Milde at the post-race press conference, he said: "If Mark lets me, I'll come back to Berlin next year!"
Francis Kiprop produced a strong performance by running the fastest second half of the race of anyone in the field. The Kenyan ran 62:46 for the second half, setting a top-class personal best of 2:07:04. From 35K, it looked from time-to-time that he could put Haile Gebrselassie under pressure. At 25K, the Ethiopian led by 2:28 but by 35K, it was only 1:35 and at the finish the gap was down to 56 seconds.
"In the first half we ran in the chasing group and the pace was too slow, that's why we couldn't catch Haile Gebrselassie," said the 27-year-old Kiprop. "But I'm still happy to have set a personal best." The Kenyan arrived in Berlin with a personal best of 2:08:30.
Atsede Habtamu Besuye Celebrates Her First Victory in Berlin—Despite Warm Weather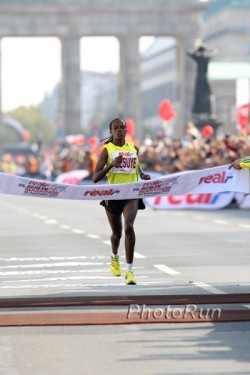 As expected, the Ethiopians dominated events in the women's race. Here too, the pre-race favorite, Askale Tafa Margasa, made an early exit. She had finished second in Berlin last year and was more than a minute behind the leading group at halfway. She dropped out shortly afterwards. Her three compatriots, Genet Getaneh, Atsede Habtamu Besuye, and Mamitu Daska, went through the half in 1:12:29.
In the final stages of what was overall a very even-paced women's race, the 21-year-old Atsede Habtamu Besuye seized the initiative. She won in 2:24:47 ahead of the fast-finishing Russian Silvia Skvortsova (2:26:24). Next to finish were Mamitu Daska (2:26:38) and the Italian Rosaria Console (2:26:45), the latter improving by several places in the closing stages. "Despite suffering an injury to my left big toe, which I only noticed from 30 kilometers, I felt strong enough to win the race," said Atsede Habtamu Besuye.
Results:
Men:
1. Haile Gebrselassie (ETH) 2:06:08
2. Francis Kiprop (KEN) 2:07:04
3. Negari Terfa (ETH) 2:07:41
4. Dereje Debele Tulu (ETH) 2:09:41
5. Alfred Kering (KEN) 2:09:52
6. Girma Assefa (ETH) 2:09:58
7. Eshetu Wondimu (ETH) 2:12:28
8. Atsushi Fujita (JPN) 2:12:54
Women:
1. Atsede Besuye (ETH) 2:24:47
2. Silvia Skvortsova (RUS) 2:26:24
3. Mamitu Daska (ETH) 2:26:38
4. Rosaria Console (ITA) 2:26:45
5. Genet Getaneh (ETH) 2:27:09
6. Leah Malot (KEN) 2:29:17
World Marathon Majors (WMM)
2009-2010 Standings
Men:
1. Samuel Wanjiru (KEN) 65 Points
2. Haile Gebrselassie (ETH) 50
3. Tsegaye Kebede (ETH) 35
4. Deribe Merga (ETH) 30
5. Emmanuel Mutai (KEN) 26
    Martin Lel (KEN) 26
    Robert K. Cheruiyot (KEN) 26
Women:
1. Irina Mikitenko (GER) 75 Points
2. Dire Tune (ETH) 40
3. Salina Kosgei (KEN) 30
    Alvetina Biktimirova (RUS) 30
    Constantina Dita (ROU) 30
6. Xue Bai (CHI) 25
    Lidiya Grigoryeva (RUS) 25
    Paula Radcliffe (GBR) 25
    Atsede Besuye (ETH) 25
Posted September 20, 2009
Article Archive