Haile Gebrselassie Wins Fukuoka Ten Weeks after Berlin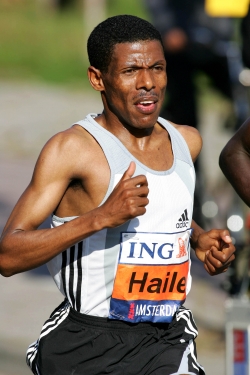 Ten weeks after his victory in the Berlin Marathon, Haile Gebrselassie has won a second of the marathon classics, and in another world-class time, at that. The 33-year-old Ethiopian, who set the current world best for the year of 2:05:56 hours in Berlin on September 24, won today's Fukuoka Marathon in 2:06:52. In so doing, Gebrselassie accomplished another unique achievement—never before has a marathon runner twice run such high-class times within ten weeks.
His strongest opponents in the line-up for the Fukuoka marathon—traditionally an elite race for men only—were last year's winner Dmytrov Baranovsky (Ukraine) and Jaouad Gharib, the Moroccan who won the World Championship marathons in 2003 and 2005.
After a cautious start in windy, cool weather, the pace soon quickened. The leaders passed 5 kilometers in 15:44—not much more than jogging pace by Gebrselassie's standard, and a split that would have brought them a finishing time of just under 2:13. Halfway was reached in a clearly more ambitious time of 64:18 minutes. From there the pace increased still further. Shortly before the 20-mile mark, the pacemakers dropped out as planned, while four runners broke away: Gebrselassie, Baranovsky, Gharib and Wataru Okutani, of Japan. The Japanese was soon to lose contact, but his fourth place secured qualification for the World Championships in Osaka in August 2007. With Toshinari Suwa (2:08:52) and Tsuyushi Ogata (2:10:48), other Japanese runners filled places five and six. Jon Brown (Great Britain) was seventh in 2:11:46. American Fernando Cabada, who set a national record for 25K in May while still in college, ran an excellent debut marathon of 2:12:27.
At 39K, Gebrselassie went clear from his two remaining rivals, and won in 2:06:52. The double Olympic 10,000-meter champion missed breaking the course record, set by Japan's Atsushi Fujita six years ago, by one second. Gebrselassie ran the second half in 62:34, considerably faster than the first half. In Berlin, he ran the seventh-fastest time in history with halves of 62:46 and 63:10.
Today's win was Gebrselassie's third marathon victory. He won in Amsterdam in October 2005, then in Berlin on September 24. In addition to a race as a junior in Addis Ababa, he has run two other marathons, both in London (third in 2002 and ninth in 2006). Next year's race in London, on April 22, will be his next marathon.
© Copyright 2006-2022 by Take The Magic Step®. All Rights Reserved.
Article Archive