Haile Gebrselassie Shines in Berlin
Haile Gebrselassie won Sunday's 33rd real,- Berlin Marathon, but he missed Paul Tergat's world record once again. The Ethiopian clocked the fastest time of the year with 2:05:56 hours, which is an Ethiopian record. Gebrselassie's time improved his personal best, which had been 2:06:20, but was more than a minute off of Tergat's mark of 2:04:55, set while winning Berlin in 2003. For now, Gebrselassie will have to be content with being the fifth-fastest marathoner in history, and with having the seventh-fastest time ever. In all, 39,636 runners from 105 nations competed in Berlin, and about one million spectators lined the streets.
Gebrselassie's was the first Ethiopian victory in the Berlin Marathon, but not the last, as his countrywoman Gete Wami won the women's race in another Ethiopian record, 2:21:34. Their performances were all the more impressive considering the strong winds and a temperature of 70 degrees two hours into the race.
While Gebrselassie's strongest opponent, Sammy Korir (Kenya), dropped out of the race owing to a hamstring injury, another Ethiopian, Gudisa Shentema Kudam, finished second behind Gebrselassie. He clocked 2:10:43, followed by Japan's Kurao Umeki in 2:13:43.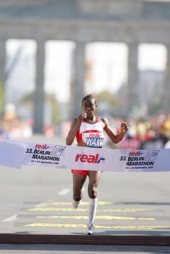 In the women's race, Salina Kosgei of Kenya finished second in another world-class time of 2:23:22. Third was Poland's Monica Drybulska, in 2:30:12.
Gebrselassie won 80,000 Euros for his victory, while Wami collected 65,000 Euros. Because of his victory in Berlin, Gebrselassie remains unbeaten in the month of September in his international career. From 1992 to today, he won 15 times in that month—11 times on the track and four times on the road.
But his big goal, the marathon world record, remained untouched in the fourth marathon of his international career. "I wanted to run faster," Gebrselassie said. "But in the end, I wasn't able to push. I will continue to run the marathon, and I think I will break the world record one day, I'm sure."
With the help of pacemakers, Gebrselassie covered the first half in 62:46 minutes, but the pace was inconsistent. The last rabbit dropped out at 28 kilometer. Between 30K and 35K, Gebrselassie ran 14:29, and it looked as if he could get Tergat's mark, but that impression changed between 35K and 40K. This had been Tergat's strongest part of the race in 2003, as he was being pushed by Sammy Korir, while Gebrselassie, running alone into the wind, slowed significantly. He had been 22 seconds up on Tegat's time at 35K, but by 40K was 22 seconds behind. "Already at halfway, I somehow knew that it would not work," Gebrselassie said. "The last seven kilometers were really hard. I could not push."
"It is never easy to break a world record. But I have to congratulate Haile because his performance was a really great one," said Tergat, phoning from Kenya, where he followed the race.
In the women's race, the battle between Kenya and Ethiopia was decided early on as well. Before the 20K mark, Wami had left Kosgei behind. The Ethiopian passed the halfway mark in 70:22, 22 seconds ahead of Kosgei. The Kenyan dropped further back during the race. It was only at the very end, when Wami was exhausted, that she slowed. "I've always wished to run in Berlin," said Wami. "From about 30K, I knew that I would win this race. The weather was good, the air was clear and the atmosphere strong. I already know that I will be back here and wish to set my best time for me at this race again." Kosgei was happy as well: "I never thought I could catch Wami again, so instead I ran my race and went at my own pace," she said. "I think I did very good today and am very happy with my race."
Posted September 25, 2006
Article Archive