Haile Gebrselassie Perseveres and Wins Third Straight Dubai Marathon
By Jörg Wenig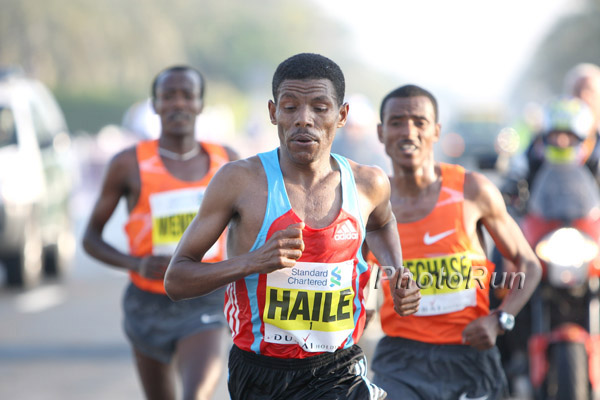 In the early hours of Friday morning, Haile Gebrselassie summoned the courage to surge clear of his rivals, winning his third straight Standard Chartered Dubai Marathon. He had originally hoped to break his own world record there, but was hampered by a back injury that flared up the night before the race.
Gebrselassie has the fastest time for the marathon—2:03:59—which he ran in Berlin in 2008. In Dubai on Friday, the Ethiopian superstar ran 2:06:09 hours, which happened to be so far the fastest marathon in the world this year.
Ethiopia also produced the women's champion. Mamitu Daska secured her win with 2:24:18. Taking shorter distance races into account, approximately 12,000 runners from more than 100 countries took part in this year's race.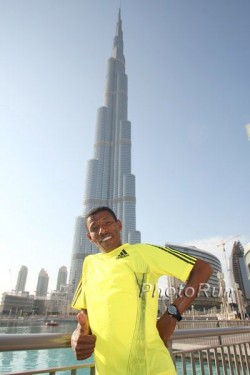 On Wednesday before the race, Gebrselassie visited the Burj Khalifa skyscraper, which, at 2717 feet high, makes it the tallest building in the world.
It wasn't the warm weather with temperatures of around 68 degrees Fahrenheit at the start time of 6:30 am that hampered Gebrselassie on this occasion. "I had a back problem. I was watching television yesterday evening then went to sleep and must have been sleeping in the wrong position. When I got up I knew something was wrong," Haile explained. A trainer worked on him the morning of the race. Gebrselassie credited him for the win. "He was a big help so that I at least could be in the kind of shape to win the race," he said.
Dubai has been touted as one of the fastest courses in the world and it is the place where Gebrselassie has been trying to break the record for the past three occasions. Two years ago, he went out too fast and paid the price later on. In 2009 a torrential downpour foiled his chances in the closing stages. "I was just hoping to finish and win," said the 36-year-old who has set 20 official and seven unofficial world records in his career.
"I ran with the pacemakers but couldn't force the pace. I just couldn't change into a higher gear. Between 20 and 25 kilometers, it was clear that I wasn't going to break the record. So I concentrated on winning the race," said Gebrselassie. After the last pacemaker, Dereje Gebrihiwot (Ethiopia), dropped out after 32K, two of Haile's compatriots drew closer to the world record holder and eventually caught him: Chala Dechase went in front at 33K and Eshetu Wendimu closed the gap by 36K.
But just after 40K, Gebrselassie found another gear. He made a decisive break from his two rivals with Dechase finishing second in 2:06:33 and Wendimu third in 2:06:46. Both men improved their personal bests by nearly two minutes. To the delight of the several thousand Ethiopian fans on the course, the fourth and fifth finishers were also from Ethiopia: Abiyote Guta Duguma ran 2:09:03 and Debele Tulu also broke 2:10 with his time of 2:09:43.
"When Haile first got up this morning, he could hardly run at all," said his Dutch manager Jos Hermens. "But after getting treatment I was confident. If this had happened a few days ago it wouldn't have been a problem at all—it was just bad luck."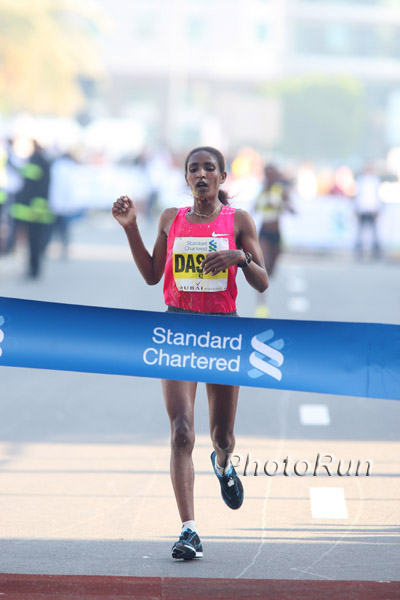 The women's race was not as predictable. Helena Kirop (Kenya) was unable to hold on, dropping off the pace to finish third in 2:24:54. Ethiopian Mamitu Daska broke away from her compatriot, Aberu Shewaye, in the closing kilometers. But that wasn't the end of this Ethiopian duel. The exhausted Daska suffered stomach problems in the home straight and lost a few meters of her lead. The 26-year-old recovered to cross the finish line ahead of Shewaye (2:24:26), where she lay, completely exhausted, for several minutes. In the biggest win of her career, Daska improved her personal best by over two minutes to 2:24:18. She finished third in Berlin in 2009 with 2:26:38 and in addition had impressed the running world with 12th place in the World Cross Country Championships last year. "It was my dream to win this race," explained an elated Mamitu Daska.
Ethiopian Berhane Adere, the women's champion two years ago, withdrew a few days before the race because she lacked fitness. Her compatriot, Askale Magarsa, the 2007 Dubai champion, finished sixth in 2:27:29 and the defending champion and pre-race favorite, Bezunesh Bekele, also from Ethiopia, took fourth place in 2:26:05. The Kenyan-born Swede Isabellah Andersson broke through for a surprise fifth place in 2:26:52, taking seven minutes off her personal best.
© Copyright 2010-2022 by Take The Magic Step®. All Rights Reserved.
Article Archive