"Great atmosphere, relaxed Berliners—I am looking forward to the City Night"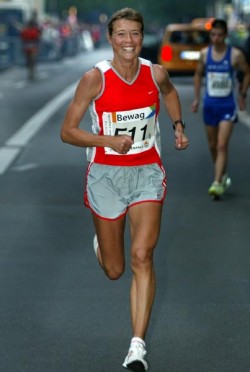 Uta will be running Berlin's 'Bewag City Night' on Saturday evening. The 39-year-old triple winner of the Berlin and Boston Marathons mainly lives in Boulder (Colorado).
Why did you decide to run the Bewag City Night?
Uta Pippig: It was October 2004 when I was in Berlin last. Now I wanted to come back to visit my family and friends again. It worked out easily to combine it with the Bewag City Night Race on Berlin's boulevard Kurfürstendamm.
You did participate in this race two years ago.
Uta: Yeah, that's right. The run is fantastic—in the middle of Berlin, great atmosphere in the evening and relaxed Berlin runners and spectators. It felt like an exciting event already two years ago, and of course Berlin is still my second home. I am really looking forward to that evening.
And what are your ambitions for Saturday evening?
Uta: I hope to have great fun. It is not going to be a real hard race, rather a fun run for me; but 40 minutes will not be a hurdle—let's see what the result will be. Mainly, I hope to be together with all the runners that I knew from my Berlin times.
What do you do besides running?
Uta: Well, meanwhile running is not priority anymore, instead I am creating a fitness and health program: Take the Magic Step™, which I hope to present in the fall.
Will you be back in Berlin then?
Uta: It looks as though I will be back in Berlin during late October to attend a few scheduled events, which will introduce the fitness program.
Article Archive