Good Weekend for KIMbia on U.S. Roads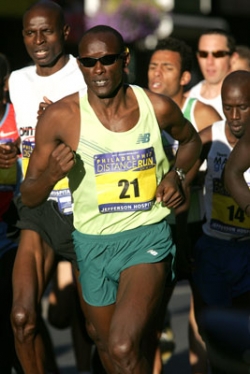 KIMbia runners ran well at two U.S. road races on Sunday. Simon Ndirangu and Richard Kiplagat took the first two spots at the CVS Downtown 5-kilometer race in Providence, Rhode Island. Earlier in the morning, Tom Nyariki, John Yuda and Charles Munyeki placed second, third and sixth, respectively, at the Philadelphia Distance Run, and Edna Kiplagat finished third.
Ndirangu and Kiplagat were part of a six-man pack that entered the final stretch of the Providence race together. Kiplagat, who was the defending champion, and Ndirangu surged up the final hill, and Ndirangu prevailed in the sprint, 13:45 minutes to 13:47. U.S. Olympian Dan Browne was third overall in 13:48 and won the race within-a-race U.S.national championship.
A sprint also decided the men's race at the half marathon in Philadelphia. After some slow early miles, Tom Nyariki and John Yuda entered the final stretch with 2004 champion Julius Kibet. In the kick, Kibet had enough to hold off the KIMbia teammates to win in 1:02:02 hours. Nyariki ran 1:02:04, with Yuda 1 second back. Munyeki ran a solid race to place 6th in 1:02:28.
In the women's race, Edna Kiplagat hoped to emulate her victory at the Virginia Beach half marathon two weeks ago. Instead, she followed up her second-place finish in last year's Philadelphia Distance Run with a third-place showing this year. Kiplagat's time of 1:10:11 put her behind winner Joyce Chepchumba (1:08:45) and runner-up Alice Timbili (1:08:56). Kiplagat will run a half marathon in San Jose the first weekend of October.
Posted September 18, 2007
Article Archive