Geoffrey Mutai Runs This Year's Fastest Marathon in Berlin
Kenya's Geoffrey Mutai was victorious in the closest finish in the history of the BMW Berlin Marathon—erasing the memory of being defeated by just two seconds by fellow countryman Patrick Makau in a dramatic sprint finish in the same race two years ago. In an even closer ending on Sunday, Geoffrey, 30, broke the finish line tape a mere second—barely a stride—ahead of his training partner, Dennis Kimetto. Geoffrey's time of 2 hours, 4 minutes, and 15 seconds was the fastest in the world this year, and these were the fourth and fifth official best performances in history. Dennis Kimetto set an unofficial world record for a marathon debut and established himself as a bright new star of the sport. Geoffrey Kipsang clocked 2:06:12 in third place to complete a Kenyan sweep.
Geoffrey Mutai's time was only 37 seconds off Patrick Makau's world record (2:03:38 in 2011). It made him the World Marathon Majors (WMM) Series 2011-2012 Champion.
In the women's race, Aberu Kebede of Ethiopia achieved her second win, following her victory in Berlin in 2010. She celebrated with an impressive 2:20:30, ahead of her compatriot, Tirfi Tsegaye (2:21:19), and the Ukrainian Olena Shurhno (2:23:32). All three runners accomplished personal bests with Olena also setting a new national record.
A total of 40,987 runners from 125 countries were at the start for the 39th edition of the BMW Berlin Marathon, and an estimated one million enthusiastic spectators lined the course, which features landmarks such as the Victory Column, the Reichstag, the Kaiser-Wilhelm Memorial Church, and the Potsdamer Platz. Race conditions were very good with temperatures hovering around 50 degrees Fahrenheit in the beginning and sunshine with occasional gusts of wind.
Men's Race: Geoffrey Mutai's Marathon Sprint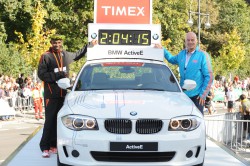 Nine runners reached the half marathon in 62:06 minutes. Behind the four Kenyan pacemakers were their compatriots, Geoffrey Mutai, Dennis Kimetto, Geoffrey Kipsang, Jonathan Maiyo, and Nicholas Kamakya. They had been aiming to go through halfway in 61:40 in pursuit of Patrick Makau's world record, but the pace was slower than planned.
However, a slight chance for a world record remained. "After 30 kilometers I saw that we were going too slow and raised the pace," Geoffrey Mutai recalled afterwards. He then covered the next five kilometers in an amazing 14:19. That included running the 32nd kilometer, which is slightly downhill, in 2:43, the fastest-ever split for a single kilometer in the history of the Berlin Marathon. He then was timed at 2:48 for the 33rd kilometer, and this injection of pace completely changed the race's dynamic.
The last pacemakers dropped out at 30 and 31 kilometers and Jonathan Maiyo and Geoffrey Kipsang relaxed their pace during Geoffrey Mutai's surge. But his training partner, Dennis Kimetto, was able to follow. The 28-year-old, who had already won the Vattenfall Berlin Half Marathon and then set a world record (1:11:18) over 25 kilometers in the BIG 25 in the same city, stayed right on the heels of the 2011 Boston and New York Marathon champion. Between 38 and 40 kilometers both were within a second of Patrick Makau's world-record splits.
But the blistering pace took its toll on them during the last two kilometers and they began to slow. Geoffrey Mutai was able to hold on to his slender lead right through the finish line, accompanied by the deafening cheers of the spectators in the packed stands. The 2003 race ended in similar fashion when Paul Tergat (Kenya) set the world record in Berlin with 2:04:55 and won by one second from his compatriot Sammy Korir. But the physical gap between those two was bigger than the one on Sunday.
"We had a chance of the world record but just didn't have enough over the last few kilometers. But I'm still happy with my result. It's not easy to run at that kind of pace," said Geoffrey Mutai. He revealed that he began to have leg problems after 35K "so I had to go carefully." When it was over he had improved the previous world best for the year—2:04:23 by the Ethiopian Ayele Abshero in Dubai in January—by eight seconds. "It was good that Dennis was still up front with me. Of course, he was a rival but it helped me," said Geoffrey, who also predicted his training partner one day could set a new world record. Asked whether he thought he could defeat Geoffrey Mutai in the race, Dennis Kimetto replied modestly: "Geoffrey is the boss, I didn't think I could beat him!"
The Kenyan marathoners also dominated the race in terms of overall depth, taking the first nine places in Berlin. Finishing behind Geoffrey Mutai, Dennis Kimetto, and Geoffrey Kipsang were Nichlas Kamakya (2:08:28), Josphat Keiyo (2:08:41), and Josphat Jepkopol (2:08:44)—all of them under the 2:09 barrier.
Women's Race: A Decisive Break at 35 Kilometers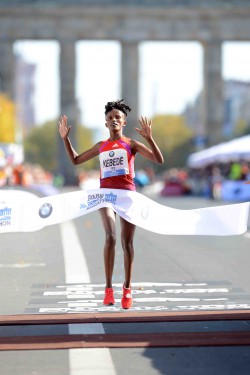 Two other training partners—Ethiopians Aberu Kebede and Tirfi Tsegaye—dictated events in the women's race from the start. At halfway (1:10:33) Flomena Chepchirchir was still in the leading group, but the Kenyan runner had dropped back by 30K. The decisive moment came shortly before 35K when Aberu Kebede was able to break away. Her result of 2:20:30 was a personal best by three seconds. "I wanted to run under 2:20 but couldn't quite do it," said the 23-year-old. "It was windy from time to time but I'm delighted to have won in Berlin for the second time, and I am happy with my performance."
Flomena Chepchirchir finished fourth in (2:24:56), behind Olena Shurhno. Irina Mikitenko's training partner, Fate Tola (Ethiopia/2:25:14) and Alevtina Biktimirova (Russia/2:28:45) also went under 2:30 hours. Caroline Chepkwony (Kenya) placed seventh in 2:30:34 in a notable marathon debut.
The marathon weekend offers an unforgettable experience for sports enthusiasts of all ages and abilities. On the day before the big race, thousands of children and students followed in the footsteps of their role models when they took part in the Bambini Run (500 or 1,000 m) and the mini Marathon (4.2195K on the last section of the Berlin Marathon course).
Uta, who watched the race on the Eurosport Website at her home in Colorado, was excited about witnessing another thrilling run in the inspiring atmosphere of Germany's capital. "What a great marathon," she said afterwards. "Geoffrey and his training partner Dennis ran a gutsy race with very fast three miles between 30 and 35K. It is amazing that two runners could not only run near-world record times but cross the finish line separated by less than a stride." She added, "Seeing all the spectators and the fantastic competition in Berlin brought back many fun memories."
The Results of the 39th Berlin Marathon
Men:
| | | | |
| --- | --- | --- | --- |
|  1. |  Geoffrey Mutai |  KEN  |  2:04:15 Hours  |
|  2. |  Dennis Kimetto |  KEN |  2:04:16 |
|  3. |  Geoffrey Kipsang |  KEN |  2:06:12 |
|  4. |  Nicholas Kamakya |  KEN |  2:08:28 |
|  5. |  Josphat Keiyo |  KEN |  2:08:41 |
|  6. |  Josphat Jepkopol |  KEN |  2:08:44 |
|  7. |  Jonathan Maiyo |  KEN |  2:09:19 |
|  8. |  Eluid Kiptanui |  KEN |  2:09:59 |
|  9. |  Felix Keny |  KEN |  2:10:22 |
|  10.  |  Masakazu Fujiwara  |  JPN |  2:11:31 |
Women:
| | | | |
| --- | --- | --- | --- |
|  1. |  Aberu Kebede |  ETH |  2:20:30 Hours  |
|  2. |  Tirfi Tsegaye |  ETH |  2:21:19 |
|  3. |  Olena Shurhno |  RUS  |  2:23:32 |
|  4. |  Flomena Chepchirchir  |  KEN |  2:24:56 |
|  5. |  Fate Tola |  ETH |  2:25:14 |
|  6. |  Alevtina Biktimirova |  RUS |  2:28:45 |
|  7. |  Caroline Chepkwony |  KEN |  2:30:34 |
|  8. |  Anna Hahner |  GER |  2:30:37 |
|  9. |  Sonia Samuels |  GBR |  2:30:56 |
|  10.  |  Degefa Biruktayit |  ETH  |  2:33:27 |
Posted September 30, 2012
Article Archive