Geoffrey Mutai Improves the Course Record in New York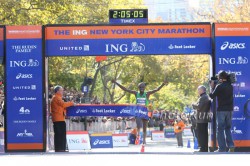 Conditions could not have been more perfect for the 47,107 participants who took to the streets of the "Big Apple" for the 42nd edition of the ING New York City Marathon on Sunday, under clear skies and with temperatures in the 40's.
And Kenya's Geoffrey Mutai made it a day to remember. His winning time of two hours, five minutes, and six seconds was a dramatic improvement over the ten-year-old course record of 2:07:43. Second place went to fellow Kenyan Emmanuel Mutai (no relation to Geoffrey) in 2:06:28. Tsegaye Kebede of Ethiopia was third in 2:07:14.
There was a surprise finish in the women's race, with Ethiopia's Firehiwot Dado overcoming pre-race favorite Mary Keitany with three miles to go and winning in 2:23:15. Buzunesh Deba, also from Ethiopia, took second in 2:23:19. Mary was third in 2:23:38.
The men's and women's races could not have been more different in the way they unfolded. In the men's division, a large group of nine runners went through the opening miles slower than expected. Vying for the lead were this year's Boston Marathon champion and fastest unofficial marathoner in the world, Geoffrey Mutai and his compatriot, Emmanuel Mutai. However, the race's ultimate dynamic was not determined early on. The 5-kilometer and 10K splits were 15:34 and 30:23 minutes respectively. The lead group reached the half-marathon mark in 1:03:17—setting a quicker pace than Tesfaye Jifar's 2:07:43 course record, but not as fast as originally expected. After all, the race had some of the world's fastest men, including Geoffrey Mutai who owns a 2:03:02 marathon PR that he set this year in Boston, and Emmanuel Mutai who won this year's Virgin London Marathon in 2:04:40.
When the leaders crossed the Queensboro Bridge at the 16-mile mark and headed up First Avenue—a location for most surges in past editions—there was still no change to the race's energy. It was not until the 32K point that the contest was finally decided. At that point, Geoffrey Mutai put on an amazing surge, thinning the pack down to himself and three other runners: last year's champion, Gebre Gebremariam, Ethiopia's Tsegaye Kebede, and Emmanuel Mutai. The group was further reduced shortly afterwards when Geoffrey Mutai surged yet again and only Gebre Gebremariam could maintain contact. But he hung on for only a few meters and from there to the finish, it was Geoffrey Mutai's race. Emmanuel Mutai (2:06:28) and Tsegaye Kebede (2:07:13) came in second and third; Gebre Gebremariam (2:08:00), Jaouad Gharib (Morocco/2:08:27), and Meb Keflezighi (USA/2:09:13) took the consecutive places.
"The course record was not my goal," Geoffrey said shortly after finishing the race. "It wasn't my plan going forward. It was not easy competition, but I think I proved myself."
Geoffrey may join World Championship gold medalist Abel Kirui and world record-holder Patrick Makau as Kenya's representatives at next year's Summer Olympics. Meanwhile, Emmanual Mutai, who was victorious at the Virgin London Marathon this year becomes the winner of the 2010-2011 World Marathon Majors series.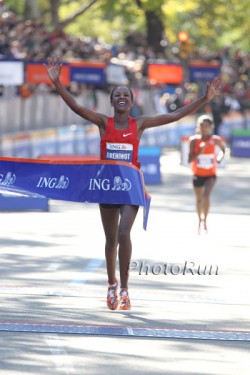 In the women's race, Kenya's Mary Keitany went out in blazing fashion from the start. After the first few kilometers, the winner of this year's Virgin London Marathon had clearly established herself as the leader. By the 10K mark, which was crossed in 31:54, Mary had built an incredible 57-second lead ahead of a chase pack comprised of five runners that included Ethiopians Buzunesh Deba and Firehiwot Dado. It was Mary Keitany's race to lose by the half-marathon mark—by that point her time of 1:07:56 was ahead of Paula Radcliffe's world-record pace. However, after the 25K mark (1:21:38), Mary began to slow and passed the 30K in 1:38:57. Her lead began to fade. It took Mary about 18 minutes to run the following 5K, and shortly before the 40K mark Buzunesh Deba and Firehiwot Dado managed to reach her. When the pair of Ethiopians pulled up alongside Mary Keitany in Central Park, the Kenyan runner tried to surge, but she was only able to keep ahead of them for a few meters.
With approximately one kilometer to go, Firehiwot Dado, who won the Rome Marathon for the third consecutive time this year (2:24:13), was able to decisively take the lead and finished first with a time of 2:23:15, while Bizunesh Deba (2:23:19) and Mary Keitany (2:23:38) took second and third. Ana Dulce Felix (Portugal/2:25:40), Kim Smith (New Zealand/2:25:46), and Caroline Kilel (2:25:57) finished fourth through sixth.
"I am very happy," Firehiwot said afterwards. "There was a runner [Mary Keitany] that was leading in front of us. I was very surprised to catch her. We had worked together and when we saw her, we said, 'Let's catch her.'"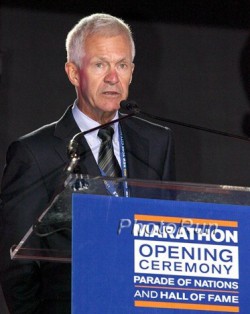 Elites and world-class finishes aside, the ING New York City Marathon is about more than running fast; it is about giving back. In 2010, a total of $30.8 million—well over one million dollars per mile—was raised by giving runners. This year, 210 charities were participating in the race's official charity program. Three organizations have been named gold charities: the New York Road Runner's Team for Kids, Fred's Team, and the New York Road Runner's Champion's Circle.
Team for Kids is the race's premier charity. Comprised of an international community of adult runners, Team for Kids raises vital funds for the mission of establishing running-based programs that promote children's physical fitness, character development, and personal achievement. A total of $22 million has been raised since the charity's inception ten years ago and more than 110,000 children have been helped.
The New York City Marathon also served as the race to honor the late Grete Waitz who passed away earlier this year after a long battle with cancer. No runner, male or female, has ever won more New York City Marathons than Grete, who was victorious a total of nine times. You can read more about Grete here on our Website.
Article Archive