Gebrselassie Sets World Record, Mikitenko Under 2:20 Hours in Berlin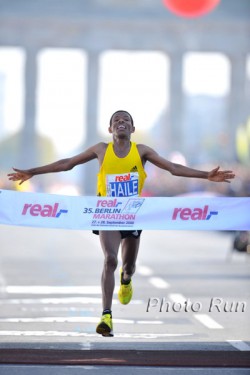 One of the greatest runners of all time, Haile Gebrselassie, stunned the world on Sunday by becoming the first person ever to run under 2:04 in the marathon. In front of a million spectators at the 35th running of the real-Berlin Marathon, the Ethiopian runner won the marathon and bettered his own world record by 27 seconds, running a 2:03.59 (an average of 4:43 per mile!).
"Today was fantastic, everything was perfect-pacemakers, weather and spectators. You only have a day like that once in your life," said Haile Gebrselassie, who earned 130,000 Euros in prize money (nearly $190.000). Gebrselassie's world record on Sunday was his 26th. In his amazing career, he has set 19 official and seven unofficial world records.
The pace in the men's race was fast from the start. Apart from Gebrselassie and his four pacemakers, another two Kenyans also went out at the world-record pace: James Kwambai and Charles Kamathi. The leading group went through the half in 62:04. One by one, the pacemakers dropped out, leaving only one of the four, Abel Kirui (Kenya), in the race at 32 kilometer.
"The pacemakers did a great job. It was fantastic that Abel was able to stay with me as long as he did," said Gebrselassie. After Charles Kamathi, who eventually came in third in 2:07:48, dropped back at 25K, the race turned into a duel between James Kwambai and Haile Gebrselassie. "I didn't expect him [Kwambai] to be so strong," said Gebrselassie.
Kwambai went on to improve his personal best by almost five minutes, running 2:05:36 and finishing second.
But the excitement didn't stop there.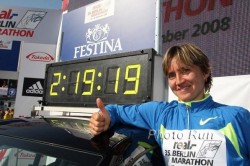 In the women's race, bolstered by a hometown crowd, German runner Irina Mikitenko (TV Wattenscheid) placed first, crossing the line in 2:19:19. Her incredible time makes her the first German woman ever to break the 2:20 barrier and is the seventh-fastest women's marathon of all time. She is also the ninth woman in the history of track and field to go under 2:20. Her performance Sunday was the fastest in the world this year. Only the current world-record holder, Paula Radcliffe of Great Britain, the Kenyan, Catherine Ndereba, and Mizuki Noguchi of Japan have run faster than Irina Mikitenko. Mikitenko's time is the second-fastest by a woman in the history of the real-Berlin Marathon. She even came within seven seconds of breaking the course record which was set by Japan's 2004 Olympic champion Mizuki Noguchi in 2005.
"I still can't quite believe it," said an overjoyed Irina Mikitenko after her win. Mikitenko became the first German since Uta Pippig 13 years ago to win the real-Berlin Marathon. Mikitenko didn't follow the suicide pace of the leading group at the race's onset. Askale Tafa Magarsa, Shuru Deriba (both from Ethiopia), and the Kenyan pair of Helena Kirop and Rose Cheruiyot went through 10K in 32:49 which is 2:18:30-marathon pace. Mikitenko was in fourth at the 10K mark (33:11).
Irina Mikitenko's husband and coach, Alexander, who was following the race on a bicycle, was constantly trying to get his wife to slow down. But he only partially succeeded. When the two leaders, Magarsa and Kirop, hit the half in 69:37, Mikitenko was 28 seconds behind in 70:05-still within striking distance. A few kilometers later, running consistent, Mikitenko first caught Kirop.
Then after 25K, Mikitenko closed the gap between her and the leader, the Ethiopian Magarsa. For a few kilometers, she ran just a meter behind her and then surged ahead, taking the lead. In the final 10K, Mikitenko ran strong and picked up the pace. Her 2:19:19 was an astonishing 5-minute improvement over her personal best. Askale Magarsa placed second in 2:21:31. Third place went to Helena Kirop in 2:25:01.
Combining Gebrselassie's and Mikitenko's times in Berlin yields 4:23:18. Only one marathon in history has had a faster combination: Chicago in 2002, where Khaldi Khannouchi's (2:05:56) and Paula Radcliffe's (2:17:18) combined times added up to 4:23:14.
A record number of 42,827 runners from 107 countries took part in the largest German race on Sunday. Even more impressive is the fact that 35,913, nearly 84%, finished! This was the most finishers ever in the marathon's 35-year history.
A repeat of last year, weather conditions were nearly perfect with temperatures between 54 and 61 degrees Fahrenheit and mostly sunny. The wind that had been forecasted earlier in the week never came. Running in these marathon-ideal conditions, the first two men and top three women each set personal bests (in some cases by several minutes).
Top German men's runner, Falk Cierpinski (SG Spergau), had a good day as well. He finished ninth overall and improved his personal best from 2:15:48 to 2:13:30. The 30-year-old ran even splits, going through the half in 1:06:21. "I'm gradually moving to where I want to be in the marathon. I've set a personal best and finished in the top ten in Berlin. Compared to two years ago when I made my marathon debut in Sydney, I've come a long way," said Cierpinski.
The Nine Fastest Women in History
| | | | |
| --- | --- | --- | --- |
| 02:15:25 | Paula Radcliffe | GBR | London 2003 |
| 02:18:47 | Catherine Ndereba | KEN | Chicago 2001 |
| 02:19:12 | Mizuki Noguchi | JPN | Berlin 2005 |
| 02:19:19 | Irina Mikitenko | GER | Berlin 2008 |
| 02:19:36 | Deena Kastor | USA | London 2006 |
| 02:19:39 | Yingye Sun | CHN | Peking 2003 |
| 02:19:41 | Yoko Shibui | JPN | Berlin 2004 |
| 02:19:46 | Naoko Takahashi | JPN | Berlin 2001 |
| 02:19:51 | Chunxiu Zhou | CHN | Seoul 2006 |
Berlin Marathon Results:
| | | |
| --- | --- | --- |
| Men: | | |
| 1. Haile Gebrselassie | ETH | 02:03:59 |
| 2. James Kwambai | KEN | 02:05:36 |
| 3. Charles Kamathi | KEN | 02:07:48 |
| 4. Mariko Kipchumba | KEN | 02:09:03 |
| 5. Mesfin Ademasu | ETH | 02:12:02 |
| 6. Joseph Ngolepus | KEN | 02:12:07 |
| 7. Kenjiro Jitsui | JPN | 02:12:48 |
| 8. Toshinari Suwa | JPN | 02:13:04 |
| 9. Falk Cierpinski | GER | 02:13:30 |
| 10. Francis Kiprop | KEN | 02:14:30 |
| | | |
| Women: | | |
| 1. Irina Mikitenko | GER | 02:19:19 |
| 2. Askale Tafa Magarsa | ETH | 02:21:31 |
| 3. Helena Kirop | KEN | 02:25:01 |
| 4. Rose Cheryuiot | KEN | 02:26:25 |
| 5. Gulnara Vigoskaya | RUS | 02:30:03 |
| 6. Shuru Deriba | ETH | 02:31:20 |
| 7. Edyta Lewandowska | POL | 02:33:00 |
| 8. Evelyne Kimuria | KEN | 02:35:53 |

Benson Barus Runs Under an Hour in the Udine Half-Marathon
Berlin wasn't the only place for records last Sunday.
At the Udine Half-Marathon in Italy, Kenyan Benson Barus set the course record—running 59:41 for first place. Second-place finisher John Kiprotich also went under an hour (59:44). Ethiopian runner Lilesa Feyisa placed third in 62:26.
"My training in Kenya has gone very well and it showed in the way I ran today. This was great preparation for the Frankfurt Marathon," said the 28-year-old winner. Barus' impressive time in Udine may indicate that he's poised for a big improvement on his marathon personal best (2:08:34) when he runs on Frankfurt's traditionally fast course on October 26th.
In the women's race, the Hungarian Aniko Kalovics won in 70:08. Ethiopians Mare Dibaba (70:32) and Masresha Azalesh (70:35) placed second and third respectively.
At the Libson Half-Marathon, Kenyan Silas Sang defeated the former marathon world-record holder, Paul Tergat—setting a new course record (61:26). Tergat finished second in 61:33. Samuel Mwangi completed the Kenyan trifecta by placing third in 61:41. Overall, runners from Kenya took eight of the top ten places. Paul Tergat was upbeat on his second-place showing: "This was an excellent test for me before the New York Marathon," he said.
Rita Jeptoo, who will also be running the ING New York City Marathon, won the women's race. The Kenyan set a course record in 69:48. Fellow Kenyans Alice Timbilil (70:13) and Salina Kosgei (71:10) placed second and third.
Posted September 29, 2008
Article Archive