Gebrselassie, Kastor and London, New York Took Top Spots in 2006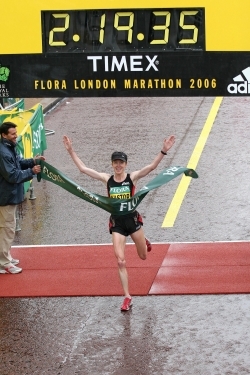 Other than in Japan, prime marathon season hasn't started yet, so it's a good time to survey what happened in 2006. The winning times of Haile Gebrselassie in Berlin and Deena Kastor in London were the fastest marathons of last year. Gebrselassie's 2:05:56 in September was the seventh-fastest performance of all time and the only sub-2:06 in 2006. Gebrselassie also had 2005's fastest time, with his 2:06:20 victory in Amsterdam.
Yet Gebrselassie is the only Ethiopian to figure prominently in the men's world best list for 2006, as Kenyans again dominated the scene. Of 43 performances under 2:09, Kenyans produced 25. Behind Gebrselassie are five runners from Kenya in the world best list for the year. Number two was Sammy Korir, with 2:06:38 at Rotterdam. Third was Felix Limo, with 2:06:39 in London.
Among women, two runners joined the exclusive sub-2:20 club. Kastor became the first American to do so with her 2:19:36 victory in London in April. Earlier in the year, the Chinese Chunxiu Zhou ran 2:19:51 in Seoul. Third on the world list for the year was Berhane Adere of Ethiopia with 2:20:42 in Chicago.
The marathon with the greatest depth of talent in 2006 was London. Seven runners went under 2:08, and five women broke 2:22. The aggregate winning times of Felix Limo (2:06:39) and Deena Kastor (2:19:36) came to 4:26:15, making London the fifth best marathon of all time. Berlin was second for the year with 4:27:30 (2:05:56 from Gebrselassie and 2:21:34 from Gete Wami), and third was Chicago with 4:28:17 (2:07:35 from Robert Cheruiyot and 2:20:42 from Adere).
The New York Marathon is only tenth on this list with 4:35:03, but certainly one of the contributing factors is its undulating course. In another way, New York was the clear number leader for the third year in succession: 37,936 runners reached the finish in Central Park, making the race on November 5 the biggest marathon ever. The Chicago Marathon, which will raise its participant limit from 40,000 to 45,000 next year, has taken over from London with 33,618 finishers against 32,974. The next two also swapped places: Paris is now fourth with 30,646 finishers, ahead of Berlin with 30,118.
© Copyright 2007-2022 by Take The Magic Step®. All Rights Reserved.
Article Archive