Haile Gebrselassie Breaks World Record at the Berlin Marathon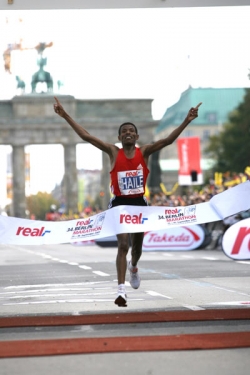 In his eighth marathon Haile Gebrselassie finally fulfilled a big marathon dream: The 34-year-old Ethiopian broke the world record at the real,- Berlin-Marathon, clocking 2:04:26, surpassing the mark of Paul Tergat (Kenya), who ran 2:04:55 hours in 2003 in Berlin.
"It was something very special today, because this is the marathon world record! That is something different in comparison to the 5,000 or 10,000, because the marathon is the king of the distance races," said Gebrselassie after improving the world record by 29 seconds. The two-time Olympic 10,000-meter champion has now set 24 world records or world bests.
Gebrselassie's run was without a doubt the absolute highlight at Germany's biggest and most spectacular marathon, for which 40,215 runners from 115 nations had entered. About one million spectators cheered on the Ethiopian. "The spectators gave me more support than last year. I have to say, 'Thank you, Germany!' Today the weather was perfect. It was not as windy as last year," said Gebrselassie, who will target his second big marathon goal next year, when he will run the Olympic race in Beijing.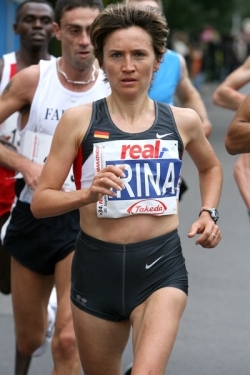 As did Gebrselassie, Gete Wami defended her title in Berlin in ideal weather conditions. The Ethiopian clocked 2:23:17 to produce the second consecutive Ethiopian double win in Berlin. But the real surprise came in second place: In her debut, Germany's Irina Mikitenko clocked 2:24:51, which is the best ever marathon debut by a German woman. She is now the third fastest on the German all-time list behind Uta Pippig (2:21:45) and Katrin Dörre-Heinig (2:24:35).
Led by pacemakers, Gebrselassie was on course for the world record throughout. He went through halfway in 62:29 minutes. His rivals couldn't match that kind of pace from the very start, and Gebrselassie was in a race of his own through the streets of Berlin. Through 30 kilometers, two of the original five pacemakers were able to stay with him. But then both Eshetu Wondimu (Ethiopia) and Rodgers Rop (Kenya), the latter winner of this year's Hamburg marathon in 2:07:32 and a former champion in New York and Boston, dropped out.
Last year Gebrselassie also had to run the last 12 kilometers on his own, and finished 61 seconds outside the world record (2:05:56). This time, however, he ran consistently throughout, never dropping outside 3:00 minutes per kilometer. In fact, without pacemakers Gebrselassie ran the last 12 kilometers of the race considerably faster than before, with the individual kilometer splits for this section markedly under 3:00. Kilometer 35 was his fastest of the race in 2:50.
Shortly after Gebrselassie crossed the finish line, the phone of race director Mark Milde rang. Paul Tergat was on the line, wanting to congratulate the man who had just broken his record. "Paul is a good friend and I apologized to him for taking his world record," explained Gebrselassie. His total winnings from Berlin were 130,000 Euros. "But I don't run for money. If I did, I could race somewhere every week," said Gebrselassie.
Kenyan Abel Kirui was second in an outstanding personal best of 2:06:51. Third place went to his compatriot Salim Kipsang in 2:07:29. The best German finisher was Falk Cierpinski, who crossed the line in 23rd place. The son of the double Olympic champion Waldemar Cierpinski ran a personal best of 2:19:06.
In the women's race, Wami, like Gebrselassie, went clear of her rivals from the start. The Ethiopian, who ran a then-national record of 2:21:34 last year in Berlin, also had an escort of pacemakers. After reaching halfway in 70:25 she did just enough to make sure of victory. Five weeks from now Wami will be on the start line for the marathon in New York. The background to this is that she wants to win the jackpot in the World Marathon Majors series for 2006-7. Following her win in Berlin, she has taken the lead from Jelena Prokupcuka (Latvia). If she finishes ahead of the Latvian in New York, she'll win $500,000. "I was very confident before the race that I was in good shape. I'll take it easy for a week and then start training for New York. I think I've a real chance of winning the WMM jackpot," said Wami. The outcome of the race for second place was more dramatic. Well behind Wami after the second half were Helena Kiprop of Kenya and the Japanese Naoko Sakamoto (both at 72:31 at halfway). A further 26 seconds behind was a trio including Mikitenko. She ran the second half in 1:11:54, covering the second half faster than the first in her debut. That shows she could run faster still in the marathon, an event for which she now has an Olympic qualifying time.
Paula Radcliffe Second in Comeback Race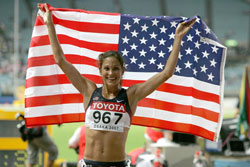 The women's world marathon record holder Paula Radcliffe (2:15:25) had to accept defeat in her first race in 21 months. The 33-year-old Briton, returning after having a baby and then injuries which delayed her comeback, raced in the Great North Run in Newcastle, England on Sunday. Radcliffe ran 67:53 for the half marathon and finished second in a race where she holds the course record of 65:40.
The big surprise was produced by the American Kara Goucher. The 29 year old, who took an unexpected bronze medal in the 10,000m at the World Championships in Osaka, won the race in 66:57. That is the fastest time in the world this year and also the fastest ever by an American woman. However, because the Great North Run is a point-to-point course with a slight downward slope, these times cannot be credited as records or best performances.
"Of course, I was disappointed at not winning the race, because that was my goal. I've had four or five weeks of good training but today Kara was just that little bit too fast for me," said Radcliffe, who added: "But it's not a disaster. It's the beginning and I have a platform from which I can build."
"I surprised myself because my longest race till now has been 10,000 meters. I just ran as I felt. I was thinking all the time that Paula was right behind me and could go past," said Goucher.
The men's race produced a minor surprise with the defeat of the world half marathon record holder, Samuel Wanjiru (58:35) by his fellow Kenyan Martin Lel. The London Marathon champion won in 60:10 ahead of Wanjiru (60:18). Third was the South African Hendrick Ramaala (62:37). They will all meet again in the New York Marathon on November 4.
© Copyright 2007-2022 by Take The Magic Step®. All Rights Reserved.
Article Archive