Gebrselassie Breaks 25K World Record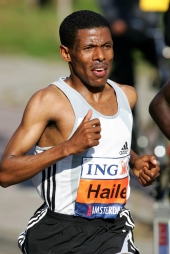 Haile Gebrselassie won the 25-kilometer race of Alphen. Clocking 1:11:37 hours the Ethiopian improved the world record of Kenyan Paul Kosgei by 1:08 minutes. Kosgei had run 1:12:45 on 9th May 2004 in Berlin, Germany. On a clear sunny day in cold temperatures the African was far too strong for his competitors. The 25K race was incorporated in the normal 20 kilometers of Alphen. It is one of the most famous road races in the Netherlands.
Gebrselassie and six others ran the first five kilometers on an extra loop before passing the starting line of the 20K race. In the first few kilometers of the 20K some runners like Dutchman Kamiel Maase and Kenyan Salim Kipsang were able to follow Gebrselassie but soon the Ethiopian was on his own. At the end 32-year-old Gebrselassie had a winning margin of almost seven minutes. Runner up was Al Mustafa Riyadh from Bahrain in 1:18:31 hours. Gebrselassie two time Olympic and four time World Champion in the 10,000 meters, said again that he will concentrate on road running.
But actually the 25K race wasn't planned. "I did not want to run 20 kilometers therefore I asked the organizers if it was possible to run 25 kilometers," confirmed Gebrselassie. On race day the Ethiopian thought it would be too cold for a good time. But he proved himself of being wrong with a new 25K world record.
© Copyright 2006-2022 by Take The Magic Step®. All Rights Reserved.
Article Archive