Gebre Gebremariam and Edna Kiplagat Win Outstanding NYC Marathon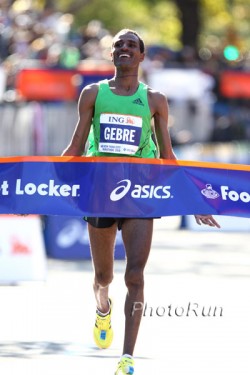 The 41st edition of the ING New York City Marathon kicked off in near-perfect conditions with sunny skies and cool temperatures hovering around 39 degrees Fahrenheit on Sunday. Over 45,000 runners took part in the famous five-borough marathon. In the men's race, the Ethiopian debutant, Gebre Gebremariam won in 2:08:14 hours. The gold medal of the woman's race went to this year's Honda Los Angeles Marathon champion, Edna Kiplagat, who broke the finish-line tape in 2:28:20.
In the men's race, the initial pace was unusually pedestrian with the leaders running the first 5 kilometers in 16:25 minutes. Standing out in the large pack was the current world-record holder in the marathon, Haile Gebrselassie. Expectations were high for the famous Ethiopian, who was racing his first New York City Marathon. Running next to Haile Gebrselassie was last year's champion, Meb Keflezighi. The first move of the race came from the Moroccan, Abderrahime Bouramdane, who bolted far ahead of the group in the second mile, running at sub-5:00-per-mile pace. The pack quickly reeled him in.
As the runners entered Brooklyn, there was no clear leader. Approximately 20 runners spread across the width of the road ran together. By the third mile, it was former New York champion Hendrick Ramaala's (2004) turn to make the move. And like Abderrahime Bouramdane, Hendrick was almost immediately caught by his followers. The large group of leaders crossed 10K in 32:00 minutes with no real change in the race's dynamic at that time. By 20K, Haile Gebrselassie put on a surge, thinning the pack down to just 10 runners. The half-marathon point, located at the Pulaski Bridge, was reached in 65:22 with Meb Keflezighi in first place.
A big change in the race's dynamic occurred as the leaders came down the Queensboro Bridge. At that point, Haile Gebrselassie dropped out of the race. According to the Associated Press, Haile turned to his compatriot and the eventual winner of the race, Gebre Gebremariam, and told him, "I can't, Gebre. You have to move." Shortly before the start, the Ethiopian champion had complained about tendonitis in his right knee. This event opened up the race and led to one of its key moves. As the runners turned off the bridge and onto First Avenue—a three-mile straight section of race with enormous crowds—Moroccan Abderrahim Goumri took off, clocking a 4:26-minute mile. The large group was suddenly strung out. Running with Abderrahim Goumri were Kenyans James Kwambai and Emmanuel Mutai as well as Ethiopian Gebre Gebremariam. The real race began.
By the 19th mile (1:33:13 hours), as the leaders crossed the Willis Avenue Bridge into the Bronx, it was James Kwambai's turn to lead. Now, there were just three runners vying for the win: James, Emmanuel Mutai and Gebre Gebremariam. A mile later James Kwambai fell back and it was down to a footrace between Emmanuel Mutai and Gebre Gebremariam. The Kenyan and the Ethiopian ran stride for stride through Central Park. By the 23-mile mark, James Kwambai was already 20 seconds behind. With just a mile to go, Gebre looked quickly at Emmanuel and then dropped his arms, accelerating down the road. The 26 year old won the race in 2:08:14. His victory was the first win for a male debutant in New York City since Rod Dixon's (New Zealand) victory in 1983.
"New York is so special for me. Even if I just finished. I am so proud to win. Nobody expected me to win," an elated Gebre Gebremariam said shortly after crossing the finish line.
Emmanuel Mutai finished second in 2:09:18, while third place went to Moses Kigen Kipkosgei of Kenya in 2:10:39.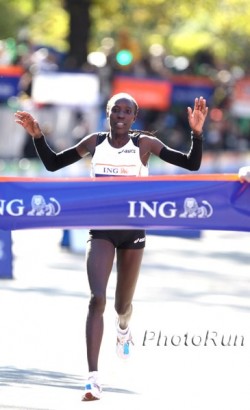 The women's race was similar to the men's with a large group of approximately 20 runners forming early in the race. British runner Mara Yamauchi did most of the work in the beginning, with runners drafting behind her through 5K (18:40). The race was relatively uneventful, though the pace picked up slightly in the next 5K, with the leader crossing the 10K mark in 35:57. In the front were Mara Yamauchi, Ethiopian Teyba Erkesso, Christelle Daunay of France, and top American prospect, Shalane Flanagan.
The leaders reached the half-marathon point in 1:15:44—well short of course-record pace. And like the men's race, the dynamic didn't change until the runners passed the long and steep Queensboro Bridge. When the runners turned onto First Avenue, the pack began to break up as Russias Inga Abitova and Teyba Erkesso went to the front. By the 30K mark, it was Shalane Flanagan's turn to take the lead, but this was short-lived as her competitors—thinned by that point to just eight runners—caught her after a few hundred meters.
Twenty-one miles into the race it came down to just three runners: Shalane Flanagan, Edna Kiplagat and Mary Keitany. One of these women would be the eventual winner. As the runners entered Central Park the excitement mounted. With two miles to go, the final move was Edna Kiplagat's. On a gradual downhill stretch, she put on a massive kick that gapped Shalane Flanagan and Mary Keitany by over 100 meters. With a big smile on her face, the 31 year old waved to the crowd and crossed the line in 2:28:20 hours. Shalane Flanagan finished 20 seconds later in 2:28:40, while Mary Keitany was third in 2:29:01.
In a post-race interview, Edna Kiplagat recalled the success of her training that led to her win. "When I was training, I didn't feel any pain or injury. I had a lot of support from my husband and manager. Everything went very well," she said. "The crowds were very nice and motivating. It was very encouraging. I liked the way they were cheering us."
Along with the participants were 6,500 charity runners at the starting line representing 185 charities. They aimed to raise more than 24 Million US-Dollars for a good causes.
World's Greatest Marathoner, Haile Gebrselassie, Retires from Competitive Running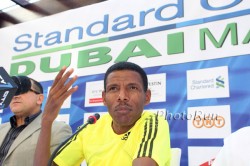 In a hastily assembled press conference at New York's Mandarin Oriental Hotel, 37-year-old Ethiopian world-record holder in the marathon, Haile Gebrselassie, surprised the running world and announced his retirement on Sunday. Haile took part in the New York City Marathon, but had to drop out at the
16-mile mark due to tendonitis in his knee. Holding back tears, the world's fastest marathoner explained the reasoning behind his decision. "I never think about retiring, but for the first time, this is the day. Let me give a chance for the youngsters." Looking out into the room, Haile Gebrselassie insisted on not dwelling on his decision. "No complaints, really. It's better not to complain anymore."
Throughout his long career, Haile Gebrselassie has been an incredible ambassador for the sport. Though he's retiring from racing, he's sure to take his career in another equally influential direction. "Let me stop and do other work after this," he said. Haile Gebrselassie established a number of businesses in Ethiopia and runs two schools according to the Associated Press. He would like to improve lives in his country and even considered becoming involved in Ethiopian politics.
November 23, 2010, Further Information to Haile Gebrselassie
Haile Gebrselassie Running Again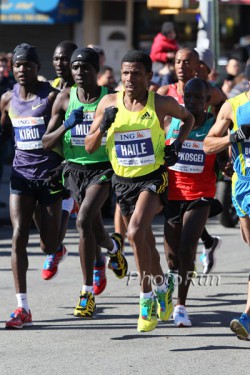 After the New York Marathon earlier this month, Haile Gebrselassie had made a surprise announcement that he was retiring and flew straight back to Addis Ababa. The Ethiopian world-record holder in the marathon had been reflecting on his decision to retire in recent days after he initially said on Twitter: "What a disappointing weekend, I didn't plan to come back to Ethiopia this way. I wanted to succeed in New York. Now it is time for me to think about a lot of things. I still love running. I will always run. Just give me some time to think things over."
Since then, Haile Gebrselassie confirmed that he wants to continue his career, announcing on Twitter: "First I want to thank you for all your support and great responses. After a few days on the countryside, I could take some decisions. Running is in my blood and I decided to continue competing. My announcement in New York was my first reaction after a disappointing race. When my knee is better again, I will start focusing on my next race." Haile Gebrselassie had already confirmed that he would run the Tokyo Marathon on February 27 before his retirement. Now he is likely to meet that commitment. In addition, the Olympic Marathon in London in 2012 is once again his ultimate objective
© Copyright 2010-2022 by Take The Magic Step®. All Rights Reserved.
Article Archive