From Refugee to European Champion: Mo Farah's Incredible Journey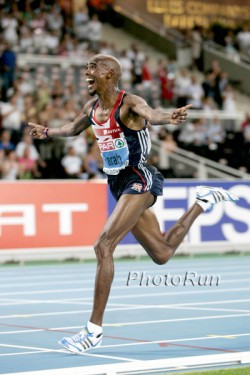 Mo Farah trained four long years for the day he would cross the line first at a European Championship race. Last week in Spain, one of the United Kingdom's best male distance runners finally won gold at the 10,000-meter and 5,000m finals. Italy's Salvatore Antibo last accomplished this remarkable achievement—a double victory in both long-distance events—in 1990.
At the championships in Gothenburg, Sweden in 2006, Mo Farah had hoped to win the 5,000m, but ended up settling for second place. Now he was victorious twice in Barcelona's Olympic stadium and made British Athletics history. No British man before him had ever won a 10,000m European Championship final. "Four years ago I went home and I knew, I have to wait for four years for the next opportunity to win a European title. That wasn't easy," Mo reflected on the patience and perseverance required between championships.
Mo Farah's long journey started when he was just ten years old. His parents were refugees from Mogadishu, Somalia. His P.E. teacher, Alan Watkinson, noticed Mo Farah's running talent and insisted that he starts with soccer. He then signed him up for a running club. By 1997, Mo won his first English cross-country school title.
At the age of eighteen, Mo Farah took first place at the 5,000m European Junior Championships. At that time, he also became friends with Chris Thompson, who is two years older than him. Chris Thompson ended up placing second behind him in the 10,000m final in Barcelona.
A key factor in Mo Farah's success is his ability to consistently find strong training partners. Five years ago, he trained with Craig Mottram of Australia and Micah Kogo of Kenya. He still trains with Micah Kogo and maintains close ties with the Kenyan. Mo lives in the southwest corner of London—Teddington—where big parks offer ideal training conditions. Quite a few Kenyan world-class athletes use Teddington as their summer base. "They sleep, eat, train, and relax—this is all they do. But this is exactly what you have to do. I do not only want to be the best Briton but I want to be able to compete with the world's best," Mo Farah says. Two years ago, he went to a training camp in Ethiopia with steeplechase specialists Mustafa Mohamed (Sweden) and Bob Tahri (France) where they were preparing for the European Cross-Country Championships. For the European Championships, Mo trained partly in Kenya.
"This victory today also means a lot to my family," Mo Farah said after his career's biggest success in Barcelona. While he was preparing for the European Championships Mo married his long-time partner, Tania Nel. After their honeymoon in Zanzibar, Tanzania this spring, they both had wanted to fly back to London together and from there he had planned to continue on to Stanford, California to compete in the Payton Jordan Cardinal Invitational. But due to the ash cloud from the Icelandic volcano, which tied up the air traffic, there was no chance for him to compete, so he decided to return to Kenya while his new wife flew back home, alone.
Before the European Championships, Mo Farah had already demonstrated his incredible shape. He first won a 10-kilometer road race in London with a national record time of 27:44 minutes. At that race, he defeated the former world-record holder in the 10K, Micah Kogo. He then set a 10,000-meter personal best (27:28.86) while running in the European Cup in Marseille.
In the 5,000m final in Barcelona, Mo Farah was able to outrun two key rivals who had defeated him in the past: Sergiy Lebid (Ukraine) who won the 2008 European Cross-Country Championships and the Spaniard, Alemayehu Bezabeh who outkicked Mo Farah in the 2009 European Cross-Country Championships in Dublin. In that race, Mo collapsed from exhaustion after crossing the finishing line. Medical tests on him eventually showed that he was suffering from a magnesium and iron deficiency. Now healthy, Mo Farah's incredible performances in Barcelona this summer have shown that he is as fit as ever.
© Copyright 2010-2022 by Take The Magic Step®. All Rights Reserved.
Article Archive