Former Champs Reign in New York
Even though world-class marathons last over two hours, watching one is hardly boring; and certainly not predictable. At today's ING New York City Marathon, this was the case. In the men's race, after 24 long miles, the 2nd place finisher at last year's NYC Marathon, the famous Moroccan, Abderrahim Goumri—the owner of the sixth-fastest marathon time in the world—was virtually assured of the win. He entered the hardest part of the course, the Central Park South hills, with a comfortable lead.
But that's when the excitement happened—that's when the real race began on Sunday: at 24 miles.
Goumri suddenly noticed someone behind him. It was no stranger to this race; it was the Brazilian and the 2006 ING New York City Marathon champion himself, Marilson Gomes dos Santos.
Earlier in the race, through the half (66:06 minutes), the two had been in with the lead pack that was comprised of the three Kenyans, Daniel Rono, Paul Kirui, and the former world-record holder, Paul Tergat, as well the South African and 2004 Champion, Hendrick Ramaala and Abderrahime Bouramdane of Morocco. It had been a tight race up to that point, with the only major surge belonging to Goumri around mile 14. Up till then, the race was anyone's—up in the air. The pack began picking up the pace
Around mile 22, on First Avenue, Goumri and dos Santos broke off from the pack for good. Goumri did the work, dos Santos followed in his footsteps, a few seconds behind. Goumri's lead increased as he gained strength, coming to terms that his first major marathon victory was within reach.
Miles 22-24 turned out to be the most important miles of the race Sunday.
Goumri took his lead from two seconds to over six. Dos Santos apparently couldn't keep up. But then the infamous hills of Central Park South came and the race's dynamic changed. Gourmi began to fade. Mile 25 approached and his lead dropped to five seconds—then down to two.
Dos Santos passed Goumri in the last half mile and padded his lead to 30 meters. The crowd erupted in cheers. Dos Santos crossed the finish line pumping his fist. His time: 2:08:43 hours. 30 seconds later, Goumri finished in a respectable 2:09:07. The Kenyan, Daniel Rono placed third in 2:11:22.
Talking to the press afterwards about those final, desperate miles Goumri recalled, "I turned back and saw Marilson come back. I said, 'I think he is going to win today.'" Still, Goumri was optimistic about his chances for a victory in the future. "I hope I can come back one day and I should win one day, no problem," he said.
Dos Santos recalled the final mile, saying, "You can't ever lose hope. I kept focusing. I have seen many marathons decided only in the last minutes."
Besides Brazil, it was a good day for the United States. Four Americans placed in the top ten—something that hasn't happened in 21 years. The American favorite, Abdi Abdirahman, who led for a while early in the race, placed sixth (2:14:17). Also noteworthy was Bolota Asmerom's 2:16:37 finish-an impressive debut for a former 5000m runner.
Top 10 Men:
| | | |
| --- | --- | --- |
| 1. | Marilson Gomes Dos Santos (31), BRA | 2:08:43 |
| 2. | Abderrahim Goumri (32), MAR | 2:09:07 |
| 3. | Daniel Rono (30), KEN | 2:11:22 |
| 4. | Paul Tergat (39), KEN | 2:13:10 |
| 5. | Abderrahime Bouramdane (30), MAR | 2:13:33 |
| 6. | Abdi Abdirahman (31), USA | 2:14:17 |
| 7. | Josh Rohatinsky (26), USA | 2:14:23 |
| 8. | Jason Lehmkuhle (31), USA | 2:14:30 |
| 9. | Hosea Rotich (29), KEN | 2:15:26 |
| 10. | Bolota Asmerom (30), USA | 2:16:37 |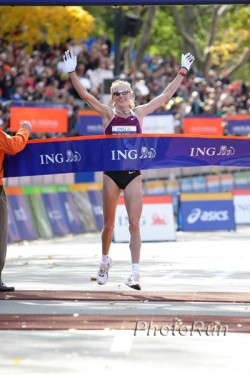 The women's race was equally inspiring!
As soon as the starting gun sounded, the world-record holder and last year's champion—the prerace favorite—Paula Radcliffe took the early lead. She ran strong from the front, against a vicious headwind—proving her fitness. She hit the 4-mile mark at 23:09. Behind her, in the slipstream, was the American and debut marathoner, Kara Goucher, and the Ethiopians, Gete Wami and Dire Tune.
When asked after the race about front running alone into the wind, Radcliffe recalled, "Nobody else wanted to take the lead…I looked behind and they were all tucked in behind me, I thought C'mon ladies, we've got the whole road."
At mile 6, the race's dynamic changed slightly as Radcliffe pulled aside for her fluid bottle. The American, Kara Goucher, who had been right on her heels took the lead.
By mile 7, however, Radcliffe returned to the front.
This happened again near the half, as Radcliffe pulled aside for fluids and Goucher pushed ahead for 400 meters. Determined not to lose the lead, Radcliffe countered and surged back into the lead.
Radcliffe's time at the half was 1:13:23.
By mile 14, the chase pack began to drop—most notably the Olympic silver medalist, Catherine Ndereba. Behind Radcliffe were Goucher, Tune, Wami, and the 40-year-old Russian, Ludmila Petrova.
At mile 20, with the ominous Central Park hills and the infamous "wall" ahead, the race's dynamic began to change. Tired from the strong winds and relentless pace, Tune and Wami began to fade. Radcliffe held the lead and only Petrova was able to hang with her. Goucher held on for third. Into Central Park, it was Radcliffe's race. Petrova and Goucher battled for second and third place.
Slowing slightly to celebrate in the final miles, Radcliffe still finished strong. She crossed the line in 2:23:55. Behind her, 40-year-old Ludmila Petrova finished in 2:25:43—breaking Priscilla Welch's world record for the fastest women's master (2:26:51). Third place went to the American Kara Goucher. Her 2:25:52 also set a record-the fastest debut by an American woman.
Radcliffe's victory Sunday was her third ING New York City Marathon win. "New York is just a place I love to come but it was different this year. The last two times it was really close at the end but it was nice to make it a little bit easier on my husband and help him stay more relaxed," she joked after the race.
Besides Radcliffe and Dos Santos, two other world-class runners won big on Sunday in New York: Irina Mikitenko and Martin Lel. Even though neither of them ran the race, they were in the competition for the $1M World Marathon Majors purse—a purse that was determined at the conclusion of the ING New York City Marathon.
With first place clinched for the men, Martin Lel was assured of his victory, but not Mikitenko. The German newcomer in the marathon was competing for the purse with the Ethiopian, Gete Wami. In order for Wami to defeat Mikitenko, she needed to place first or second at New York—something that she wasn't able to achieve (Wami finished sixth in 2:29:25.)
As a result, the two were tied and it came down to a vote.
After the race, the directors of the World Marathon Majors (Boston, Chicago, Berlin, London, and New York) voted unanimously to award the $500,000 prize to Mikitenko who earned her points in fewer races and who's average race time in those races was faster than Wami's.
All in all over 38,000 runners from hundreds of countries competed in the world-famous marathon on Sunday. The race was broadcast on television and over the internet to an estimated 315 million people.
Top 10 Women:
| | | |
| --- | --- | --- |
| 1. | Paula Radcliffe (34), GBR | 2:23:56 |
| 2. | Ludmila Petrova (40), RUS | 2:25:43 |
| 3. | Kara Goucher (30), USA | 2:25:53 |
| 4. | Rita Jeptoo (27), KEN | 2:27:49 |
| 5. | Catherine Ndereba (36), KEN | 2:29:14 |
| 6. | Gete Wami (33), ETH | 2:29:25 |
| 7. | Dire Tune (23), ETH | 2:29:28 |
| 8. | Lidia Simon (30), ROU | 2:30:04 |
| 9. | Lyubov Morgunova (37), RUS | 2:30:38 |
| 10. | Katie Mcgregor (31), USA | 2:31:14 |
© Copyright 2008-2022 by Take The Magic Step®. All Rights Reserved.
Article Archive