Flomena Chepchirchir Surprises at Berlin 25K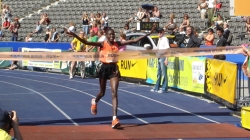 Flomena Chepchirchir was the surprise winner of yesterday's Berlin 25K, which was, not surprisingly, once again dominated by Kenyan runners. The 25K was the man race among others in the Run Berlin, which drew 9,044 participants from 42 nations.
Chepchirchir, of Kenya, won the women's race in 1:25:38. Last year's champion, Peninah Arusei, was supposed to be the big favorite, but she had to be content with second place in 1:26:17. Instead, 24-year-old Chepchirchir broke away from Arusei with 5K to go.
"This is the biggest success of my career so far," said Chepchirchir. "I did not expect to be able to beat Peninah in this race since she had beaten me only a week ago in a 10K race." Magdaline Chemjor (Kenya), who won this race in 2001 and 2002, took third place in 1:29:58. Russia's Natalya Volgina was fourth with 1:32:36. Chepchirchir continued a family success in the Berlin 25K—four years ago her husband, international marathoner Jason Mbote, won this race.
In the men's race, Patrick Makau Musyoki defended his title, reaching the finish in Berlin's Olympic Stadium with a time of 1:14:22. Taking into account the very warm weather conditions, with temperatures reaching around 80° at the end of the race, this was another strong performance by Musyoki. "We are happy with this event. Taking into account the very warm weather the winning times are really great," said race director Derk Kogelheide.
Pacemakers in the men's race set an early pace that would have led towards a finishing time of 1:12:45, the course and world record set by Paul Kosgei (Kenya) in Berlin three years ago. But soon after the 10K point, this mark got out of reach for the leading runners. "It was simply too warm today for such a record chase," said Musyoki, who decisively broke away at 17K. Nonetheless, his time is the fastest in the world this year for the distance. Kenyans took the first seven places, with William Kiplagat coming in second with 1:15:25 and Matthew Koech taking third place in 1:15:48.
With his win, Musyoki continued his streak of remaining unbeaten in Berlin. After last year's 25K, he also won the Berlin Half Marathon a month ago, when he clocked 58:56 to become the third fastest runner at this distance ever.
KIMbia's Korir and Kiplagat Triumph at Bloomsday
John Korir and Edna Kiplagat won yesterday's Bloomsday Run, a 12K in Spokane, Washington that, with more than 40,000 finishers, is one of the largest road races in the world.
Korir outsprinted KIMbia teammate John Yuda and Julius Kibet in the final stretch to win in 34:18. Yuda was one second behind Korir and one second ahead of Kibet. Yesterday's victory was Korir's third at Bloomsday; he also won in 2003 and 2005.
Kiplagat also ran Bloomsday in 2003, then finishing third. This year, she and Ethiopian Teyba Erkesso broke away from the other women, including Olympic Marathon silver medalist Catherine Ndereba, at 2 miles. Kiplagat surged on the course's toughest hill at 6 miles, and pulled away for a decisive win in 38:52. Erkesso held on to second, but was 30 seconds back. KIMbia's Kathy Butler placed fifth in 40:07, one place and 10 seconds behind Ndereba.
Dusseldorf Marathon Picks up the Pace
This year's Düsseldorf Marathon saw a huge improvement in quality, with a sub-2:10 winning time for the first time. Kenyan Bellor Yator won in 2:09:48, improving the course record by more than four minutes. In the women's race Luminita Zaituc (Germany) achieved a hat trick, winning here for the third straight time in 2:29:37. The background of the improvement stems from a new elite race director, Christoph Kopp, who is from Berlin and had this position for many years at the Berlin Marathon. These days, he also works for, among others, the Frankfurt Marathon.
In the men's race, 23-year-old Yator took the lead before the halfway point. "He dramatically increased the pace at this stage because he felt that the race had been much too slow for him," said Kopp. Yator won by more than a minute, with fellow Kenyan Samuel Nganga taking second in 2:11:03, while Daniel Too (Kenya/2:11:10) was third. Fourth place went to David Kemboi (Kenya/2:11:33).
In the women's race, although Zaituc again defended her Düsseldorf title, she again had problems during the race that forced her to stop for a moment. Despite muscle cramps, however, she finished one minute ahead of second placed Melanie Kraus (Germany/2:30:38), who met the World Championships' qualifying standard as well. Third was taken by Chinese Dai Yanvan in 2:35:33.
Prokopcuka Wins 10K in Edinburgh
Jelena Prokopcuka won the Bupa Great Edinburgh Run in Scotland four seconds ahead of Jo Pavey. The Latvian took the 10K in 32:53, while the Briton clocked 32:57. Hungarian Aniko Kalovics was well behind in third with 33:15. Prokopcuka won less than three weeks after placing second at the Boston Marathon; she currenlty leads the 2006-2007 series of the World Marathon Majors.
In the men's race, defending champion and 2005 world half marathon champion Fabiano Joseph (Tanzania) suffered a muscle cramp and had to drop out. Kenyan Hosea Macharinyang won, clocking 29:14 on a tough and hilly loop course. In a thrilling sprint finish he was just one second ahead of Boniface Kiprop (Uganda). Spaniard Chema Martinez finished third in 29:39. "I never thought that I would be able to win here," said Macharinyang, who added, "But Boniface Kiprop made sure that it was a hard race for me."
© Copyright 2007-2022 by Take The Magic Step®. All Rights Reserved.
Article Archive