Five Runners Dip under the Hour at the Ras Al Khaimah Half-Marathon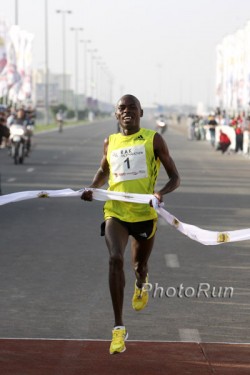 This weekend's Ras Al Khaimah Half-Marathon in the United Arab Emirates boasted one of the most stacked fields in recent memory. Altogether, five men ran under an hour and four women crossed the finish line under 68 minutes—incredible achievements across the board. The previous year's winner, Patrick Makau Musyoki, dominated the men's race. The Kenyan clocked an amazing 58:52 minutes. This is the second-fastest half-marathon ever run! Only his compatriot, Sammy Wanjiru, has run faster (58:33). En route to his win, Makau Musyoki set a world best for 20 kilometers. In the women's race, Dire Tune of Ethiopia ran the fastest time this year, 67:18 en route to setting a course record.
The men's race unfolded in this manner: Deriba Merga of Ethiopia took the early lead at 10K. Only Makau Musyoki was able to keep up. Merga reached 15K in 41:29, one second ahead of his Kenyan rival. This time gave the man who finished fourth in the Olympic Marathon a world record. Only two athletes have previously run 41:29 for 15K: Felix Limo (Kenya) at Nijmegen in the Netherlands in 2001 and Sammy Wanjiru, who recorded exactly the same time as Deriba Merga two years ago at Ras Al Khaimah. Merga can now be confirmed as world-record holder for 15K, because the race organizers ensured that an official with a timing clock was present. Haile Gebrselassie has run faster than 41:29. However, his split of 41:22 during the Tilburg 10-mile race in the Netherlands in 2005 was declared unofficial.
Deriba Merga couldn't maintain his strong pace. At 18 kilometers, Patrick Makau Musyoki passed him and lengthened his lead. He went through 20K in 55:38—setting a world-record in the process. The race organizers had also ensured that official timing was present to log the record. Haile Gebrselassie (Ethiopia) had previously been the 20K world-record holder (55:48) which he ran in Tempe, Arizona in 2006. It's worth noting that Sammy Wanjiru has run seven seconds faster for 20K, but there were no officials present when he completed it in 2007.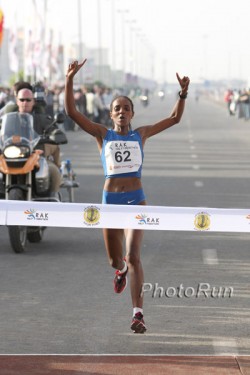 Makau Musyoki ended up missing the world record by 19 seconds. Second through fourth places went to Kenyans Wilson Kipsang Kiprotich (58:59), Deriba Merga (59:18), Wilson Chebet (59:32), and Matthew Koech (59:54) respectively.
After the race, Makau Musyoki blamed the elements. "The wind today prevented us running a world record," he explained. He will run in Rotterdam next on April 5th.
The women's winner, Dire Tune, showed the kind of form which suggests she's going to be in top shape for this year's Boston Marathon. The 23-year-old Ethiopian and winner at Boston last year broke away from the lead group after 15 kilometers. She finished in 67:18, the eighth-fastest official time in history.
Finishing well behind Tune were Aselefech Mergia (Ethiopia/67:48), Philes Ongori (Kenya/67:50) and Abebu Gelan (Ethiopia/67:57). Gelan set a women's junior world record in Ras Al Khaimah. Another six women from East Africa achieved sub-70 minute times—an incredible feat!
Defar Smashes World Indoor 5,000m Record in Stockholm
There was an exciting pairing of Ethiopian rivals in Stockholm this past week: Meseret Defar against Tirunesh Dibaba. And it was Defar who prevailed; she set the world indoor record for 5,000 meters—running 14:24.37 minutes in the 200-meter-lap arena. Two years ago in Boston, her rival, Dibaba, had run 14:27.42 for the distance.
After Meseret Defar had narrowly missed breaking her own world indoor 3,000m record in Stuttgart eleven days previously, she said she wanted "to run a good time in Stockholm." That she certainly did! She achieved the eighth world record of her career in Stockholm on Wednesday evening.
Another highlight in Stockholm: The Kenyan, Paul Kipsiele Koech, a steeplechaser, ran a world best this year for the 3,000m in Stockholm (7:32.80).
Farah Closes on the European Record in Birmingham
British runner Mo Farah won in front of a hometown crowd at the prestigious indoor meeting in Birmingham. Farah, who finished second in the European Cross Country Championships last year beat his own national record for 3,000m to 7:34.47—nearly a seven-second improvement. In winning against the Kenyan Shedrack Korir (7:38.61), the Farah came within two seconds of the European record held by Alberto Garcia (Spain/7:32.98).
After the race, Farah had this to say: "I knew I was in good form and wanted to run under 7:40 minutes. It was a good race and I'm delighted with the result. I'll do my very best at the European Indoors but I mustn't get carried away by all this. It's great to run fast but now I have to produce that kind of performance at a championship." Farah's performance makes him a definite favorite for the European Indoor Championships in Turin in two weeks.
Also in Birmingham, Vivian Cheruiyot (Kenya) ran the seventh-fastest 3,000m of all time (8:30.53). Second place went to the Portuguese runner, Jessica Augusto, who set a personal best in 8:44.81.
© Copyright 2009-2022 by Take The Magic Step®. All Rights Reserved.
Article Archive