Great Performances and Festive Atmosphere at New Year's Eve Races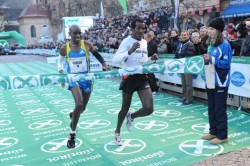 Runners bade farewell to 2010 at hundreds of New Year's Eve races throughout the world on Friday night. There was a thrilling contest in Bolzano, the beautiful town in Italy's southern Tyrol, where Ethiopian Imane Merga and Kenya's Vivian Cheruiyot each achieved close wins in sunny conditions with 15,000 spectators lining the route.
It was a very strong field in the men's
8-kilometer race where runners completed 1.25K laps throughout Bolzano's historic city center. Five runners comprised the leading group after halfway with Silas Kipruto (Kenya) doing the front running. Behind him were Imane Merga, Edwin Soi (Kenya), Mo Farah (Britain), and Ukraine's European Cross-Country champion, Sergiy Lebid.
The race then turned into a three-way contest after Sergiy Lebid had to drop back. Edwin Soi, winner of the BOclassic for the last three years, was running with the European 5,000 and 10,000-meter champion Mo Farah, as well as with Imane Merga. The Ethiopian had finished fourth in the 2009 World Championship 10,000m in Berlin. At that point, Edwin Soi couldn't maintain the pace, and so Mo Farah took charge, leaving it to be a two-man contest between him and Imane Merga. Mo Farah still led in the closing stages but couldn't hold on at the finish. Ethiopias Imane Merga won in 28:32.6 minutes, two hundredths-of-a-second ahead of Mo Farah (28:32.8). Edwin Soi finished third in 28:41.6 and his compatriot, Silas Kipruto, came home a distant fourth in 29:15.0.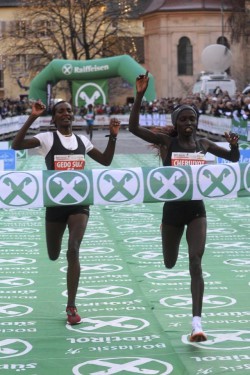 The women's 5K race was equally competitive. After the first of four laps, eight runners were strung out in the lead group. At this point, Irina Mikitenko was seventh. "The pace was too fast for me," she later explained. "I only started to get into the race on lap four and then started to enjoy myself. I started to cut back the gap of the four women ahead of me. If the race had had two more laps, it would have been better for me."
The lead pack eventually included just three runners: the 5,000m World champion, Vivian Cheruiyot, last year's winner, Gedo Sule Utura from Ethiopia, and the Kenyan, Prisca Jepleting. Vivian Cheruiyot dictated tactics at the front and in the final lap it was a footrace between her and Gedo Sule Utura. In the home straight, however, Vivian Cheruiyot pulled ahead and broke the tape first. The Kenyan triumphed in 15:52.7, one hundredth-of-a-second in front. Prisca Jepleting finished third in 15:59.6 ahead of the Hungarian Aniko Kalovics (16:17.2) and the Portuguese Ana Dias (16:20.6). Germany's record holder for the marathon, Irina Mikitenko, finished sixth in 16:22.4. "That was a good training run for me, even if I can't be happy with finishing sixth. But I'm happy with the way the race went because I was getting faster with every lap," said Irina Mikitenko, who will again be running the Virgin London Marathon this April.
Two Records Broken in Snowy New York City
Warm weather and a strong field helped contribute to the breaking of both the men's and women's course records at the 32nd annual Emerald Nuts Midnight Run in New York City. Stephen Furst won the men's division, while Desiree Davila proved victorious in the women's competition. The race, along a 4-mile stretch of snowy Central Park, is held at the stroke of midnight on New Year's Eve. Nearly 5,000 runners took part in the event; many were dressed in fancy and fun-looking costumes to celebrate the New Year.
Stephen Furst, 25 years old, prevailed in a three-man contest against fellow Americans David Jankowksi and Bobby Curtis. His winning time was 18:11 minutes, which was one second faster than the previous record held by Andrew Carlson. David Jankowski and Bobby Curtis finished in second and third respectively and were given the same time: 18:12.
The women's race was just as exciting with American Desiree Davila holding off previous course-record holder Carmen Douma-Hussar of Canada in a sprint finish. Desiree Davila broke the tape in 20:51—three seconds faster than Carmen Douma-Hussar's old record. Carmen finished four seconds behind, while Allison Kieffe was awarded third place, running a time of 21:37.
Victories for Zersenay Tadese and Jessica Augusto in Madrid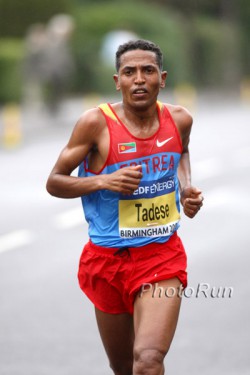 One of the biggest New Year's Eve races in the world took part this weekend in Madrid where 35,000 runners filled the Spanish capital's streets to run 10K. The race was also impressive in terms of quality with world-class performers Zersenay Tadese (Eritrea) and Jessica Augusto (Portugal) winning the titles at the "San Silvestre Vallecana."
The first move in the men's race came from Zersenay Tadese who went to the front shortly after 5K (14:12). He pushed the pace, breaking up the leading group. One runner after another lost contact but the Spaniard Ayad Lamdassem was able to stay with the four-time World Half Marathon champion. Surprisingly it was Ayad who broke away near 8.4K and appeared on course for a certain win. Unfortunately, 600 meters from the finish, Ayad Lamdassem missed a turn and instead ran straight on. By the time he had realized this and had run back, Zersenay Tadese had caught up with him.
It seemed as if Ayad Lamdassem might break away for a second time, but Zersenay Tadese, the 2009 World Championship runner-up in the 10,000m, was able to counter the move. When Zersenay eventually overtook Ayad, who had no response and simply jogged the last 300m. Zersenay Tadese won in 28:27 minutes, placing ahead of four Spaniards: Ayad Lamdassem (28:36), Jesus Espana (28:40), Chema Martinez (28:49), and Sergio Sanchez (28:53).
The race for the win in the women's event was exclusively a Spanish and Portuguese contest. Jessica Augusto, Portugal's reigning European Cross-Country champion, ran her own race, steadily increasing the lead to win in 31:59. Spain's 1500m European champion, Nuria Fernandez, took second place in 32:54 ahead of her compatriot Maria Jose Pueyo (33:19). The best runner not from the Iberian Peninsula was the World Marathon Majors (WMM) champion Liliya Shobukhova (Russia/34:48), who finished seventh. She was the winner of both the London and Chicago Marathons in 2010 and will be defending her title at this year's Virgin London Marathon.
Third Victory for Marilson dos Santos, Alice Timbilil Runs Course Record in São Paulo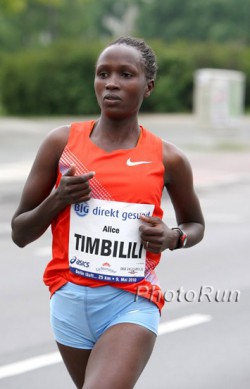 The "Mother" of all New Year's Eve races kicked off in São Paulo, Brazil. Hometown favorite Marilson dos Santos of Brazil and Kenyan Alice Timbilil won the 86th edition of the 'Corrida Internacional de São Silvestre'—a traditional event run on the afternoon of New Year's Eve. Approximately 21,000 runners took part in the race, which was held in warm temperatures.
Marilson dos Santos broke away from his Kenyan rivals just after halfway in the 15K event and steadily increased his lead. The 33 year old crossed the finish line in 44:07. He has had much success in that race, winning it as well in 2003 and 2005. His margin of victory was 42 seconds over Barnabas Kosgei (Kenya/44:49). James Kwambai, also from Kenya, was third in 45:15. Marilson dos Santos is best known for winning the ING New York City Marathon twice. He first won the race in sensational style as an unheralded outsider in 2006 and then repeated his triumph in 2008. Last month, it was announced that he would be running the Virgin London Marathon.
In the women's event, last year's winner Alice Timbilil took an early lead. The 27-year-old Kenyan runner broke away from the leading group and soon had a 60m lead. Brazilian Simone da Silva was fast on her heels with just six seconds separating them at the finish. Alice Timbilil won in 50:19—a new course record! The previous record of 50:26 belonged to fellow Kenyan Hellen Kimayo and had stood for 17 years. Simone da Silva also ran inside the old record with her time of 50:25. Eunice Jepkurui (Kenya/51:42) finished as distant third.
If you're interested in taking part in a traditional New Year's Eve race, you can find out more about these events here on our Web site.
© Copyright 2011-2022 by Take The Magic Step®. All Rights Reserved.
Article Archive