Eliud Kipchoge Triumphs, Tigist Tufa Surprises in London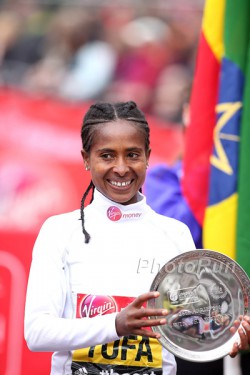 A thrilling duel resulting in the world's fastest time this year in the men's race and a big surprise in the women's event highlighted the prestigious London Marathon on Sunday.
In cool temperatures, Eliud Kipchoge, 30, from Kenya, came across the finish line in 2 hours, 4 minutes, and 42 seconds for his third marathon triumph in a row, and Ethiopia's Tigist Tufa overcame several more-favored rivals as she cruised to victory in 2:23:22.
Eliud's impressive finish left last year's winner, Wilson Kipsang (Kenya), in second place in 2:04:47, with world-record holder, Dennis Kimetto (Kenya), third in 2:05:50.
The surprise of the day came in the women's race when the 28-year-old Tigist, who attracted attention with a course record of 2:21:52 at the Shanghai Marathon last year, broke the finish line tape. The African-record holder, Mary Keitany, (Kenya/best: 2:18:37) placed second in 2:23:40 and just one second behind her came Tirfi Tsegaye (Ethiopia), third in 2:23:41.
Sunday's race was the 35th edition of the London Marathon with 38,020 registered runners taking part—the largest number ever in the history of this event.
The Men's Race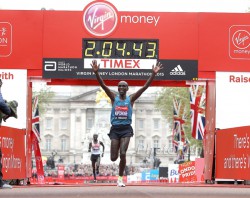 A star-studded six-man group crossed the 18.6-mile mark (30K) in 1:28:56, with world-record holder Dennis Kimetto, who achieved 2:02:57 in Berlin last year, in the lead. Joining him in this group were the reigning champion and course-record holder, Wilson Kipsang, who ran a then-world record of 2:03:23 in Berlin two years ago, and Eliud Kipchoge, whose personal best is 2:04:05. The others in this group were Kenya's Sammy Kitwara (best: 2:04:28) and Stanley Biwott (2:04:55) as well as Ethiopia's Tilahun Regassa (2:05:27).
Just before the 21.7-mile mark (35K) Sammy Kitwara and Tilahun Regassa were left behind when Eliud Kipchoge pushed the pace in the front. Dennis Kimetto also dropped back. He was able to make a brief comeback, but soon Dennis along with his compatriot Stanley Biwott was out of competition for the win. It set up a thrilling duel between Eliud and Wilson Kipsang—and a repeat of the epic struggle between the two that took place in Berlin in 2013. Back then, Wilson defeated Eliud Kipchoge and set a new world record, but on Sunday Eliud was stronger. The race was eventually decided about half a mile from the finish line close to Buckingham Palace, where Eliud was able to shake off his rival. Wilson finished second, but with 2:04:29 he still retains the London course record. Eliud explained afterwards, "It was a tough race. My training paid off and it went to plan. The crowd was wonderful and lifted me for my sprint finish. Runner-up Wilson said, "I am happy with my second place. The race was good."
The Women's Race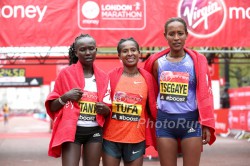 The pace in the women's competition was not as fast. After coming across the half-marathon mark in a relatively modest time of 1:11:39, Edna Kiplagat, the title holder and two-time world champion in the marathon, fell back just before the 18.6-mile point (30K). She eventually placed eleventh in 2:27:16.
A nine-strong group remained until the 18.6-mile mark. At that point, Tigist Tufa took the lead with Mary Keitany following her. Among the others in the group were the Kenya's Priscah Jeptoo and Florence Kiplagat (who in February ran the half-marathon world record with 65:09). In the end, Mary Keitany could not keep up and by about 24 miles, Tigist had sole possession of the lead. She proved uncatchable and won in 2:23:22. The current New York City Marathon champion, Mary Keitany (2:23:40) took the runner-up position one second ahead of Tirfi Tsegaye.
It was a farewell race for Paula Radcliffe on Sunday. The 41-year-old British runner, who still holds the world record of 2:15:25 from London in 2003, finished in 2:36:55 and won the Master Class 40+ Division. Dear Paula, we congratulate you on your great Masters triumph!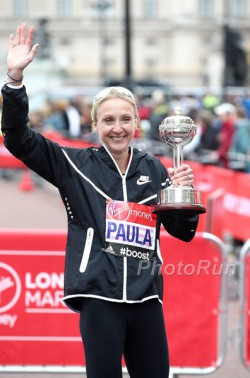 The men's race in the
wheelchair division
went to Joshua George (USA) in 1:31:31. Fellow American Tatyana McFadden capitalized on her recent Boston win to prevail in the women's race for the third time in a row (1:41:14).
Charity Runners in London Raise Nearly $76 million for Good Causes
As successful as London Marathon runners have been, the race also has an impressive record in raising money to help others. In previous years, the participants of this event have raised donations of almost $76 million for charity annually and organizers expect roughly the same amount for this year's race. Among the charity runners in London were 80 participants who ran for the Children's Society—an organization that helps to improve the life of underprivileged children.
In addition, every year the London Marathon chooses a number of non-profit organizations and authorities, like London-area schools, to receive all race surpluses, and last year almost $5.3 million was distributed to 70 organizations.
The Results of the London Marathon
Men:
| | | | |
| --- | --- | --- | --- |
|  1. |  Eliud Kipchoge |  KEN |  2:04:42 Hours |
|  2. |  Wilson Kipsang |  KEN |  2:04:47 |
|  3. |  Dennis Kimetto |  KEN |  2:05:50 |
|  4. |  Stanley Biwott |  KEN |  2:06:41 |
|  5. |  Tilahun Ragassa |  ETH |  2:07:16 |
|  6. |  Sammy Kitwara |  KEN |  2:07:43 |
|  7. |  Javier Guerra |  ESP |  2:09:33 |
|  8. |  Ghebre Kibrom |  ERI |  2:09:36 |
|  9. |  Aleksey Reunkov |  RUS |  2:10:10 |
|  10. |  Serhiy Lebid |  UKR |  2:10:21 |
Women:
| | | | |
| --- | --- | --- | --- |
|  1. |  Tigist Tufa |  ETH |  2:23:22 Hours |
|  2. |  Mary Keitany |  KEN |  2:23:40 |
|  3. |  Tirfi Tsegaye |  ETH |  2:23:41 |
|  4. |  Aselefech Mergia |  ETH |  2:23:53 |
|  5. |  Florence Kiplagat |  KEN |  2:24:15 |
|  6. |  Jemima Sumgong |  KEN |  2:24:23 |
|  7. |  Priscah Jeptoo |  KEN |  2:25:01 |
|  8. |  Ana Dulce Felix |  POR |  2:25:15 |
|  9. |  Volha Mazuronak |  BLR |  2:25:36 |
|  10. |  Rkia El Moukim |  MAR |  2:26:33 |
© Copyright 2015-2022 by Take The Magic Step®. All Rights Reserved.
Article Archive