Eight Hundred Runners Brave the Saharan Sands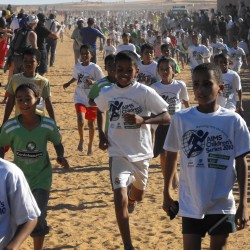 Jon Salvador of Bilbao, Spain won one of the toughest and most unusual marathon races anywhere in the world: the 10th edition of the Sahara Marathon. Salvador, 43 years old, covered the 26.2-mile course that took place in the world's largest desert in 2:42:40 hours, which was an event record. He had run the Sahara Half Marathon three times before—winning it twice.
Salvador's past experience with the race paid off. "It was very hot at the start and there were also quite a few good runners from Algeria but they went off very fast. I knew from running the half marathon—which is held over the second half of the marathon course—that it gets harder as you go on, so I held back a little during the early stages. That turned out to be the right tactic," he admitted.
The race takes place in western Algeria. The course passes through three camps where 200,000 Western Saharan refugees have been living since 1975, when territorial tensions forced thousands to flee their land. The UN has since passed a resolution supporting the creation of a state of Western Sahara, but so far that is still a dream. "As Basques, we understand the problems faced by people here and know what they have to go through. The race is important because it draws attention to their problems," said Jon Salvador.
According to race organizers, nearly 800 runners from 28 countries took part in the race, which was record level of participation. A shorter, youth-oriented race was also held in conjunction with the race. The event received the support of the Association of International Marathons and Distance Races (AIMS).
© Copyright 2010-2022 by Take The Magic Step®. All Rights Reserved.
Article Archive