Edwin Soi Takes Bolzano's New Year's Eve Race for Third Straight Time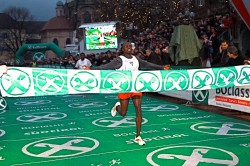 More races are held on New Year's Eve than any other day of the year, making this day synonymous with distance races. This year there were top-class events held in Bolzano, São Paulo, Trier, and Madrid.
The bronze medalist in the Olympic 5,000m in Beijing, Edwin Soi of Kenya, won the 35th edition of the BOclassic race held in Bolzano, Italy for the third consecutive occasion. The race turned into an all-African affair with victory in the women's 5-kilometer race, beset by a steady drizzle of rain, going to the world junior champion Gedo Sule Utura of Ethiopia.
The men's race was incredibly competitive. Edwin Soi had to work harder than ever for his third win. He was only able to break clear of his opponents on the sixth of eight laps of the 10K race. Soi confirmed this afterwards. "This win means more to me than the two previous ones because I had to work so hard for it. The field was so strong. I let my rivals take the prize for the halfway sprint and then took them by surprise at the end. The plan worked well," he said. His winning time was 28:44 minutes.
Finishing second and third were two more runners of international caliber: Jida Imane Merga (Ethiopia), fourth in the World Championships 10,000m in Berlin, and Britain's European indoor champion, Mo Farah. Merga finished just one second behind Soi and Farah clocked 28:48.
Sergey Lebid of Ukraine is the only other man to have achieved Edwin Soi's feat of three wins in Bolzano. Lebid, who has won the event five times, finished ninth this year. The best European to cross the line was Italy's rising star, Andrea Lalli (29:33), who came in fifth place right behind Kenyan Silas Kipruto (29:25). Kipruto broke up the field early in the race with a lightning fast second lap. Soi's victory marked the 17th time a Kenyan had won in Bolzano and the 11th time in the men's race.
The women's race turned into a clear-cut win for Gedo Sule Utura. The world junior 5,000-meter champion broke clear as early as the second lap, giving her a comfortable margin of victory as she crossed the line in 16:11. "I didn't expect to win because I'm not used to the cold. It wasn't easy for me, even though it might have looked that way. Now I'll be concentrating on preparations for the World Cross-Country Championships," Utura said.
An unexpectedly strong performance came from Sonja Roman, Slovenia's 1500m specialist. Roman was the only runner to stay with Utura for at least part of the race and finished second in 16:13, ahead of the French record holder in the marathon, Christelle Daunay (16:17). The European cross-country champion Hayley Yelling of Britain placed seventh and after finishing on the podium on the last four occasions, Hungary's Aniko Kalovics took fifth.
James Kwambai Wins in São Paulo
The original New Year's Eve race takes place in Brazil. The 85th running of the "Corrida Internacional de São Silvestre" was held in peak summer temperatures of over 86 degrees Fahrenheit and high humidity. A record 21,000 runners set off on the 15K course through São Paulo.
The fastest marathoner in 2009 was also the fastest in São Paulo. Returning champion James Kwambai of Kenya, who clocked a 2:04:27 hours last year in Rotterdam, went clear of his rivals around the 9K mark. He continued to build on his lead and won the race in 44:40 minutes, finishing ahead of fellow countrymen Elias Chelimo (44:58) and Robert K. Cheruiyot. Cheruiyot, a three-time winner in São Paulo as well as former Boston Marathon champion, ran 45:30.
Kwambai acknowledged the brutal race conditions. On the International Athletics Federation's website (iaaf.org) he said, "I would have like to have run faster but the humidity made it tough for me." Nevertheless, Kwambai ran two seconds faster than his victory in 2008.
A runner from Kenya also dominated the women's race in São Paulo: Pasalia Kipkoech eased away from her rivals in the second half of the race and won by a handsome margin. The 21-year-old clocked 52:30 to crown the biggest win of her nascent career. Olivera Jevtic (Serbia/52:59) was runner-up and Marily dos Santos (Brazil) was third in 53:35. "Road racing is simple—you train hard and if you do, you win. I trained well, ran very fast and that was enough for victory," Kipkoech's explained afterwards.
Haile Gebrselassie Wins Despite the Confetti in Trier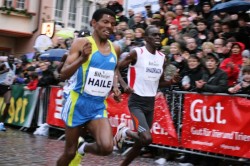 Ironically, a shower of confetti posed a bigger challenge to Haile Gebrselassie than his opponents in Trier, Germany. At the 20th edition of the Bitburger New Year's Eve race, the marathon world record holder from Ethiopia lived up to his pre-race status as the favorite. Gebrselassie finished the 8K course well clear in 22:23. The fastest woman over 5K was Yelena Zadorozhnaya of Russia who finished in 15:49. Trier's New Year's Eve race has been called the "German São Paulo" due to its one-kilometer circuit similar to the race in Brazil. A record number of runners (2,228) turned out for the anniversary race with 20,000 spectators lining the course.
Haile Gebrselassie broke away from his two remaining Kenyan rivals Shadrack Lagat and Paul Kipkorir on the fourth of eight laps. Shortly after halfway, the 36-year-old began to lap runners in the elite race. Going through 4K in 11:08 he was well on schedule to break the course record of 22:21, set by the Kenyan Isaac Kariuki 12 years ago. Gebrselassie even had a chance of breaking the unofficial world record of 22:03 (Peter Githuka/Kenya/1996). But having to pass lapped runners as well as coping with rain which made the road surface slippery in parts caused Gebrselassie to lose some of his momentum. He also found the showers of confetti challenging. "The atmosphere was great, almost like being in a track race. But some confetti went into my eyes," explained Gebrselassie. "I thought I was still well on schedule for the course record so I let the pace drop a little on the final lap. At the finish I was surprised that I hadn't done enough."
"Running against Haile is like fighting with a lion," said second-place finisher Shadrack Lagat, who clocked 22:48. Third place went to Paul Kipkorir of Kenya.
In the women's race, 32-year-old Zadorozhnaya won a sprint duel at the finish to beat the 18-year-old Ethiopian, Emebeth Anteneh (15:51), and the Kenyan, Caroline Chepkwony (15:54).
Moses Masai dominates in Madrid
Kenya's stars also put on a strong showing at Madrid's New Year's Eve race: Nike "San Silvestre Vallecana." The 10K race has attracted a high-class field for many years. Moses Masai, bronze medalist in the World championship 10,000m in Berlin, didn't disappoint in his role as the favorite. He achieved a decisive victory, clocking 28:01. The Spaniard, Alemayehu Bezabeh, recent winner of the European cross-country title in Dublin, was second in 28:10, ahead of his compatriot Sergio Sanchez (28:21).
The pre-race favorite also won the women's event. Vivian Cheruiyot (Kenya), winner of the gold medal in the 5,000m at the World Championships in Berlin last August, dominated the proceedings to finish the 10K race in 32:15. Nuria Fernandez (Spain/32:59), Rosario Console (Italy/33:02), and the world steeplechase champion, Marta Dominguez (Spain/33:13), came in behind Cheruiyot.
© Copyright 2010-2022 by Take The Magic Step®. All Rights Reserved.
Article Archive