ECh Results: Viktor Röthlin Triumphs in His Comeback-Race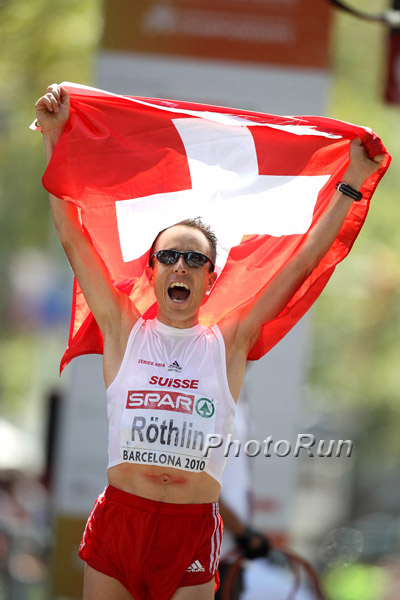 On the final day of the European Championships, Viktor Röthlin won his first major championship gold. Due to ongoing health problems, he had not competed in a marathon since the 2008 Olympic Games. Finishing in 2:15:31 hours, the Swiss runner left his rivals far behind. José Manuel Martinez of Spain won the silver medal with 2:17:50 and the Russian, Dmitriy Safronov, provided the race's biggest surprise, securing a bronze with 2:18:16.
Difficult conditions—high temperatures nearing almost 81 degrees Fahrenheit with up to 74 percent humidity—made the race all that more challenging. Many runners struggled and the finishing times were relatively slow as a result. Defending champion Stefano Baldini of Italy—also making a comeback—had to drop out before the 25-kilometer point and Austria's Günther Weidlinger finished 18th in 2:23:37.
Despite the warm weather, the pace was forced numerous times early on in the race, thinning the lead group. After the 10K mark was passed in 32:45 minutes, Yuri Abramov (Russia) tried to make a move. He picked up the pace, but Viktor Röthlin and the other members of the chase pack were able to stay with him. The second 10K split was run 45 seconds faster than the first. Yuri Abramov eventually had to drop out of the race. Günther Weidlinger was already a few seconds behind the leaders by this point. "It was incredibly warm," he said afterwards. "Even when the first increase in pace came, I didn't feel good. All in all, it just wasn't my day."
At the half (67:43 minutes), there were still five runners in the leading group: Viktor Röthlin, José Manuel Martinez, Dmitriy Safronov, Ruggero Pertile (Italy), and James Theuri from France. James Theuri had led the field up to that point, but eventually dropped out as well. Near the 28K mark, Viktor Röthlin went clear of the four remaining runners. Dmitriy Safronov had fallen back to sixth, but was able to regain contact in the closing stages.
Viktor Röthlin went through 30K in 1:35:58 hours and held an 11-second lead over José Manuel Martinez who was running alone at that point. The Swiss champion, who won a silver medal behind Stefano Baldini four years ago at the European Championships, increased his lead. He was the only runner who could maintain pace while the others slowed. José Manuel Martinez was happy to have held onto second place "It's a dream for me to win a medal in front of my home crowd," said the Spaniard. With about 5K to go, Dmitriy Safronov overtook Ruggero Pertile who was then in third place. The Italian eventually finished fourth in 2:19:33. Behind him in places fifth to eighth were the Spanish duo of Pablo Villalobos (2:19:56) and Rafael Iglesias (2:20:14), Migidio Bourifa (Italy/2:20:35), and Lee Merrien (United Kingdom/2:20:42).
The 35-year-old Viktor Röthlin had already demonstrated both at the World Championships in Osaka and at the Olympic Games in Beijing that he can run very well in extreme heat. But on this occasion, the background to his personal situation was entirely different. After finishing sixth at the Olympic Games in Beijing, he had intended to run the Virgin London Marathon in April of 2009. In February of that year, he ran the Ras Al Khaimah half marathon in the United Arab Emirates, but had to drop out because of stomach problems. On the return flight, he suffered a thrombosis attack, which led eventually to two pulmonary embolisms. In addition, he underwent heel surgery at the end of last year.
Going into the European Championship marathon he had not competed in a single international race. "This was my 19th marathon and it felt as if it were my first," said an elated Viktor Röthlin afterwards. "I hoped to run well, but didn't feel confident at the start. This might have been the end of my career, but now I feel I'm back. It's a fantastic feeling." Viktor Röthlin is the first Swiss man to have won a gold medal in the marathon at the Olympics, European, or World Championships. Afterwards, he alluded to his perseverance: "I never felt confident during the race. I simply kept running. I like running in the heat," he said.
Women's 5,000 m Final
Alemitu Bekele of Turkey is the new women's European champion at 5,000m. The 32-year-old won in 14:52.20 minutes. Her compatriot, Elvan Abeylegesse (14:54.44), took second, while Portuguese runner Sara Moreira (14:54.71) secured bronze. In the closing stages of the race, Alemitu Bekele, who had already won the European indoor 3,000m title last year, dictated the pace at the front. Elvan Abeylegesse was unable to match Alemitu Bekele's long finishing kick. Alemitu's win in Barcelona marks the greatest success of her career thus far. "I offer this victory as gift to Turkey," she said.
Elvan Abeylegesse won the contest for silver at the start of the home stretch, overtaking Sara Moreira. However, the Portuguese bronze medalist was pleased with her result: "I've won a medal and improved my personal best by four seconds. I might have won silver but when you run the best race of your career, you have to feel very satisfied," she said.
Article Archive