ECh Results: Mo Farah Runs to Historic 10,000m Gold
Mo Farah of the United Kingdom and Turkey's Elvan Abeylegesse won the men's and women's 10,000-meter titles at the European Athletics Championships in Spain. Both runners hope to continue their streak in the 5,000m.
Men's 10,000m Final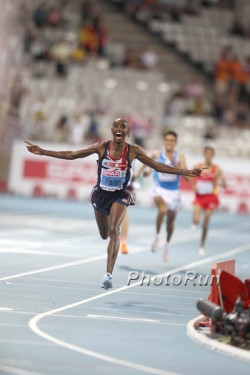 Until Tuesday, no British man had ever won the 10,000m in the 76-year history of the European Championships. Now Britain has a champion: the 27-year-old Mo Farah lived up to his pre-race expectations, celebrating the biggest victory of his career to date. His winning time was 28:24.99 minutes. Second place also went to a British runner, Chris Thompson, who triumphed ahead of Daniele Meucci (Italy) in an exciting photo finish with both clocked in at 28:27.33.
The race was held in warm temperatures (79 degrees Fahrenheit) and things started out easy. Stsiapan Rahautsou (Belarus) and Moges Tesseme (Israel) took the lead temporarily, while the favorites—grouped around Mo Farah—stayed in the back of the field. Once halfway was reached in 14:38.10, the pace quickened and a lead group of ten runners formed.
At that point, Chris Thompson picked up the pace. Mo Farah kept at his heels, followed by Spanish rivals Ayad Lamdassem and Carles Castillejo as well as the Italians Daniele Meucci and Andrea Lalli. With approximately 2.5 kilometers remaining, Mo Farah made a break. But Ayad Lamdassem stuck close to him and didn't let up. Having yet three laps to go, Mo slowed down and looked over to Ayad, who then took the lead. This exchange enabled their pursuers Chris Thompson and Daniele Meucci, to narrow the gap while Mo Farah grasped the opportunity to encourage his compatriot. "I saw that, he was trying to signal to me, 'Come on! You've still got a chance!'—I gave it everything, from that moment never let up on the Spaniard ahead of me and saw he was getting tired," recalled Chris Thompson afterwards.
With 350 meters to go to the finish, Mo Farah made his move. He flew past Ayad Lamdassem and put on a strong kick in the home stretch. Coming off the final bend, Chris Thompson and Daniele Meucci went past Ayad Lamdassem who finished fourth in 28:34.89 in front of a hometown crowd. Chris Thompson crossed the finish line ahead of Daniele Meucci with just a fractional lead and later said: "This is a fantastic success for British athletics. To finish second behind Mo Farah is like winning a gold medal. He's an extraordinary athlete and nobody would have beaten him today." Exactly two years before the Olympic Games begin in London the British track and field fans were clearly rehearsing. "It was like a home race for us, everywhere I looked all I could see were our flags," Chris Thompson said.
Despite having won one gold medal at the European Championships, things are far from over for Mo Farah. On Thursday, he'll be back in action again, running the heats of the 5,000m. "Now I'm looking forward to the 5,000m—I'll have to recover quickly but I'm well on the way," he said. Mo placed second in the 5,000m at these same continental championships in Gothenburg four years ago.
Women's 10,000m Final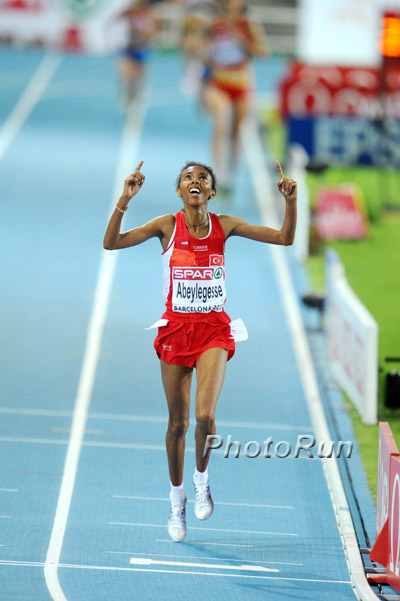 Turkish standout Elvan Abeylegesse is the new European champion in the women's 10,000m. She broke away from her rivals in the second half of the race and then ran unopposed to victory. The 27 year old won the gold with a European best for the year of 31:10.23 minutes. The defending champion, Inga Abitova (Russia), took second in 31:22.83 ahead of Jessica Augusto (Portugal/31:25.77). Germany's Sabrina Mockenhaupt had a good race and finished sixth in 32:06.02—her best placing over 10,000m at a major championship to date.
"I'm delighted with my gold medal. It wasn't easy because it was quite windy," said Elvan Abeylegesse afterwards. She has a good chance of becoming a double European champion in Barcelona. On Friday, she plans to run the 5,000m heats and aims to qualify for the final on Sunday.
The London Marathon champion, Liliya Shobukhova (Russia), took the initiative in the early phase of the 10,000m, making sure the opening pace was fast in the warm, 81-degree-Fahrenheit temperatures. She went through the first 1000m in 3:11.32 minutes. Well before the first half the European 5,000m-record holder unfortunately fell back in the field and eventually dropped out of the race. Meanwhile, Elvan Abeylegesse dictated up front. She reached 5,000m in 15:42.27 and from that point on there was no stopping her. After another 1000m she continued to build upon her lead, while her compatriot, Meryem Erdogan, Portugal's Jessica Augusto, Hilda Kibet (Netherlands), and Inga Abitova (Russia) were vying for the silver and bronze medals.
Jessica Augusto remained in second place for nearly the entire race until a fast-finishing Inga Abitova eventually overtook her on the last lap. Jessica ended up taking bronze. "All my season has been in preparation for this race. I'm very happy with the medal because it's my first at a major championship," she said afterwards. Another strong performance came from Hilda Kibet who placed fourth in 31:36.90, which clearly bodes well for a good autumn marathon. Fifth place went to Meryem Erdogan of Turkey in 31:44.86.
© Copyright 2010-2022 by Take The Magic Step®. All Rights Reserved.
Article Archive