Dennis Kimetto Wins Chicago Marathon with Course Record
The Men's Race
The Women's Race
Charity Running in Chicago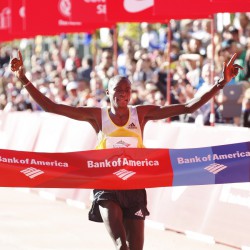 In another amazing fall marathon performance, Dennis Kimetto came within 22 seconds of the world record set only two weeks ago in Berlin as he ran to victory in Chicago. The 29-year-old Kenyan's time of two hours, three minutes, and 45 seconds made him the fourth fastest of all time for the classic 26.2-mile distance.
Adding to the excitement, for the first time in history on a record-eligible course two runners broke 2:04, with Emmanuel Mutai, also of Kenya, crossing the finish line in 2:03:52 for second place. And Sammy Kitwara completed a Kenyan sweep with a world-class third-place time of 2:05:16.
Kenya's Rita Jeptoo was the fastest woman in this World Marathon Majors (WMM) race, setting a world best for this year of 2:19:57 and finishing ahead of her compatriot, Jemima Sumgong (2:20:48), and Russia's Maria Konovalova (2:22:46). Rita Jeptoo's time was also the first sub-2:20 women's marathon this year.
Dennis Kimetto's triumph came just a year after he made an outstanding marathon debut in Berlin and he showed that the flat Bank of America Chicago Marathon course—given Sunday's good weather conditions—remains an ideal place for a world-record attempt. The last time a men's world record was set in Chicago was in 1999, when Morocco's Khalid Khannouchi clocked 2:05:42. The course also saw Britain's Paula Radcliffe set a women's world record of 2:17:18 eleven years ago.
An impressive 40,143 participants started the race, coming from all 50 states and more than 100 countries worldwide, and they were cheered on all the way through 29 of Chicago's neighborhoods by a crowd estimated at 1.7 million.
The Men's Race
The men's race was fast from the start with splits consistently within a few seconds of Wilson Kipsang's two weeks ago in Berlin when the Kenyan superstar ran to the world record of 2:03:23. Sixteen runners and several pacemakers made up the early lead group, which went through the first 10K in 29:21 minutes—five seconds slower than Wilson's record-breaking pace.
The leaders crossed the half-marathon point in 61:52, putting them well on schedule for their target of the course record of 2:04:38, which the Ethiopian Tsegaye Kebede set last year. But the group was 18 seconds off world-record pace. The first contender to fade was the world half-marathon record holder, Zersenay Tadese of Eritrea. He lagged more than a minute behind at the half and dropped out soon afterwards.
At 25K, when the last pacemaker left the race at 1:13:16, the lead group was just three seconds shy of Wilson Kipsang's Berlin split—and it was up to Dennis Kimetto and Emmanuel Mutai to seize the initiative and ensure that the pace continued to be fast. Excitement grew as the leaders raced each other as well as the clock. At 25K, nine runners remained in the lead group, but the group thinned considerably by 30K.
Dennis Kimetto, who finished second in 2:04:16 on his marathon debut in Berlin in 2012 and won the Tokyo Marathon in 2:06:50 in February, and Emmanuel Mutai, the 2011 London champion in 2:04:40, ratcheted up the pace. They crossed 30K in 1:28:04, still three seconds slower than Wilson Kipsang. The difference was just two seconds at 35K (1:42:38), but no-one could forget that Wilson ran the last 7K (and especially the final 2K) very fast. At 40K (1:57:18) the runners were six seconds slower than the world-record split—but they were running so confidently there was a clear feeling that history could still be made. In a dramatic move, Dennis Kimetto and Emmanuel Mutai finally dropped their fellow countrymen Sammy Kitwara and Micah Kogo—and the race's decisive moment came just before 41K, when Dennis threw in a surge that Emmanuel was unable to answer.
"I am happy because I broke the course record," Dennis Kimetto told NBC after the race. "The conditions were very good."
The Women's Race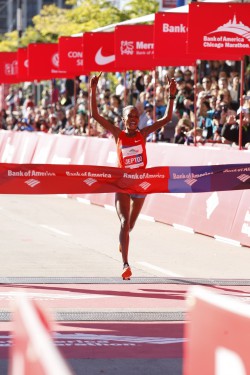 Eight runners went through halfway in the women's race in 1:11:15, but only five remained at the front at 25K (1:24:18): the defending champion, Atsede Baysa (Ethiopia), who won by just one second against Rita Jeptoo (Kenya) last year, Rita Jeptoo herself, Maria Konovalova (Russia), Jemima Sumgong (Kenya), and Abebech Afewok (Ethiopia).
Rita Jeptoo, who set her personal best of 2:22:04 last year in Chicago, maintained the strong pace and after 30K (1:40:52) she and Jemima Sumgong were alone in front. Rita Jeptoo made her decisive move just before 40K when she broke away, on her way to victory. The winner of the Boston Marathon in April was chasing her first sub-2:20 time—and she did it by three seconds (2:19:57). This incredible performance established her as the fastest woman marathoner in the world this year, displacing fellow Kenyan Priscah Jeptoo (2:20:15), who is not related to her. "I'm happy today because I ran my best time," Rita told the IAAF after the race.
With the tragic Boston Marathon bombings in April still in mind, security was heightened for this year's race in Chicago. As a show of support and solidarity for the victims of the Boston attacks, the organizers offered the runners blue shoe laces—the color of the Boston Marathon—to wear during the race. The laces were on sale for $26 with proceeds going to help the victims.
Charity Running Raises Over $100 Million Thus Far
The Chicago charity program began eleven years ago with 1,674 runners who raised funds for 14 different organizations. Since then, runners of what became last year the biggest marathon race in the world, have raised $100 million for worthy causes. Running for others has increasingly become a highlight of this long-established race. On Sunday, an estimated 10,000 athletes were on the streets running on behalf of 140 different charities. Last year, charities received the record sum of $15.3 million thanks to the Chicago Marathon runners.
Though considered to be an individual sport, marathoning can also be place for teamwork thanks to the concept of charity running. According to Chicago's organizers many runners return to the race year after year to support their chosen charity and cause.
The Results of the Chicago Marathon
Men:
| | | | |
| --- | --- | --- | --- |
| 1. | Dennis Kimetto | KEN | 2:03:45 Hours |
| 2. | Emannuel Mutai | KEN | 2:03:52 |
| 3. | Sammy Kitwara | KEN | 2:05:16 |
| 4. | Micah Kogo | KEN | 2:06:56 |
| 5. | Dathan Ritzenhain | USA | 2:09:45 |
| 6. | Ayele Abshero | ETH | 2:10:10 |
| 7. | Sano Hiroaki | JPN | 2:10:29 |
| 8. | Moses Mosop | KEN | 2:11:19 |
| 9. | Yoshinori Oda | JPN | 2:11:29 |
| 10. | Matt Tegenkamp | USA | 2:12:28 |
Women:
| | | | |
| --- | --- | --- | --- |
| 1. | Rita Jeptoo | KEN | 2:19:57 |
| 2. | Jemima Sumgong Jelegat | KEN | 2:20:48 |
| 3. | Maria Konovalova | RUS | 2:22:46 |
| 4. | Aliaksandra Duliba | BLR | 2:23:44 |
| 5. | Atsede Baysa | ETH | 2:26:42 |
| 6. | Ehitu Kiros Reda | ETH | 2:27:42 |
| 7. | Yukiko Akaba | JPN | 2:27:49 |
| 8. | Abebech Afework | ETH | 2:28:38 |
| 9. | Clara Santucci | USA | 2:31:39 |
| 10. | Melissa White | USA | 2:32:37 |
© Copyright 2013-2022 by Take The Magic Step®. All Rights Reserved.
Article Archive