Dennis Kimetto Sets New World Record, Breaks the 2:03 Barrier, at the Berlin Marathon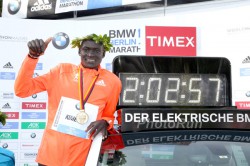 In the fastest marathon ever run, Dennis Kimetto made history in Berlin on Sunday when he became not only the new world record holder, but also the first man to break the elusive 2:03 barrier. The 30-year-old Kenyan crossed the finish line in front of the Brandenburg Gate in a blazing 2 hours, 2 minutes, and 57 seconds—the quickest that any human has ever run the classic 26.2 miles. His incredible performance in the 41st edition of the Berlin Marathon marked the 10th time that a world marathon record has fallen on the streets of the German capital. The race was so astonishingly fast that even second-place finisher Emmanuel Mutai, also of Kenya, dipped under Wilson Kipsang's previous record by ten seconds, crossing the line in 2:03:13. It was just a year ago—and also in Berlin—that Wilson Kipsang set that record. Third place went to Ethiopia's Abera Kuma in 2:05:56—and if any more was needed to complete an amazing day, Emmanuel Mutai clocked a world record 1:27:37 for 30K en route.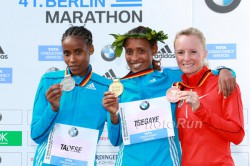 The women's race had its share of excitement, too, when Tirfi Tsegaye of Ethiopia almost went under 2:20, running 2:20:18 for the win. Her training partner and fellow countrywoman, Feyse Tadese, placed second in 2:20:27. American runner Shalane Flanagan ran a personal best of 2:21:14 to finish third and she set a new American record when she passed the half-marathon mark in 1:22:36. Anna Hahner (Gengenbach/Run2Sky) also achieved a PR of 2:26:44—good for seventh overall and making her the top German woman for the day. Behind Anna was Peru's Ines Melchor in 2:26:48—a new South American record.
It was truly an exciting running weekend in Berlin: More than 40,000 runners from 130 countries started the marathon, and on Saturday another 10,000 participated in the 6K Breakfast Run, which began in front of the city's beautiful Charlottenburg castle. Meanwhile, more than 1,000 youngsters sprinted to the finish line at the Bambini Run—an annual event held for kids aged 10 and under in front of the entrance hall at Tempelhof airport—and 8,600 students competed at the 4.2195K run through the heart of Berlin.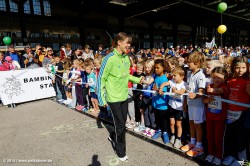 Uta said after the race, "anyone who has run in Berlin can never forget the mesmerizing atmosphere, the great race organization, and the enthusiasm of the spectators who line the streets. And today was no different—plus we got to celebrate yet another world record. Congratulations to everyone who supported and participated in the event. I hope all of you had not just an exciting race but also one of the most memorable experiences of your lives." Uta also sent special congratulations to Anna Hahner and Shalane Flanagan on their new PRs. "And last but not least," she said, "well done to my athlete, Jörgen Zimmer, who showed guts as he ran his best marathon today."
Hundreds of thousands of spectators lined the course of the World Marathon Majors (WMM) event, which passes landmarks such as the Victory Column, the Reichstag, the Kaiser-Wilhelm Memorial Church, and the Potsdamer Platz. And more than 5,000 volunteers worked tirelessly to make the day special for all the participants. Conditions were fine, with temperatures hovering between 59 and 65 degrees Fahrenheit, blue skies, and very little wind.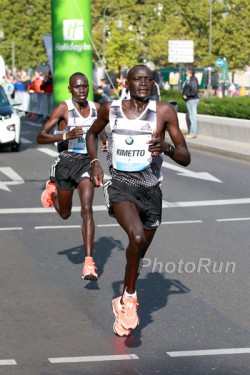 The first surprise in the men's race came when one of the pre-race favorites, Tsegaye Kebede of Ethiopia, slowed before the 20K mark. At that point, a group of five runners were led by three pacemakers and had gone through the half-marathon mark in 61:45.
The next move occurred before the 30K checkpoint when two pacemakers dropped out and Emmanuel Mutai assumed the lead with a tempo that was so fast he ended up setting a new 30K world record by one second. The previous record was held by Patrick Makau who clocked it during the 2011 Berlin Marathon.
Now the field was narrowed down to three runners—Dennis Kimetto, Emmanuel Mutai, and Geoffrey Kamworor—and they were on world record pace. Geoffrey Kamworer, the reigning half-marathon world champion, lost contact with the leaders at the 34K mark and ended up placing fourth in 2:06:39.
Then it was down to an increasingly torrid duel between Emmanuel Mutai and Dennis Kimetto, and the way they pushed each other suddenly made going under 2:03 a real possibility. Finally, with four kilometers to go, Dennis was able to shake Emmanuel—and run into the history books.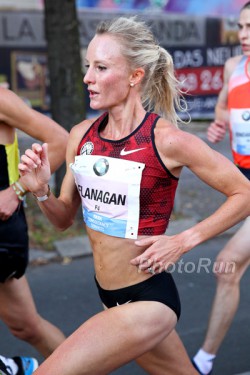 Dennis's record run which improved the previous mark by 26-second, also bettered fellow Kenyan Geoffrey Mutai's unofficial world's-fastest mark by five seconds that was set in Boston. [Editor's note: Geoffrey Mutai's time did not count because of the peculiarities of the Boston course.] Dennis said afterwards, "I am very happy to have won and broken the world record."
Since 2003, six men's world records have been set in Berlin and the city has seen longstanding marathon barriers tumble before. Paul Tergat took the 2:05 barrier down first in 2003 with a 2:04:55. Then, five years later, Ethiopia's Haile Gebrselassie went under 2:04 with a time of 2:03:59. On Sunday, Dennis Kimetto overcame the 2:03 barrier with his 2:02:57.
The women's race began with Shalane Flanagan setting the tempo. She was led through the half by pacemakers in 69:38 minutes—on track for a North American marathon record (2:19:36). The Ethiopian quartet of Feyse Tadese, Tirfi Tsegaye, Tadelech Bekele, and Abebech Afework trailed four seconds behind. Then Shalane's pace slowed in the second half and near the 30K mark she was passed first by Tirfi Tsegaye and then by Feyse Tadese. But the pair could not maintain the pace needed to run under the 2:20 mark, which had been the pre-race goal. Nevertheless, Tirfi Tsegaye came very close with a winning time of 2:20:18.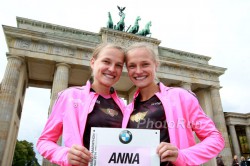 Germany's Anna Hahner maintained a smooth, even pace and her seventh-place finish was impressive given the depth of talent in the race. She crossed the half marathon mark in 1:13:26 and ended up finishing in 2:26:44—an improvement of over a minute on her previous best of 2:27:55, which she ran in Frankfurt last year.
"I gave it my all, and am overjoyed," she said afterwards. I had great pacemakers and the crowd support was unbelievable."
The Results of the 41th Berlin Marathon
Men:
| | | | |
| --- | --- | --- | --- |
|  1. |  Dennis Kimetto |  KEN |  2:02:57 Hours |
|  2. |  Emmanuel Mutai |  KEN |  2:03:13 |
|  3. |  Abera Kuma |  ETH |  2:05:56 |
|  4. |  Geoffrey Kamworor |  KEN |  2:06:39 |
|  5. |  Eliud Kiptanui |  KEN |  2:07:28 |
|  6. |  Frankline Chepkwony |  KEN |  2:07:35 |
|  7. |  Levy Matebo |  KEN |  2:08:33 |
|  8. |  Maswai Kiptanui |  KEN |  2:10:18 |
|  9. |  Tsegaye Kebede |  ETH |  2:10:27 |
|  10. |  Kazuki Tomaru |  JPN |  2:11:25 |
Women:
| | | | |
| --- | --- | --- | --- |
|  1. |  Tirfi Tsegaye |  ETH |  2:20:18 Hours |
|  2. |  Feyse Tadese |  ETH |  2:20:27 |
|  3. |  Shalane Flanagan |  USA |  2:21:14 |
|  4. |  Tadelech Bekele |  ETH |  2:23:02 |
|  5. |  Abebech Afework |  ETH |  2:25:02 |
|  6. |  Kayoko Fukushi |  JPN |  2:26:25 |
|  7. |  Anna Hahner |  GER |  2:26:44 |
|  8. |  Ines Melchor |  PER |  2:26:48 |
|  9. |  Rene Kalmer |  RSA |  2:29:27 |
|  10. |  Adriana da Silva |  BRA |  2:38:05 |
Marathon World Records in Berlin:
| | | |
| --- | --- | --- |
|  1977 |  Christa Vahlensieck (GER) |  2:34:48 Hours* |
|  1998 |  Ronaldo da Costa (BRA) |  2:06:05 |
|  1999 |  Tegla Loroupe (KEN) |  2:20:43 |
|  2001 |  Naoko Takahashi (JPN) |  2:19:46 |
|  2003 |  Paul Tergat (KEN) |  2:04:55 |
|  2007 |  Haile Gebrselassie (ETH) |  2:04:26 |
|  2008 |  Haile Gebrselassie (ETH) |  2:03:59 |
|  2011 |  Patrick Makau (KEN) |  2:03:38 |
|  2013 |  Wilson Kipsang (KEN) |  2:03:23 |
|  2014 |  Dennis Kimetto (KEN) |  2:02:57 |
*set during the German marathon championships
Posted September 28, 2014
Article Archive