Deena Kastor: "My goal is to win Boston"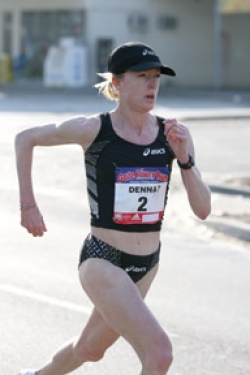 Deena Kastor ran the fastest marathon in the world last year when she won the London Marathon in 2:19:36. Her time was an American record, and made her the first American to break 2:20. On Monday Kastor will be among the big favorites at the 111th Boston Marathon. Recently the Boston race organizers arranged a phone interview with the 34-year-old bronze medal winner of the Olympic marathon in 2004.
This is the Boston debut for you. What induced you to run the race this year and what role, if any, does the World Marathon Majors play now in how you select your races?
Deena Kastor: Yes. I guess every time I have a goal of running a marathon, the goal itself seems to dictate which races I run. I, for so long, wanted to break the 2:20 barrier and other spring marathons, the London Marathon being the other World Marathon Major held in the springtime, seemed a better choice to be able to give myself the opportunity to break the 2:20 barrier. But Boston has always been in the heart and soul of probably every marathoner out there. It seems that it's the icon in this sport, the race that everybody strives to get qualifiers for, to be a part of. So it's always been in the back of my mind. After last year breaking the 2:20 barrier it seemed very easy to choose Boston this year, and I hope to win that. And saying that, the World Marathon Majors has been an incredible backbone to the marathoning world. They've created high standards, they're elevating the sport. It's nice to see that the top five biggest marathons in the world, in our greatest cities around the world, have come together and worked together to better the sport. And it's very evident with how popular marathon is.
What are your World Championship goals this year? What are your Olympic goals next year?
Deena: Right now my goals are pretty much focused strictly on winning the Boston Marathon. Our preparations have been great to be able to do that. But looking beyond that, I really do hope to run the 10,000 meters in the World Championships. It's obviously going to take a good turnaround after Boston to be able to recover well. So I'm going to have to focus on recovery after the race to be able to speed my legs up and get back on the track. So the 10K there, and then I turn to the marathon for Beijing. That means coming back to Boston next year for the women's Olympic trials, which I think will be fantastic. Probably these will be the best Olympic trials that either of our men's and women's marathons have ever had, because of the host cities of Boston and New York. For Beijing I have hopes for a better medal than bronze.
How do you feel, especially compared to New York where you finished sixth? And what are the differences?
Deena: I actually was not putting in races before New York City last year because I was just trying to get ready for the race. This year I feel much more confident. Training has gone exceedingly well since January 1st.
This year I feel great from starting cross country season, being able to do well at the shorter distances, to coming up and being able to run well in the 15K in Jacksonville. I feel really good about my preparations for this race, both in racing and in practices.
The downhill at Boston: Did you have to add certain workouts? Did your coach and you discuss certain workouts just to give you a good feel for that?
Deena: We have been training that. I mean we live in the mountains in Mammoth Lakes, California. I am prepared for specifics of uphills and downhills and getting in the pounding of a downhill when your legs are tired in the middle of a long run. So we've definitely incorporated that into our training. We incorporated hills into tempo runs as well as our long runs.
Can you give a quick assessment of your key competitors that you'll be facing at Boston, particularly Jelena Prokopcuka and Rita Jeptoo, who you ran against in New York?
Deena: Those were the two I was going to mention. Rita Jeptoo just ran a great half marathon, so I know that she's fit and ready and she's the defending marathon champion, not to discount another competitor, Jelena Prokopcuka, who was second and gave Rita a run for her money last year. She was second last year in the Boston Marathon, two-time winner of the New York City Marathon, so I know it's going to be a tough race. These are women that know how to fight and know how to struggle. There are also the Russians and the Mexicans. So we're going to have a tough race out there, give the crowds a good show, give the media something to write about. I am just really, really excited because I feel really prepared for it. But I know it's going to be a tough fight to the finish.
You said that you have watched the Boston Marathon when you were a kid. Who were some of your running heroes when you were in school?
Deena: Oh, gosh. I would definitely say the biggest standout was Joan Benoit Samuelson. Even before I was a distance runner she won the Olympic gold medal in the L.A. Olympics, and I think that was enough to inspire anybody, no matter what your profession was. It was a year later that I started running, but the image of her coming in with her little cap into the L.A. Coliseum is something that I don't think anybody would ever forget. So she's remained an inspiration for me. She's been in this sport for so long and her passion for it is so strong to this day that she remains my greatest inspiration in this sport and in life.
© Copyright 2007-2022 by Take The Magic Step®. All Rights Reserved.
Article Archive