David Rudisha Sets New 800m World Record in Berlin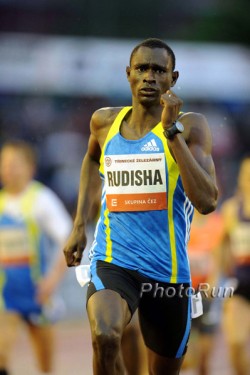 David Rudisha of Kenya broke the 800m world record at the 69th edition of the ISTAF (International Stadium Festival) meeting. The annual track event was held in Berlin's Olympic Stadium. Just 21 years old, David Rudisha crossed the line in 1:41.09 minutes amidst almost 47,000 excited fans. The old record, 1:41.11, was set 13 years ago by Denmark's Wilson Kipketer in Cologne, Germany. "I knew that today would be my day. I've trained very hard for this and the weather was good. I told the pacemaker he should run the first lap in under 49 seconds—and he completed his task wonderfully well," David said afterwards.
The Kenyan's potential to break the world record first became evident last year. At the Rieti meeting in Italy last September, the middle-distance superstar improved his best time to 1:42.01. Prior to that race, he struggled somewhat, failing to qualify for the final at the World Championships in Berlin. But since then, the son of the 1968 Olympic 4 x 400 silver medalist, Daniel Rudisha, has won every 800-meter race of his past 16 showings.
David Rudisha has been running well since last March. In Melbourne, Australia, he clocked 1:43.15—no 800m runner had ever run so fast, so early in the season. He then won other high-class events in Doha (Qatar), Ostrava (Czech Republic), and Oslo (Norway). In Oslo, he broke British running legend Sebastian Coe's stadium record with a 1:42.04. David ran even faster at Heusden-Zolder in Belgium, setting an African record of 1:41.51. This time crowned him the second-fastest 800m runner of all time. Take The Magic Step® reported on this achievement in July. Click here to read the story.
Following that amazing race, David Rudisha returned to Kenya and ran 1:42.84 to win the 800m title in Nairobi's rarefied air at the African Championships—a feat all the more impressive due to the altitude. He then began to prepare for another attempt at the world record.
As in Heusden-Zolder and Oslo, his compatriot and training partner, Sammy Tangui, set the pace in Berlin, going through 400m in 48.65. David Rudisha hung on—eventually taking the lead at 450m. He went through 600m in 1:14.54 and didn't slow his pace off the final bend. "The last 200m were very tough, but then I saw at the finish that the clock had stopped at 1:41.09. That was fantastic—I'm delighted to be the best 800m runner in the world," David said after his great triumph. His two compatriots, Boaz Lalang (1:44.34), and Abraham Kiplagat (1:44.49) finished second and third respectively.
Wilson Kipketer had been predicting as far back last year that David Rudisha would be the one who would break his 800m world record. David's coach, Brother Colm O'Connell told the Kenyan newspaper The Nation that, "David will have his best chance to break the record in 2010 since there are no major championships that year." Over the next two years, the world record holder has set his sights on the World Championships in Daegu, South Korea in 2011 and the Olympic Games in London in 2012. David Rudisha hopes to win his first major championship medals at these competitions.
The Fastest 800 Meters in History:
1:41.09 David Rudisha (KEN) 2010
1:41.11 Wilson Kipketer (DEN) 1997
1:41.24 Wilson Kipketer (DEN) 1997
1:41.51 David Rudisha (KEN) 2010
1:41.73 Sebastian Coe (GBR) 1981
1:41.73 Wilson Kipketer (DEN) 1997
1:41.77 Joaquim Cruz (BRA) 1984
1:41.83 Wilson Kipketer (DEN) 1996
1:42.01 David Rudisha (KEN) 2009
1:42.04 David Rudisha (KEN) 2010
© Copyright 2010-2022 by Take The Magic Step®. All Rights Reserved.
Article Archive