David Rudisha Breaks the 800m World Record… Again!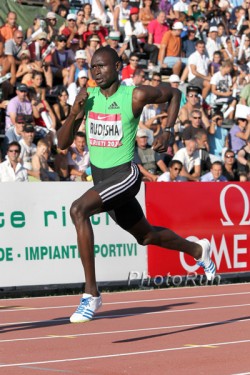 For nearly 13 years, the 800-meter world record belonged to Wilson Kipketer (1:41.11) of Denmark. It seemed practically unbreakable, until David Rudisha has bettered it twice in the span of just eight days. At 21 years of age, the Kenyan, who was still competing as a decathlete in 2004, has created track and field history. At the 40th anniversary edition of the meeting in Rieti, Italy on Sunday, Rushida ran 1:41.01 minutes, erasing another
.08 seconds off his existing world record. A year ago, after he didn't advance in the 800m semifinals at the World Championships in Berlin, Rushida had these prophetic words to say concerning his prospects: "My time will come one day, I'm still young and have to be patient." In 2008, he missed Olympic qualification due to injury.
Since his less-than-expected result at the World Championships, David Rushida has been unbeaten in his last 19 races. Just five days after his world record (1:41.09) at Berlin's ISTAF meeting (Germany), he won again on Friday evening at the Diamond League final in Brussels (Belgium). Take The Magic Step® reported on his race in Berlin last weekend. Click here to read the story.
Although his time of 1:43.50 in Brussels was world class, the Kenyan had never intended to go for another world record. "Today was all about winning in the Diamond League. It was not the kind of race where you could make a record attempt," said David Rudisha on Friday evening. "I still feel strong. If conditions in Rieti on Sunday are good, I want to better my own world record," he added.
David Rudisha got the conditions he hoped for. In contrast to the race in Berlin a week ago, he had two pacemakers on Sunday. His training partner, Sammy Tangui, reached 400m in 48.20 seconds, which was faster than his split in Berlin the week before (48.65). At that point, Jackson Kivuva, the second of the Kenyans, took over and led him through the next 100m. David ran the last 300m on his own, going through 600m in 1:14.59—a bit slower than in Berlin (1:14.54). But when it came to the final 200m, David Rushida was able to increase his speed once more. His compatriot, Boaz Lalang, placed second, setting a personal best of 1:42.95. The third and fourth place finishers, Nick Symmonds (USA/1:43.76) and Michael Rimmer (Great Britain/1:43.89), set personal best's as well.
The IAAF began to keep official world records in 1912. Since then, no runner has set two 800m men's records in such a short span. "I knew I was in good form. The conditions were perfect and I'd expected to be able to run two world records in such a short time," David Rushida said afterwards. According to the IAAF Web site, the 21 year old dedicated his record to the spectators in Rieti who had always made him feel welcome and supported. Originally, he had hoped to run under 1:41 in Rieti, but announced he'll pursue that goal next year.
David Rudisha had already made a name for himself in Rieti last year. Shortly after the 2009 World Championships, he ran a solo 1:42.01 and broke Sammy Koskei's (Kenya) African record, which had stood for 25 years. That time made David the fourth-fastest 800m runner in history. The only men faster were Wilson Kipketer (Denmark/1:41.11), the legendary British middle-distance runner, Sebastian Coe (1:41.73), and Joaquim Cruz (1:41.77) of Brazil. Since then, the world record was within range of the young Kenyan runner. With his career still in front of him, he should be capable of much more and could one day become the first man to break the 1:40 barrier. The World Championships in 2011 and the Olympics in 2012 could be the perfect venues for David Rushida. His dream is to win the gold medal at both global championships.
© Copyright 2010-2022 by Take The Magic Step®. All Rights Reserved.
Article Archive