Closest Women's Finish in Race History Highlights Boston Marathon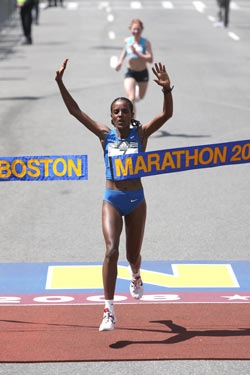 A thrilling side-by-side duel between Dire Tune and Alevtina Biktimirova resulted in the closest women's race in Boston Marathon history on Monday, with Tune sprinting away only in the last couple hundred meters to win by 2 seconds in 2:25:25. Robert Cheruiyot had no such company over the last third of the race, and finished in 2:07:46 to become the youngest four-time winner at Boston.
Tune and Biktimirova dropped their last companion, 2006 winner Rita Jeptoo, in the series of four hills between 16 and 21 miles. Tune was content to let her Russian rival determine the pace, much as her Ethiopian compatriot Gete Wami had tucked in behind Paula Radcliffe for much of last fall's New York City Marathon. No doubt aware of the great Ethiopian capacity for stinging finishing kicks, Biktimirova pushed and pushed, first up the hills, then again after the crest of Heartbreak Hill and the mostly flat run to downtown Boston. Yet she couldn't shake Tune.
The 22-year-old Ethiopian moved aside Biktimirova only after 40K. The two began the final stretch down Boylston Street together, and then Tune moved into the lead for the first time of the day. She opened a slight gap, but Biktimirova clawed her way back, and briefly took an even slighter lead. Then it was Tune's turn to fight back for the lead until they were again side by side. The drama was so high, the exertion so visible on their faces that even the hardened veterans in the press room oohed and aahed with every lead change. Even after Tune took the lead for good, the outcome wasn't certain, as Biktimirova fought until the end. Tune dropped her to knees in exhaustion immediately after breaking the tape. The battle over the last few miles brought what had been a relatively slow race—they covered the first half in 1:14:46—into a fast time for the Boston course on a cool but sunny day.
Jeptoo held on for third in 2:26:34. Two-time New York City champion Jelena Prokopcuka, second here last year, was with the leaders at halfway, but was dropped soon after, and finished fourth in 2:28:12. Defending champion Lidiya Grigoryeva was also among the leaders at halfway, but faded badly and finished ninth in 2:35:37.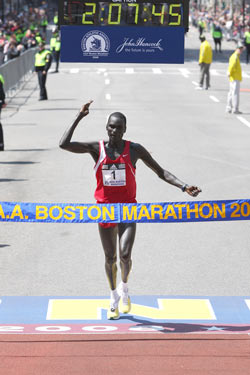 Sensing that conditions were favorable for breaking his course record of 2:07:14, Cheruiyot was uncharacteristically aggressive in the early miles. In his three previous wins, he had let others do the early work, and then pushed in the hills. This time, he was at the front within a few miles. With the pack keying off of him, Cheruiyot was at liberty to determine the nature of the race. He and three others—Abderrahime Bouramdane of Morocco, Kasime Adillo of Ethiopia and Cheruiyot's training partner James Kwambai—reached halfway in 1:03:07. They were well ahead of course record pace.
But first Cheruiyot had a race to win. Sub-5:00 19th and 20th miles, despite the long, steep hills, took care of that. Bouramdane was soon 30 seconds back, the others shattered and scattered behind him. Cheruiyot was still on track for a new course record until almost the 40K mark. But he was now laboring. He repeatedly looked at his watch, but couldn't seem to muster a faster closing gear. In fact, he continued to slow. His final mile of 5:14 was his slowest since the tentative first mile. Still, he had so decisively broken the field that his time of 2:07:46 put him nearly 80 seconds up on Bouramdane, who took second in 2:09:04. Bourmadane's compatriot, Khalid El Boumlili, closed well to take third in a personal best of 2:10:35. After letting the leaders go near 20K, KIMbia's runners took sixth (Timothy Cherigat), seventh (Christopher Cheboiboch) and ninth (James Koskei).
Results
Men:
| | | |
| --- | --- | --- |
| 1. Robert Cheruiyot | KEN | 2:07:46 |
| 2. Abderrahime Bouramdane | MAR | 2:09:04 |
| 3. Khalid El Boumlili | MAR | 2:10:35 |
| 4. Gashaw Asfaw | ETH | 2:10:47 |
| 5. Kasime Adillo | ETH | 2:12:24 |
| 6. Timothy Cherigat | KEN | 2:14:13 |
| 7. Christopher Cheboiboch | KEN | 2:14:47 |
| 8. James Kwambai | KEN | 2:15:52 |
| 9. James Koskei | KEN | 2:16:07 |
| 10. Nicholas Arciniaga | USA | 2:16:13 |
Women:
| | | |
| --- | --- | --- |
| 1. Dire Tune | ETH | 2:25:25 |
| 2. Alevtina Biktimirova | RUS | 2:25:27 |
| 3. Rita Jeptoo | KEN | 2:26:34 |
| 4. Jelena Prokopcuka | LAT | 2:28:12 |
| 5. Askale Tafa Magarsa | ETH | 2:29:48 |
| 6. Bruna Genovese | ITA | 2:30:52 |
| 7. Nuta Olaru | ROM | 2:33:56 |
| 8. Robe Tola Guta | ETH | 2:34:37 |
| 9. Lidiya Grigoryeva | RUS | 2:35:37 |
| 10. Stephanie Hood | CAN | 2:44:44 |
Article Archive