Cheruiyot Wins Wacky-Weather Boston Marathon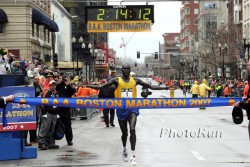 On a cold, rainy, windy day, Kenyan Robert Cheruiyot and Russian Lidiya Grigoryeva won the 111
th
Boston Marathon in the slowest times in decades. Both broke their final competitors on the short uphill on the Massachusetts Pike overpass in the 25
th
mile en route to winning times of 2:14:13 and 2:29:18. By way of comparison, Cheruiyot's course record, set last year, is more than seven minutes faster.
For the first time, the race started not at noon, but at 9:35 am (elite women) and 10:00 am (elite men and citizens' race). Although the weather wasn't as apocalyptically bad as forecast the day before, it was far from ideal for marathon running. Temperatures at the start were in the high 40s, with rain shifting between light and heavy in the first half. Most significantly, strong headwinds and crosswinds clearly affected the runners—in the early, mostly downhill stretches, the lead women were bent over and straining as if they were already battling Heartbreak Hill. It is interesting to ponder how the races would have developed differently if the start had been at noon, by which time conditions had improved markedly.
Because of the weather, both races were tactical affairs in the early going. Two men seeking publicity for a sponsor took advantage of the favorites' caution and quickly took a lead that at one point reached more than two minutes. The real contenders, in a pack of more than 20, passed halfway in 1:08:42—not much faster than the lead women sometime run for the first half on this course in good weather. Not until turning on to Commonwealth Avenue for the first of the fabled Newton hills did they overtake the early pretenders. Through the hills, the pack gradually dwindled, and only seven runners remained in contention after they had crested the last hill for the final mostly flat five miles.
A 4:40 22nd mile cut the men's pack to six, and after a 4:45 23rd mile, there were three—2003 and 2006 champion Cheruiyot, Kenyan James Kwambai and KIMbia athlete Stephen Kiogora. A 4:38 24th mile dropped Kiogora, who held on to third place to the finish to go with his second-place finish in New York last fall. When Cheruiyot made one more push on a short but steep hill in the 25th mile, Kwambai was broken. Cheruiyot was able to win comfortably despite easing back to a 5:01 final mile. His time was the slowest men's winning time since 1977. Kwambai lost an astounding 20 seconds in the last mile to finish in 2:14:33. Kiogora was the only other runner under 2:15, with 2:14:47. Kiogora's KIMbia teammates James Koskei and Ben Maiyo placed fourth and sixth, respectively. The top American man was Peter Gilmore in eighth.
The women's race was similarly strategic. A pack of eight, often headed by Latvia's Jelena Prokopcuka, passed the halfway mark in 1:17:10. By this point the rain had stopped, and the wind was more of a crosswind, and the sun even sort of appeared for a second or two, leading the leaders to shed the long-sleeve tops and arm warmers that many of them had started with. Among those running with Prokopcuka, who was second here last year and first in New York in November, were defending champion Rita Jeptoo of Kenya, American record holder Deena Kastor, Mexican record holder Madai Perez and Grigoryeva, who has won marathons in Los Angeles and Paris.
Kastor looked supremely relaxed and later called the pace "pedestrian." (The women ran their 10th mile in 6:24.) Yet she was the first of the main favorites to lose touch, first drifting a few seconds back, then seeming to disappear completely. The reason? Kastor had to make a pit stop, during which she estimated she lost a minute and slipped to eighth or ninth place.
Up the road, Jeptoo, who never looked comfortable, fell off once the leaders hit the hills. Prokopcuka continued to push in an attempt to break free of her two remaining competitors. Through the final miles the three ran abreast of one another, even though they occasionally still had to battle fierce headwinds. Finally someone's surging took—Grigoryeva, a two-time Olympian at 10,000m, threw down a 5:10 split for the 25th mile, shedding first Perez, and then Prokopcuka. Grigoryeva pushed hard to the finish, covering her last mile in 5:08, only seven seconds slower than Cheruiyot. Grigoryeva's winning time of 2:29:18 was the slowest since 1985. Prokopcuka was 40 seconds back, the only other woman to break 2:30. Perez followed in 2:30:16. Kastor fought her way back to fifth in 2:35:09.
"During my training in Russia the weather conditions were very similar," Grigoryeva said afterward. "I did a lot of long runs during cold, windy weather. The weather was different than expected but was not a factor." Most of the rest of the field would probably politely disagree.
Thanks to his win today, Cheruiyot took a seemingly insurmountable lead in the World Marathon Majors. Even if Haile Gebrselasie or Felix Limo win the London Marathon on Sunday, they will still be 25 points behind Cheruiyot. Prokopcuka retained her lead in the series, but the women's leader board is much more in play, and should remain close through the end of the first round of the series at New York in November.
For full results, visit the Boston Athletics Association Website.
© Copyright 2007-2022 by Take The Magic Step®. All Rights Reserved.
Article Archive