Cheruiyot Breaks Course Record; Mockenhaupt Triumphs in Frankfurt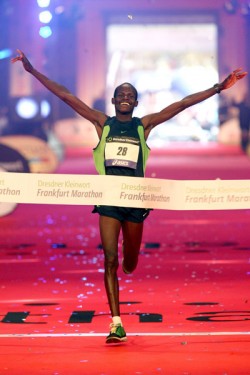 The young Kenyan, the debut marathoner, Robert Kiprono Cheruiyot, set a course record of 2:07:21 hours to win the 27th edition of the Dresdner Kleinwort Frankfurt Marathon, defeating fellow Kenyans Wilson Kigen (2:08:16) and KIMbia's Stephen Kiogora (2:08:24). It was an incredible race! Seven runners dipped under 2:10—unprecedented in the marathon's history. In fact, no other German marathon this year has produced such a showing. Until this year, Frankfurt ranked eighth in the world: something sure to change next year. The best German finisher was Andre Pollmächer (LAC Chemnitz) who ran 2:14:18—good for 18th place (his marathon debut).
In the women's race, Sabrina Mockenhaupt (Cologne Marathon Club) triumphed, running a personal best of 2:26:22, finishing ahead of the Russian, Olesya Nurgalieva (2:27:37), and the defending champion, Melanie Kraus (Bayer Leverkusen/2:28:20). For the first time in the history of the Dresdner Frankfurt Marathon, five women went under 2:30. Both German runners placed comfortably inside the qualifying time for the World Championships in Berlin next year: 2:32:00.
A record number of runners entered the marathon (over 12,000). Including all running events, the Dresdner Kleinwort Frankfurt Marathon had over 20,000 participants for the first time in its history. Approximately 300,000 spectators were out on the course in near-ideal, slightly windy conditions.
It was the 20-year-old, Robert Cheruiyot, who provided the surprise of the day as he maintained the Kenyan winning streak in Frankfurt (the seventh, consecutive Kenyan to win the race). Kenyans dominated the race to such an extent that they provided the top 14 finishers. After the lead pack reached the half in 63:57, the decisive moment came at the 35 kilometer mark. Cheruiyot (no relation to the Boston and Chicago Marathon champion Robert Kipkoech Cheruiyot) broke from the pack and continued to build his lead.
"I'm completely surprised that I won here—for much of race up to 35 kilometers I never thought about it," said Robert Cheruiyot. It wasn't the first time that a little-known Kenyan runner had won a big marathon on his debut at the distance. Other examples are Evans Rutto (2:05:50/2003) and Ondoro Osoro (2:06:54/1998), both in Chicago.
In the contest for second place, Stephen Kiogora put up a valiant struggle and then encountered some bad luck when he fell on the last corner just before the finish. He ended up eight seconds behind Wilson Kigen in Frankfurt's Festhalle.
The 25-year-old German runner, Andre Pollmächer, certainly achieved what he set out to do: his time of 2:14:18 on his marathon debut was inside the qualifying time for Germany's 2009 World Championship team, a great success!
Also running well for the German team was Martin Beckmann (LG Leinfelden) who ran with Andre Pollmächer for much of the race and finished in 2:14:30: an impressive personal best.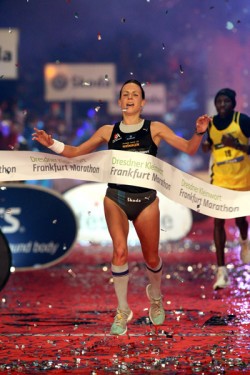 Sabrina Mockenhaupt, with an escort of rabbits, ran at the front of the women's race from the start. The 27-year-old German reached the half-marathon in 1:12:59. Right behind her, was Olesya Nurgalieva, the 2004 women's champion. But the Russian dropped off shortly after 25K and fell back further over the next 10K. Sabrina Mockenhaupt also slowed towards the end but she improved her personal best by over three minutes to 2:26:22 in winning the second marathon of her career after Cologne in 2007.
After the race, Mockenhaupt had this to say: "I still can't quite take it in, but I'm delighted. The pace was very uneven at first and it took me a long time to settle into a rhythm because the tempo was going up and down all the time. In the future I have to run more kilometers in training, because I know there is still more to come from me. I run far fewer kilometers than some marathon runners."
The fastest woman over the closing stages of the race was Melanie Kraus who put on a huge surge—moving from sixth to third place. Her time of 2:28:20 was the second-fastest in her career.
"The day was a success all-round, from the elite results to all the other runners. Once again Christoph Kopp [the elite athlete coordinator for the marathon] managed to bring a top-class field to Frankfurt. Conditions were superb today, although the wind might have cost us a little in terms of fast times. We had a course record and a record number of participants—who could ask for more?" said the race director Jo Schindler.
Paula Radcliffe wins 10-Miler, Joseph Lomala takes Venice Marathon
Paula Radcliffe ran very strong in Portsmouth this weekend—a week before she runs the ING New York City Marathon. The marathon world-record holder from Britain set a national record of 51:11 despite windy and wet conditions. "I wanted to run here again," said Radcliffe, who finished well ahead of second-place finisher Jessica Augusto (Portugal/53:15). Bernard Kipyego (Kenya) won the men's race in 46:43 and Martin Fagan of Ireland placed second in 46:55.
There was also a Kenyan victory at the Venice Marathon as Joseph Lomala won in 2:11:06 by one second over his teammate, Jacob Chesire (2:11:07). Aniko Kalovics (Hungary) won the women's race in 2:31:24 from Anne Kosgei (Kenya/2:32:21).
Horst Milde: the Father of Modern Distance Running is 70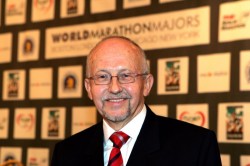 When one thinks about the development of the Berlin running scene, and the organization of the Berlin Marathon, one name comes to mind: Horst Milde. In a storied career spanning 40 years—from organizing the city's first cross country race held on November 8, 1964 on Berlin's Teufelsberg in the Grunewald until the end of his career as the race director of the 2004 Berlin Marathon—Horst had organized over 348 races that included over 1.2 million participants. While acting as the race director of the Berlin Marathon, five world records were set—including the milestones of Naoko Takahashi and Paul Tergat. Takahashi became the first to run under 2:20, while Tergat was the first man to run under 2:05.
Today, Horst Milde celebrates his 70th birthday amongst friends and family. At the beginning of 2004, his son, Mark, took over the role of race director of the Berlin Marathon. Horst's other children, Karsten and Gesine, have also volunteered their time and energy to Berlin's top races for many years.
Horst Milde grew up in the Tempelhof district of Belrin and his running career began with the local club, TSV Tempelhof-Mariendorf. As a middle-distance runner, he then switched to SCC Berlin and as a member of the club's 3 x 1000 meter relay which included the 1966 European 1500m champion, Bodo Tuemmler, he twice won the German championships (1964 and 1965). His personal best for 800m was 1:49.8 and he also ran 2:25.00 for 1000m, 3:51.8 for 1500m and clocked 49.1 for 400m. Horst's best time for 10,000m was 33:33.
Horst Milde was a student at the Freie Universität (FU) in Berlin when he began organizing races in 1964. Earning a business degree, he later took over the family business: the bakery and confectionery Milde on the Tempelhofer Damm. He and his wife Sabine ran the confectionery until 1998. His office in the backroom was where many ideas for Berlin's mass-running movement were hammered out. Horst Milde has been responsible for a number of ground-breaking initiatives—initiatives like introducing national championships in cross-country, petitioning for computer timing chips before they were officially recognized, or planning the first marathon loop course held entirely within a city for the World Track and Field Championships.
Besides organizing races, Horst Milde has also run more than a few marathons himself—competing twice in New York as well as in London, Boston, Honolulu, Vienna, Stockholm and Copenhagen. His marathon personal best is an impressive 3:42. He was chairman of the Track and Field section of SCC Berlin for over a decade and was an official representative for the Berlin Track and Field Federation (BLV).
These days, he serves on the Board of Directors for the Association of International Marathons and Road Races (AIMS) and is the spokesman for the German Road Races Organization (GRR). In these positions, he continues to play a significant role in the national and international development of the sport of running. He has, for example, supported the creation of the official AIMS Museum (The Museum of Sport in Berlin) and is chairman of the AIMS Symposium which will take place for the second time in Athens on November 8, 2008.
HORST MILDE'S FACTS AND FIGURES
Total number of race participants that he has organized since November 1964: 1,268,649
Number of events organized that he has organized since November 1964: 348
Total number of participants that he organized in his record year of 2003: 123,778
Total number of participants organized from1999 to 2003: 473,576
Increase in organized participants between 1999 and 2003: 94%
© Copyright 2008-2022 by Take The Magic Step®. All Rights Reserved.
Article Archive