Berlin's 5 x 5K Relay Attracts Thousands of Runners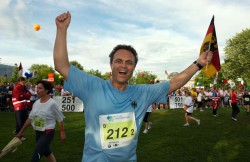 The Berliner Wasserbetriebe 5 x 5-kilometer TEAM Relay, a race organized by SCC EVENTS—the same company that hosts the Berlin Marathon, continues to thrive. When it debuted 11 years ago, 218 relay squads and 1,090 runners took part. The numbers have grown exponentially ever since. This year, 4,717 teams and 23,585 runners turned out for the competition.
The TEAM Relay took place over three evenings from June 22 to 24. It is the largest relay race in Germany—mostly comprised of corporate, government, and sports clubs teams. However, there are also individual groups which participate in the event. Each team receives a picnic basket and a red wine, which was bottled especially for this occasion. A kids race of approximately 800 meters is held before each main event, offering children up to the age of 10 the chance to celebrate running.
The award for the fastest men's and women's relay team over the three days went to the Berlin-based running store "Lang- und Laufladen." The men's squad, comprising of Jonas Engler, Daniel Neumann, Normann Fenske, Lucas Kempe, and Aberrahim Oukioud, finished in 1:20:52 hours. The women's team with Victoria Brandt, Mares Buchhauser, Helene Heimweg, Birte Schulz, and Nathalie Bublitz crossed the finish line in 1:35:00.
Weather conditions varied considerably during the three days of the event. On Wednesday there were heavy rains, but running conditions on Thursday and Friday improved significantly. The mood was festive and upbeat as the teams collected on a meadow near the finish line, which is located next to the German Chancellery.
Ten years ago, then Minister of Foreign Affairs Joschka Fischer competed in many road races, including the real,- Berlin Marathon. This year another minister joined fellow runners on Berlin's streets: Hans-Peter Friedrich took part in the TEAM Relay through the "Tiergarten" park. He told the SCC EVENTS Web site after the race that he had a great time. His Ministry of the Interior, located next to the race's course, fielded a total of astonishing 19 relay teams.
© Copyright 2011-2022 by Take The Magic Step®. All Rights Reserved.
Article Archive