Bellin Run Celebrates Incredible 40th Anniversary Edition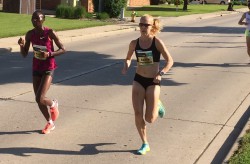 One of the biggest 10K races in the United States, the Bellin Run in Green Bay, Wisconsin, reached an important milestone on Saturday. The annual June race, which encourages wellness and healthy living, got its start back in 1977, when its first edition was known as the Bellin Heartwarming Run and drew 881 participants. Over the years since, it has blossomed into an amazing running experience.
Saturday morning, nearly 17,000 runners of all ages and abilities were at the starting line for the 40th edition. Temperatures for the anniversary race were uncomfortably warm and humid, but that didn't faze participants, who high-fived the volunteers who handed out water along the scenic course that starts and finishes in front of the Bellin Hospital and winds through scenic parts of Green Bay.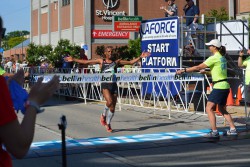 American Meb Keflezighi, preparing for his third Olympic Games marathon—he took the silver medal in 2004—was the first runner to cross the finish line in 30 minutes and six seconds. The 41-year-old Boston and New York City Marathon champion celebrated his first Bellin Run victory with a huge smile as he broke the finish-line tape. Jeremy Drenckhahn took second in 31:05 while Benson Cheruiyot was third in 31:41.
The women's winner was five-time-consecutive champion Risper Gesabwa of Kenya, who crossed the line in front of the Bellin Hospital in 34:19. Kaitlin Gregg Goodman finished next behind Risper with a 34:35 clocking. Third place went to Dawn Charlier Grunnagle (37:10).
Bellin Run and Bellin Health―A Unique Collaboration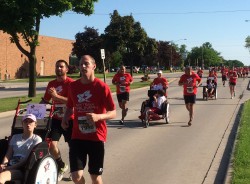 © © Michael Reger
Speedy times aside, the Bellin Run is also about wellness for all. Randy Van Straten, Executive Director of this tremendous health and fitness weekend, works closely with Bellin Health, one of the region's largest medical facilities and a beneficiary of race proceeds. Bellin Health together with community agencies and other health care institutions created CHIP, the Community Health Improvement Plan. The overall goal of the plan is to go "Beyond Health to Healthiest Brown County" through fitness events, public education, and outstanding physician care for everyone.
The elements of the successful strategy include a Kids for Running program, a Bellin Run Corporate Challenge, and a rehab program that helps patients get healthy again through running. A Fun Charity Run adds to the unique efforts to bring this caring community together as "myTEAMTRIUMPH" chapter had over 40 running teams at the starting line of the Bellin Run.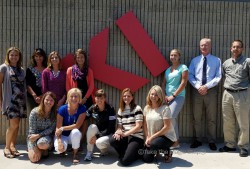 The Bellin race also provides an important opportunity to bring the community together. Dick Resch, CEO of Krueger International, an office furniture company located in Green Bay, has been a longtime proponent of healthy living and giving back to wellness. He helped found the Greater Green Bay Community Foundation, which raises money for local non-profits, and he is a familiar face of the Bellin Run.
As always, Uta, who won the race back in 1995, was in Green Bay at the invitation of Krueger International to show her support, running despite a recent hamstring injury that slowed her down. "The outpouring of local enthusiasm and the obvious joy of so many runners—many of them first timers—never fails to inspire me," she said.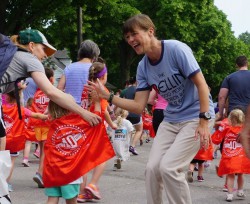 "The thousands of smiles I saw at the finish line simply reflected the joy and spirit of the day. And along the way we were helped through the heat by dozens of families who came out to cool us down with their hoses and sprinklers. This event is additionally special because I am always so conscious of the priceless health benefits that ripple out from the Run long after the race is over."
She added, "I also have to salute the organizers, Bellin Health, and sponsors like Krueger International and every single volunteer who helped to make this 40th anniversary race such a success. I hope I can join this wonderful community to celebrate 40 more!"

Reading Suggestions:
Would like to try out the beautiful sport of running? Here is Uta's 5K training schedule for our beginners.
© Copyright 2016-2022 by Take The Magic Step®. All Rights Reserved.
Article Archive