Olympic News: Bekele Does the Double; Yego and Lagat Win for Kenya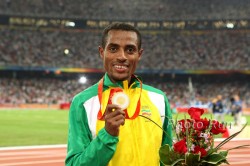 A day after the triumph of his compatriot Tirunesh Dibaba, Kenenisa Bekele followed suit by winning his second gold medal at the Olympic Games in Beijing. Six days after his victory in the 10,000m, Bekele took the 5,000m as his finishing kick once again proved unbeatable. The Ethiopian set a new Olympic record as he crossed the finish line in 12:57.82, five seconds clear. Kenyans Eliud Kipchoge (13:02.80) and Edwin Soi (13:06.22) finished in second and third places, respectively.
Kenenisa Bekele is now the sixth male in Olympic history to have achieved a double victory. His predecessors include the Finn Hannes Kolehmainen (1912), the Czech Emil Zatopek (1952 with gold also in the marathon), the Russian Vladimir Kuts (1956), the Finn Lasse Viren (1972 and 1976), and the Ethiopian Miruts Yifter (1980).
In the press conference that followed his record-setting victory, fans noticed that Bekele no longer needed an interpreter as he replied to questions directly in English. Though he didn't understand everything immediately, he's clearly been making progress in his ability to communicate with reporters.
"This is a fantastic success for me," said Bekele. "It's hard to run 5,000m after a 10,000m final because the longer distance takes up so much energy." Over the last kilometer of the race, Bekele had pushed the pace from the front. Eventually only Kipchoge and Soi could stay with him, but they had no chance against Bekele's kick on the final lap. In this kind of race, when the pace was constantly being increased, even the top runners were challenged as evidenced by world champion Bernard Lagat's ninth place finish in 13:26.89.
This was Kenenisa Bekele's third attempt to win the 5,000m following a 10,000m race at a global championship. In the 2003 World championships in Paris, he was beaten by Eliud Kipchoge, and then by Hicham El Guerrouj (Morocco) a year later in Athens. "At the Olympics in Athens, I was still very young and probably made tactical mistakes in the race, especially when to kick at the finish. Now I'm stronger and think more about race tactics," explained the 26-year-old Bekele, whose brother, Tariku, was sixth in 13:19.06. A third Ethiopian, Abreham Cherkos, placed fifth in 13:16.46. When asked whether he and his compatriots had come to an agreement over tactics, Bekele replied "We had talked about the race beforehand, but we didn't do what we had agreed to. We actually wanted to make the race fast after 2,000m, but we did it after just one lap. It's a pity the others didn't win medals."
Asked if he could imagine competing in the marathon as a third event, as Emil Zatopek and Lasse Viren had once done, in the London Olympics in 2012 (schedule permitting), Bekele replied: "That's a difficult question, whether it would be possible to compete in the three events—for the moment I can't answer that."
The 800m was marked by a rare gun to tape victory in this kind of final for the Kenyan Wilfred Bungei. The 28-year-old world indoor champion from 2006 celebrated the greatest triumph of his career in 1:44.65 minutes, winning the first men's Olympic gold for Kenya over 800m since William Tanui's success in Barcelona in 1992.
Bungei, who initially shared the lead with his compatriot Alfred Kirwa Yego, went through 400m in a time of 53.35 seconds. When Ahmed Ismail (Sudan) attacked on the backstraight, Bungei held firm. The Kenyan was strong enough to keep his rival at bay right to the finish. Ismail was second in 1:44.70 minutes, while Yego, who had dropped back to fifth, made up ground over the final 70 meters to win the bronze medal in 1:44.82. "I've tended to be a front runner but I didn't really plan to do that here," said Bungei, who was fifth in the Athens Olympics. Until now, his biggest success was the second place finish at the 2001 World championships in Edmonton. "I shall now return to Kenya and celebrate my Olympic victory. Then I'll think about whether to continue my career."
"This is a wonderful evening for Kenyans. When we arrived in the stadium, we weren't sure what we could achieve—now we have won two gold medals," remarked Bungei. Nancy Lagat became the women's Olympic 1500m champion, when she won the second gold medal, which was a breakthrough and a real surprise for Kenya, known as land of the runners. Never before had a Kenyan woman won a medal at this distance, or even finished in the top eight at the Olympics. Now Nancy Lagat, the day after her 27th birthday, burst through for the gold medal in a personal best of 4:00.23 minutes.
Three hundred meters from the finish the favorite Maryam Jamal (Bahrain) was at the front and seemed to be heading for victory, but Nancy Lagat didn't let her go. On the backstraight, the Kenyan went past the 2007 Osaka world champion. Jamal then faded in the home straight and finished out of the medals in fifth place in 4:02.71. Silver and bronze went to Ukrainians Irina Lishchynska (4:01.63) and Nataliya Tobias (4:01.78). Briton Lisa Dobriskey came in fourth place with 4:02.10.
"I would not have believed this was possible—I am very proud," said Lagat.
© Copyright 2008-2022 by Take The Magic Step®. All Rights Reserved.
Article Archive