Bekele Almost Loses Shoe, Still Wins World Cross Country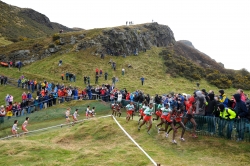 En route to another unique achievement, even a sudden handicap failed to stop Kenenisa Bekele. At the World Cross Country Championships in Edinburgh, the Ethiopian had to stop in the 12K after he almost lost a shoe. Nonetheless, by the finish Bekele had won the long-distance event at these championships for the sixth time, making him the only person to do so.
It was, in fact, a perfect day for the Ethiopians in a chilly Edinburgh because they also won the three other individual gold medals: Tirunesh Dibaba won the senior women's 8K, while in the junior races Ibrahim Jeilan and Genzebe Dibaba, Tirunesh's younger sister, triumphed. At the team level, however, the Kenyan men could take consolation in winning the prestigious men's team title once again.
In the men's race, Bekele had a scary moment after about 4K when another runner stepped on his heel, and Bekele's shoe almost came off. "I was worried, because if you lose a shoe you can't keep on running," Bekele said later. "So I stopped to put the shoe back on properly: otherwise, it could have been dangerous." Bekele lost perhaps 15 seconds to the incident, but was able to quickly rejoin the lead pack, because they were still running relatively conservatively.
For much of the race, the defending champion Zersenay Tadesse (Eritrea), who a year ago in Kenya brought Bekele's victorious sequence surprisingly to an end, took the initiative in the leading group. Next to Tadesse and Bekele in the quartet who went clear were two Kenyans, Leonard Komon and Joseph Ebuya. Ultimately it was a case of nobody being able to beat Bekele. He made a decisive attack on the last 2K lap of the course before going on to win in 34:38 over Komon (34:41), Tadesse (34:43) and Ebuya (34:47). "Although I've won the middle- and long-distance titles at the World Cross Country five times before, this sixth victory is something special," said Bekele, who between 2002 and 2006 won double gold on each occasion. Since 2007 there has only been the long-course race at the meet.
Apart from runners from Qatar, the best non-African runner was the American Jorge Torres in 19th place in 36:03. Carlos de la Ossa (Spain/36:15) in 24th position was the leading European.
Tirunesh Dibaba announced her presence in the 8K women's race in impressive fashion. Only 22 years old, the Ethiopian hadn't run a single cross country race this year. In addition, following health problems and a long break after her world 10,000m title in August, she had run just one race, an indoor 3,000m in January. But when things got serious in Edinburgh, there she was in the thick of it. With one lap to go, her compatriot Gelete Burka seemed the more likely victor. She had gone clear of the leading group, but then couldn't maintain her pace, and faded to sixth in 25:35.
Instead, Dibaba had the best finish in the race for the $30,000 prize money, taking her third world long-course title since 2005. Her time of 25:10 put her 5 seconds ahead of her compatriot Mestawet Tufa. "In mid-race I had a stitch, that's why I wasn't up front for a while. But I knew I could make up the gap to the leaders again," said Dibaba.
The Kenyan Linet Masai won bronze in 25:18. The leading European was Hilda Kibet, who has only recently switched to running for the Netherlands. The former Kenyan ran 25:35 in the absence of her compatriot Lornah Kiplagat, who had decided not to defend the title. In a strong field there were notable performances from Benita Johnson (Australia) in 11th place in 25:56, Liz Yelling (Great Britain/15th in 26:13) and Emily Brown (USA/18th in 26:36).
© Copyright 2008-2022 by Take The Magic Step®. All Rights Reserved.
Article Archive