Asbel Kiprop and Fionnuala Britton Dominate Cross-Country Races in Edinburgh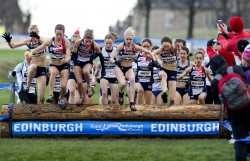 Asbel Kiprop, Kenya's 1,500m champion at the 2008 Beijing Olympics, surprised a field full of long-distance specialists at the Bupa Great Edinburgh Cross Country last weekend—winning the 3-kilometer competition in sunny, cool and windy weather on a partially muddy course. It was Asbel's first international cross-country victory of his senior career and he was cheered on by several thousand spectators at Holyrood Park in Edinburgh, a long-established venue for one of the best quality cross-country races in the world. Millions more watched the races on television.
The 22-year-old Asbel Kiprop made his decisive move in the last of three laps, surging past the young British runner Ross Millington, who had bravely gone to the front to share the lead with the Kenyan athlete. Surprisingly, the Kenyan duo comprised of last year's winner Eliud Kipchoge and the Olympic 3,000-meter-steeplechase champion, Brimin Kipruto, as well as Ethiopia's Kenenisa Bekele played no part in the final stages of the race. While Asbel Kiprop crossed the finish line in nine minutes and twenty seconds, looking relaxed during the last lap on the hilly course, Eluid Kipchoge and Spain's Juan Carlos Higuero were engaged in a real contest for second place. However, they were surprised by another young British runner, 19-year-old Jonny Hay who put forth a strong finishing kick in the last few meters to take second place in 9:25. Eluid Kipchoge was third, one second behind and just ahead of Juan Carlos Higuero who was awarded the same time. Kenenisa Bekele finished further back in the field in 11th place with a time of 9:42, while Brimin Kipruto clocked the same time for 12th place.
For Asbel Kiprop, the race in Edinburgh marked a perfect start to this Olympic year. "I was quite surprised that I beat the likes of [Kenenisa] Bekele, [Eliud] Kipchoge and [Brimin] Kipruto," he said. "I always expected Kenenisa to come to the front but I never saw him during the race." Though primarily a middle-distance runner now, Asbel is no stranger to cross-country races. He won the gold medal in the 2007 junior race at the World Cross-Country Championships in Mombasa, Kenya, but he has only occasionally run cross-country races since then—most of them at home. "Internationally I only competed twice in the cross since Mombasa. I came second in Edinburgh and then went on to become World champion at the 1,500m. Now I have won in Edinburgh, so this is a very good sign for the London Olympics."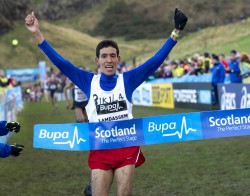 Two more elite races counting for team honors were on the program in Scotland on Saturday, pitting teams from Great Britain, the USA, and a European squad. African athletes did not take part. Spain's Ayad Lamdassem, who has won two consecutive silver medals at the European Championships, won the men's 8K race in 25:44 with a strong finishing kick, while Bobby Mack from the USA was a surprise runner-up. The reigning European Cross-Country champion, Belgium's Atelaw Bekele, who was born in Ethiopia, but is not related to Kenenisa, finished third in 25:47. After the race Ayad Lamdassem said, "I will now prepare for my marathon debut at Lake Biwa in Japan in March. I hope to run around 2:09 and would like to run the Olympic Marathon."
In the women's 6K on the demanding and varied course in Holyrood Park, the reigning European Cross-Country champion, Fionnuala Britton, took control of the race—emphasizing that Ireland now has another great long-distance prospect following in the tradition of Sonia O'Sullivan and Catherina McKiernan. The 27-year-old, who will concentrate on the 5,000m and 10,000m this summer, was able to break away from the leading group and won with 20 seconds to spare ahead of second-place finisher Gemma Steel, who clocked 21:32. Another British athlete, Elle Baker, finished third in 22:08. Germany's Simret Restle ran as a member of the European squad and finished 12th in 22:48. Britain won the team competition over the United States and Europe.
The organizers also staged a 2.5K race for seven to 13-year-olds with 'Leukemia & Lymphoma Research' serving as official charity of the Bupa Junior Great Winter Run. Participants were given the opportunity to raise funds for the organization as team members of the 'Banana Army.' These remarkable runners were easy to spot during the race thanks to their yellow t-shirts!
The Bupa Great Winter 5K people's race, which is staged annually before the elite competitions, also provided the chance to raise funds for numerous charities. Among the many participants was Owen Redpath, who used the race as one of a series of running events he is doing in memory of his late father and to raise funds and awareness for the Diabetes UK charity. On the news Website Scotsman.com, Owen was quoted as saying his father was "a very special man," who lived to help others by challenging them to help themselves.
Kenenisa Bekele Looks Forward to the Olympic Games in London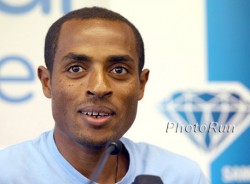 One of the world's greatest runners, Kenenisa Bekele, raced in Edinburgh on January 7—the day Ethiopians celebrate Christmas Day. While his wife and their two small children celebrated the holiday at home in Addis Ababa, the Olympic champion finished ten places and 22 seconds behind winner Asbel Kiprop in the 3K race. Kenenisa Bekele is the most successful cross-country runner of all time, with an impressive total of 20 individual and team medals at World Cross Country Championships, and in spite of his less-than-satisfying placing, the 29-year-old was still able to smile.
"I knew beforehand that I wasn't in a very good shape," he admitted. "It was fifty-fifty whether I would run well or not. Of course, I'm not satisfied with where I finished—I'm not used to finishing eleventh. But what can I do? Today I just couldn't do any better." But he added: "I'm happy to be healthy and going into the Olympic year injury-free. In terms of the Games in London I'm still optimistic—I think we'll see the real Kenenisa Bekele this summer. I can't say at present whether I'll run both events [Editor's note: 5,000m and 10,000m]. That depends on how the season goes and my results. Generally I like running both distances—each means just as much to me." It's unlikely that Kenenisa will run indoors this season after the result in Edinburgh. "I have to give training priority," he said. "There are no plans for another race."
Asked about the outstanding improvement of the Briton, Mo Farah, who won the 5,000m gold and took silver at 10,000m in the 2011 World Athletics Championships, Kenenisa replied: "Mo Farah was very strong last year. But you never know what can happen—as we saw last year in the 10,000m final, surprises can always occur. Anyone has a chance of winning. You can have all sorts of ideas before a race but you never know—that's sport."
Kenenisa remains optimistic after his race in Scotland, his spirits buoyed by how far he has come with his running since last year, when he was sidelined with multiple injuries. "I'd already been injured for a year by then and was close to ending my career," he revealed in an interview in Edinburgh. For well over a year and a half, the multiple world-record holder was unable to compete. "I tried and tried but always got injured again. That was a hard time. Many people prayed that I could come back. I would have given up without the support of my family and friends."
Last August Kenenisa went to the World Championships in Daegu, South Korea for his first race since January 2010. The defending champion dropped out of the 10,000-meter final. However, two and a half weeks later, he returned in impressive style in Brussels, running a world best 10,000m for the year, 26:43.16. Edinburgh however was a challenge for him. "I don't want to get into great shape too early because I can't maintain that form right through to the Olympic Games," he explained. "I prefer to build slowly towards the summer."
With an incredible list of achievements behind him, it may be that Kenenisa no longer finds the motivation he once did. "I'm not as hungry to win every title—but I still want to make history," he said after his race in Brussels last year. Other factors affecting Kenenisa's situation are his various business interests in Ethiopia. "I'm having two hotels built which will open in the coming months. It's important for me to have prospects after my time in sport," he noted. One hotel in Addis Ababa should open in three months and another at a sports complex ten kilometers outside of the city in about four weeks. "Of course it is a little harder to combine training and work. But I devote only 15 to 20 percent of my time to business," he said.
Nonetheless, Kenenisa definitely sees his future in sport. "At present I plan to continue running track races after the Games in London," he remarked, though he could not say when he might begin to concentrate on road and marathon races.
Is an Olympic marathon victory one of his distant goals? "There's no ultimate dream. I still have plenty of time," he replied.
© Copyright 2012-2022 by Take The Magic Step®. All Rights Reserved.
Article Archive