Annie Bersagel and Anna Hahner Share Olympic Dreams
This past spring, Annie Bersagel, from the United States, and Germany's Anna Hahner surprised the running world with remarkable victories in Dusseldorf and Vienna respectively. Now both athletes have set their sights on qualifying for the marathon at the 2016 Olympic Games in Rio de Janeiro. Annie and Anna share unique and inspiring backgrounds, but that is not the only thing they have in common: they clocked the same time in the marathon—2 hours, 28 minutes, and 59 seconds. Take The Magic Step would like you to learn some more about these incredible "new" runners!
Annie Bersagel: Victory in Dusseldorf While Holding a Full-Time Job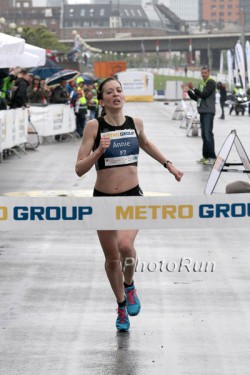 In recent years, organizers of the Metro Group Marathon Dusseldorf have focused on trying to attract American runners—and finally, in April, the popular race hailed its first American winner. Annie Bersagel left all the African favorites in her wake as she ran to a stunning victory in 2:28:59 under constant rain and through ankle-high puddles. It was the 31-year-old's first sub-2:30.
Annie, who is married to the Norwegian mountain runner Öyvind Helberg Sundby, has the potential to achieve even more great results in the coming years. She lives in Oslo and works full time there. Her future goal is to participate at the 2016 Olympics and she demonstrated incredible abilities even before the marathon in Dusseldorf. At the Half Marathon Championships in Copenhagen at the end of March, she took an impressive 13th place and garnered top-American honors. Her time of 70:09 was also a personal best.
Annie comes from the area north of Denver, Colorado and as a teenager, she played baseball. "We were a few girls who joined a team of boys," she recalls. When she was 13, she took part in a one-mile race, placing third "although I was in quite a bad shape." From then on, Annie started as a middle-distance runner for her school's track team. "In my first race for the school team I came second and after that I won all of the following races."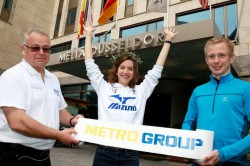 While she was competing in various distances up to 10,000m, indoors as well as cross-country, Annie was just as successful in her collegiate studies. At Wake Forest University in North Carolina she studied Economics and Political Science. In 2006, she was awarded the title NCAA Women of the Year—an honor which is given to successful athletes who also display extraordinary achievements in their studies. After that, Annie moved to Oslo where she met her husband and completed a Master's degree in Political Science. In 2009 she returned to the U.S. for three years to study law at Stanford University. Currently, Annie is employed in a full-time position as a consultant for an investment company.
She trains primarily with her husband, Öyvind Helberg Sundby, who has a half-marathon best of 69 minutes, but mainly focuses on mountain running. "I have tried a few mountain races in Norway but I'd better leave that up to him," Annie smiles. She is now looking to run a half marathon in the fall. When her current job contract expires in June 2015, she is considering working fewer hours in order to train more, thereby increasing her chances of achieving her dream: qualifying for the 2016 U.S. Olympic marathon team.
Annie Bersagel's Marathon Results
| | | | |
| --- | --- | --- | --- |
| 2009 | 2:44:17 | 24. | Saint Paul (USA) |
| 2013 | 2:30:53 | 1. | Saint Paul (USA) |
| 2014 | 2:28:59 | 1. | Dusseldorf (GER) |
Anna Hahner: Celebrating a Personal Triumph in Vienna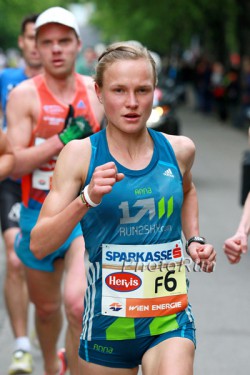 Just two years ago, Anna Hahner ran a promising marathon debut in Dusseldorf. With a time of 2:30:14, the then 22-year-old missed the Olympic qualifying standard by only 14 seconds. Last October, Anna, who is part of the Run2Sky team and lives in Gengenbach, in Germany's Black Forest, improved her personal best to 2:27:55 at the BMW Frankfurt Marathon and moved up to seventh place on the list of the fastest German female marathon runners of all time. Anna's latest feat came last April when she won the Vienna City Marathon in 2:28:59—a time that made the German marathoning world take notice.
Anna and her twin sister, Lisa, who has a personal best of 2:30:17 in the marathon, took up running later than most elite athletes. It was not until they were 17 that they discovered the sport by a happy coincidence. The sisters went to Fulda, Germany, to hear musician and long-distance runner Joey Kelly give a talk about motivation, that included advice on running. "It was so motivating that we started running," says Anna. "Initially, we ran three times a week for about half an hour, then we discovered non-elite running events. We often took part in 10K races and won in the women's division. Sometimes we also crossed the finish-line hand in hand."
As children, Anna and Lisa were active in non-running sports. When they were eight, they played ping-pong and competed in singles and doubles for the TTC Mittelaschenbach club in a top youth league. At the age of eleven, the sisters took up jujutsu and achieved the brown belt, that sport's second-highest rank. Running was next.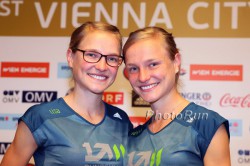 A coach approached the teenagers after they clocked a 1:29 in the half marathon in the German town of Bad Hersfeld, and they decided to join the PSV Grün-Weiß Kassel running club. In 2008, when the German Youth Championships took place in Berlin's Olympic Stadium as a test for the World Championships in 2009, Anna took second in the 3,000-meter event. "Lisa wasn't able to start, but she was there. It was fascinating to run in that stadium," Anna recalls. This experience was a key moment for the then 18-year-olds and a great motivation to go further in the sport. At a regional training camp, they got to know Wolfgang Heinig, an experienced marathon coach who worked with them until the beginning of 2013.
In the spring of 2013, the Hahner twins began to train under Renato Canova. They had met the successful Italian coach, who also works with a number of world-class Kenyan runners, at a training camp in Kenya. "Anna and Lisa both take their sports very seriously and with great passion," says Canova admiringly. "For athletes like them, marathon times of about 2:24 are possible. There won't be an explosion in their results but it is likely that they will be improving by about a minute each year." If he is right, in four years' time they could be able to achieve very good results at the European Championships.
Anna Hahner's Marathon Results
| | | | |
| --- | --- | --- | --- |
| 2012 | 2:30:14 | 6. | Dusseldorf (GER) |
| 2013 | 2:27:55 | 8. | Frankfurt (GER) |
| 2014 | 2:28:59 | 1. | Vienna (AUT) |
Article Archive