An Exciting 2013 Half-Marathon Season Gets Underway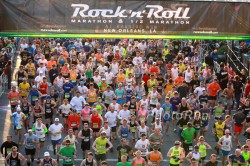 Half-marathon season, which lasts from February to the beginning of April, is well underway. Some elite runners specialize in the "Half"—exactly 13.1094 miles. For many others these races are an important test for the spring 26.2-mile classics, which include Boston, London, Rotterdam, Paris, and Vienna in April. To highlight this exciting season, Take The Magic Step® takes a look at some thrilling half-marathons from the past few weeks, with special focus on Ras Al Khaimah, in the United Arab Emirates, which recorded the best in-depth elite performances of all time.
The Hague, March 10: Edwin Kipyego Overcomes Daunting Headwind to Score Notable Triumph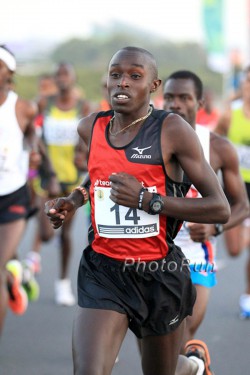 Strong winds and temperatures barely above freezing dashed hopes of world-class half-marathon times of under the hour at the City-Pier-City race in The Hague. Despite the adverse conditions, Kenya's Edwin Kipyego triumphed on the Dutch North Sea coast course, winning in sixty minutes and five seconds and leading 35,000 participants to the finish line of the ABN AMRO CPC Half Marathon. After a speedy opening 10K split of 27:53—which would have been fast enough to achieve the world record of 58:23—the pace dropped as the athletes hit a headwind that gusted up to 31 miles an hour.
Nevertheless, Edwin Kipyego was able to break free from the other front runners near the 15K mark and establish a big lead. The 23-year-old, who won the New Delhi Half Marathon last September, improved his personal best by 49 seconds and in normal conditions there is no doubt he could have run well under the hour. His impressive 60:05 finish placed him ahead of Henry Kiplagat (Kenya/60:55), Abere Belay (Ethiopia/60:58), and Kennedy Kimutai (Kenya/61:00).
In the women's race, 27-year-old Laurane Picoche made a great debut. The French athlete, who was fifth in the European Cross-Country Championships last December, won in 71:45—well clear of Tone Ilstad Hjamlmarsen (Norway/74:15) and Marta Esteban (Spain/74:58).
Rome-Ostia, March 3: Three Runners Go Under the Hour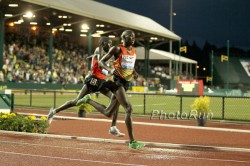 The 39th edition of the Rome-to-Ostia Half Marathon produced fast times, with three runners going under 60 minutes as well as improving the course record in this long-established race. In addition, four women broke 68 minutes.
The 2010 World Half-Marathon champion Wilson Kiprop of Kenya took the lead after 15K, joined by his fellow countrymen Edward Chomesin and Simon Cheprot. The trio took turns in the front, with the happy result that all three achieved world-class times. Wilson Kiprop won in a sprint finish and the 25-year-old, who will run the Hamburg Marathon in April, improved the course record by 17 seconds with his time of 59:15. That also bettered his personal best, set in Berlin last year. Edward Chomesin (59:19) and Simon Cheprot (59:20) broke the former course record as well.
In warm conditions, the women's race was fast from the start. A five-strong leading group passed the 10K mark in 32:08 and the decisive moment did not come until the final kilometer when Filomena Cheyech surged to the front. The 30-year-old Kenyan, who was eighth in the 2009 World Half-Marathon Championships, improved her personal best by 65 seconds to finish in 67:39. Three more runners went under 68 minutes with Kenya's Agnes Kiprop clocking 67:46, Debele Degefa of Ethiopia 67:49, and Hilda Kibet of the Netherlands 67:59
New Orleans, February 24: Course Records Fall to Olympic Champions Mo Farah and Meseret Defar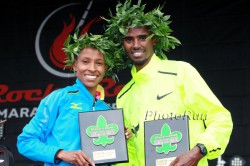 Two Olympic champions came to New Orleans and set new course records at the Rock 'n' Roll Half Marathon. Britain's Mo Farah won the men's race with a British record of 61:00 while the Ethiopian Meseret Defar took the women's crown with a 67:26 victory. More than 18,000 runners participated in the half marathon and marathon.
The men's competition developed into a duel between Mo Farah, who took the gold in both the 5,000 and 10,000 meters in London last year, and the Ethiopian Gebregziabher "Gebre" Gebremariam, who will be running the Boston Marathon on April 15. The pair broke away from a five-strong leading group after only 5K and built a clear lead. Mo Farah had to call on his legendary finishing speed to win a thrilling duel by just one second ahead of the 2009 World Cross-Country champion. Third place went to Kenya's Cybrian Kotut in 62:48. Fourth was another Kenyan, Martin Lel (64:02), who will be among the elite athletes in this year's London Marathon. Mo Farah's victory was his second in the "Half." On his debut in New York in 2011 he ran faster (60:23), but the course later was judged not to meet the required standard for records.
The decisive moment in the women's race came shortly after the halfway mark. Until then Shalane Flanagan of the USA matched Meseret Defar stride for stride but then the Ethiopian Olympic 5,000m champion picked up the pace. In the end, Meseret Defar's personal best of 67:26 was more than a minute faster than Shalane Flanagan's 68:32—a successful test for Shalane's start at the Boston Marathon in April. Mary Ngugi of Kenya was third in 70:33.
Shalane told Runner's World magazine afterwards: "I'm preparing for Boston so this is a stepping stone for my ultimate goal to win the marathon. I'm really pleased I could stay with her [Meseret Defar] as long as I could, considering my training."
Ras Al Khaimah, February 15: Geoffrey Kipsang and Lucy Kabuu Run World-Leading Times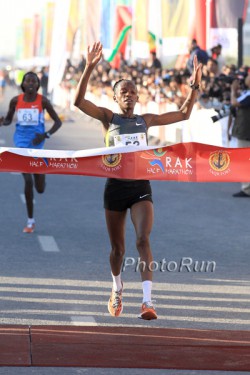 World-leading times in both the men's and women's races headlined the Ras Al Khaimah half marathon, with Kenyans Geoffrey Kipsang and Lucy Kabuu triumphing.
Geoffrey Kipsang crossed the finish line in the United Arab Emirates in 58:54 and for the first time in history, three runners went under 59 minutes for 13.1 miles, with two other Kenyans, Stanley Biwott and Geoffrey Mutai, finishing in 58:56 and 58:58 respectively. Geoffrey Kipsang came within two seconds of fellow countryman Patrick Makau's course record of 58:52, set in 2009. This was also the ninth-fastest performance of all time for the half marathon. Zersenay Tadese (Eritrea) currently owns the 58:23 world record.
Equally exciting was the women's race in the desert country. Lucy Kabuu ran 66:09, the second-fastest of all time. Only Kenya's world-record holder Mary Keitany, who won Ras Al Khaimah with 65:50 in 2009, has run faster. For the first time, three women went under 66:30 and four athletes broke 67 minutes: the Kenyans Priscah Jeptoo (66:11) and Rita Jeptoo (66:27) finished second and third. The reigning World Half-Marathon champion Meseret Hailu was fourth with an Ethiopian record of 66:55.
The men's race was only decided by a long sprint dual to the finish with the 20-year-old Geoffrey Kipsang winning by two seconds in 58:54 from Stanley Biwott (58:56) and Geoffrey Mutai (58:58). The latter duo will be running the London Marathon in April. All three athletes set personal bests and two more runners broke the hour in a race that began with the temperature at 55 degrees Fahrenheit. Feyisa Lelisa of Ethiopia finished fourth in 59:25 and Kenyan Stephen Kibet was fifth in 59:59. Feyisa Lelisa will also be running the London Marathon.
In the women's race, Lucy Kabuu was able to leave her rivals behind after 17 kilometers. The 28-year-old whose previous best was 67:04 held onto a narrow lead to win in 66:09, six weeks before she competes in London. Priscah Jeptoo ran 66:11 and Rita Jeptoo—no relation to Priscah—finished in 66:27. Priscah is now the third-fastest female 13.1-mile runner of all time and Rita went to number five on this list—ahead of her appearance in the Boston Marathon in April. Behind them, Meseret Hailu (66:56), Florence Kiplagat (67:13) and Helah Kiprop (67:39) produced high-quality times as well. On her debut at the distance, Ethiopia's Meselech Melkamu finished seventh in 68:05. Priscah Jeptoo, Florence Kiplagat, and Meselech Melkamu will face each other again in the London Marathon. Eighth place went to Paskalia Kipkoech (Kenya) in 68:08. The women's race produced still more world-class performances—with six runners going under 68 and no fewer than ten competitors breaking 69 minutes.
© Copyright 2013-2022 by Take The Magic Step®. All Rights Reserved.
Article Archive