Allan Kiprono and Risper Gesabwa Win Warm Bellin Run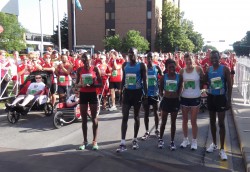 Wisconsin's official motto is "forward"—coined in 1851 to portray the state's continual drive towards excellence. The living embodiment of this motto was on display at the 36th annual Bellin Run on Saturday when thousands of runners, walkers, strollercizers, and wheelchair athletes took to the streets of Green Bay's eastern neighborhoods, putting one foot in front of the other, moving collectively forward towards the Finish Line. With temperatures hovering in the high 70s at the start and climbing to 90 by mid-day, athletes doused themselves with cool water from paper cups and high-fived the thousands of spectators who had lined the course to cheer them on. The Bellin Run is one of the largest 10Ks in the nation and has been a fixture in the Green Bay community since it was founded in 1977.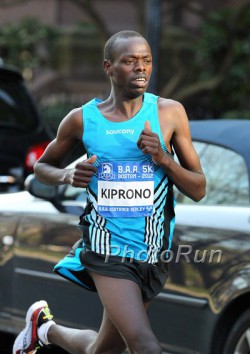 Leading the way at this year's edition was Kenya's Allan Kiprono who crossed the Finish Line on Webster Avenue in 29 minutes and 4 seconds ahead of his training partners and fellow countrymen Lani Rutto (30:05) and John Korir (30:22). Allan, who is coached by Take The Magic Step's Dieter Hogen, won last year's edition of the race. He is coming off a fantastic road-racing season, having achieved victory at the BolderBOULDER 10K two weeks ago as well as at this year's Lilac Bloomsday 12K and Cherry Blossom Ten Mile Run.
"I really felt good today but it was just too warm and windy for fast times. In spite of this, I could hold my speed the whole way," Allan told Take The Magic Step® afterwards. "The fans and the people on the street were supporting this great race and it really felt like a family event here today. Everything is well organized."
Risper Gesabwa of Kenya won the women's division in 33:09. Second place went to her countrywomen Jelliah Tinega (33:27), another member of Dieter Hogen's training group.
The Bellin Run's first edition 35 years ago was called the "Bellin Heartwarming Run," and since then organizers have always sought to promote fitness and well-being. A portion of the proceeds from the event benefit Bellin College of Nursing, an institution dedicated to providing quality education for health-care practitioners.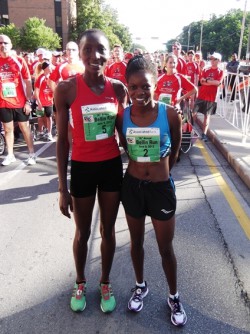 For this year's event, organizers expanded the goodwill of the race by including five charitable organizations and programs: Thrive to be the Best You Program, N.E.W. Community Clinic, Bellin College, The Cancer TEAM at Bellin Health, and the Bellin Expressive Arts in Medicine (BEAM) Program. Runners raised money through individual donations for whichever of these causes they chose.
Along with the actual 10K open race, many runners took part in the Corporate Challenge and the High School Challenge. The Corporate Challenge pitted members of various local companies against each other in friendly competition, while the High School Challenge was designed to get as many high school students and staff from local schools as possible to participate in the Bellin Run.
And for the little ones, the Bellin Run sponsors a Kids For Running Program that assists thousands of Wisconsin and Michigan-based children from Grades 3 through 8 with training programs and advice in order to complete the 6.2-mile distance.
All races have inspirational stories about runners overcoming personal struggles and the Bellin Run is no different. At this year's edition, Alyssa Brown's journey stands out. In 2010, Alyssa, a teacher at Doty Elementary School in Green Bay, was inspired to run by her students who were training for the Bellin Run. "I thought, if third graders could do it, fourth graders and fifth graders could do it, then there's no reason why an adult can't do it," she told the NBC 26 Website. Since that time, Alyssa has lost 45 pounds and has gone on to complete a half marathon. "Being active with the students and feeling the imperative to be active, to be the role model for them has kind of shaped who I am," she says.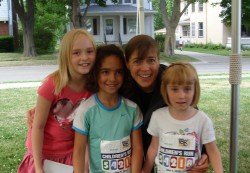 "It's just an honor to be back each year for this amazing 10K in Wisconsin," said Uta—who was in Green Bay again at the invitation of the race's gold sponsor KI. "Thank you for everything the Bellin Hospital does in connection with this wonderful event. The entire community pulls together on this fun weekend to support fitness and health for everyone. And it is so special to see how the event has grown each year—especially how more and more children are not just running in the kids' events but also the fun 10K through the streets of this remarkable community."
You can find more information on the Bellin Run here.
Article Archive