Berlin Marathon Awarded Historic Honor from AIMS
For the first time in its history, AIMS, the "Association of International Marathons and Distance Races," awarded a marathon the honorary title of "Marathon of the Decade." The real,- Berlin Marathon received this prestigious award in the office of the Berlin mayor, Klaus Wowereit.
Berlin was chosen for the award based on the fact that the following six world records have been set on the incredibly fast course since 1998: 
| | | |
| --- | --- | --- |
| 20 September 1998 | Ronaldo da Costa (BRA) | 2:06:05 |
| 26 September 1999 | Tegla Loroupe (KEN) | 2:20:43 |
| 30 September 2001 | Naoko Takahashi (JPN) | 2:19:46 |
| 28 September 2003 | Paul Tergat (KEN) | 2:04:55 |
| 29 September 2007 | Haile Gebrselassie (ETH) | 2:04:26 |
| 28 September 2008 | Haile Gebrselassie (ETH) | 2:03:59 |
"AIMS considers the Berlin Marathon to be an outstanding event of which we are proud. The race's success has become part of sporting history and an outstanding example of how sport, working with a city's institutions, can make a positive contribution to our citizens' wellbeing," said the AIMS president Hiroaki Chosa during the ceremony.
Bekele on a Roll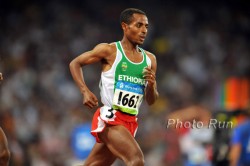 After four rounds of the Golden League, Kenenisa Bekele is one step closer to the AF Golden League jackpot. The Ethiopian distance running superstar won the 3,000 meters in front of 46,000 fans at Paris' Stade de France.
Bekele's three previous Golden League victories came at the 5,000m distance in Berlin, Oslo, and Rome. His victory in Paris was the first time that he has run 3,000m this season.
Bekele faced stiff competition in the race: most notably from the U.S. double world champion from Osaka in 2007, Bernard Lagat. Knowing that Lagat is famous for his strong, late-race surges, Bekele altered his usual tactics.
It worked.
Instead of hammering the final lap, he opted to push the pace earlier than normal. His fourth lap was under 60 seconds, which turned out to be key since it separated him from the pack. By the last lap, he led by 20 meters, finishing in 7:28.64 minutes. Lagat placed second in 7:33.15 while French runner Mourad Amdouni took third in 7:37.50.
"I'm determined to win the jackpot," said an elated Bekele afterwards.
If he wins in Zurich and Brussels at the end of August and the beginning of September, the Ethiopian will be guaranteed at least a share of the jackpot. At present another three athletes (Kerron Stewart/Jamaica/100m; Sanya Richards/USA/400m; Yelena Isinbayeva/Russia/Pole Vault) are in contention.
"Whether I'll run the 5,000m as well as the 10,000m at the World Championships in Berlin is a decision I'll leave for later," Bekele explained. He is the defending champion at the 10,000m and won both events at the Beijing Olympics a year ago.
Kigen, Cheruiyot, and Weidlinger to Run the Frankfurt Marathon
Two elite Kenyans and former champs will be facing off at this year's Commerzbank Frankfurt Marathon: Wilfred Kigen, who was undefeated from 2005 to 2007, and Robert K. Cheruiyot who surprised the field to set a course record (2:07:21 hours) in 2008. The 34-year-old Kigen has a special relationship to the Frankfurt Marathon—after his 3rd victory, he named his youngest son Frank. "Frankfurt is almost second home for Wilfred Kigen. So we are very happy to welcome him back again. Wilfred is our crowd favorite," said Race Director Jo Schindler.
Another runner to watch will be the Austrian, Günther Weidlinger. Weidlinger will be running his second marathon in Frankfurt with the goal of breaking the Austrian record (2:12:22). The Commerzbank Frankfurt Marathon has made major strides in recent years both in terms of elite quality as well as the numbers of runners taking part overall. The International Association of Athletics Federations (IAAF) recently made it a Gold Label Race.
© Copyright 2009-2022 by Take The Magic Step®. All Rights Reserved.
Article Archive