After Successful Spring, KIMbia Road Racers Should be Hot this Summer
KIMbia's road racing squad had a fabulous spring, winning most of the major American road races. They look to carry that momentum through the heart of th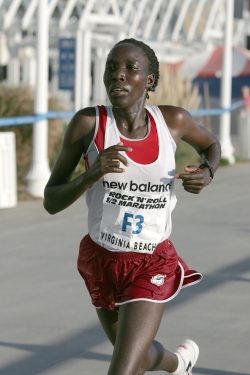 e summer circuit, starting with next week's Peachtree 10K in Atlanta on Independence Day.
In her first round of races this year, Edna Kiplagat established herself as one of the most consistently successful elites on the scene. In May alone, she won the Bloomsday 12K in Spokane, Washington; the Bay to Breakers 12K in San Francisco; and the Bolder Boulder 10K in Boulder, Colorado. Most recently, she triumphed at the Bellin 10K in Green Bay, Wisconsin on June 9.
Veteran road ace John Korir has been similarly dominant on the men's side. After a third-place finish at the Cherry Blossom 10-miler in Washington, D.C. in early April, Korir, like Kiplagat, took titles at Bloomsday, Bay to Breakers and Bellin. At Cherry Blossom, KIMbia's John Yuda was just ahead of Korir, while at Bloomsday he was on the receiving end of Korir's strong kick.
When Kiplagat and Korir were taking well-deserved rests from racing, other KIMbia runners were doing the team proud. New team member Simon Ndirangu arrived in the U.S. highly fit in early spring, winning California's Carlsbad 5K and the Dallas 8K on successive weekends. Richard Kiplagat won March's Cooper River Bridge Run 10K in Charleston, South Carolina. Tom Nyariki returned to the U.S. roads earlier this month with a course-record victory at the Moonlight 5K in Milford, Connecticut, while Canadian Simon Bairu triumphed in his national capital with a sprint victory at the Ottawa 10K in May.
And now things are about to really heat up, with the Peachtree, Boilermaker, Bix, Beach to Beacon and Falmouth classics all taking place by mid August. Follow KIMbia's summer racing here in our Athletics News section and at KIMbia's Web site.
© Copyright 2007-2022 by Take The Magic Step®. All Rights Reserved.
Article Archive