A Sportive Community Comes Together at the BolderBOULDER 10K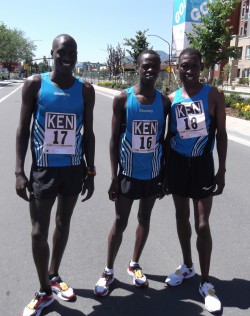 All road races have elements of passion and camaraderie that emerge throughout the course and at the finish line. Determined runners high-five spectators along the way, children with colorful signs cheer on their parents, and bands take to stages and belt out festive tunes. At the annual BolderBOULDER there is always an extra bit of energy that flows throughout the race—something special in the thin Colorado air that makes the 10-kilometer run one of the most enjoyable events in the world.
This year's 34th edition was no different.
Waving her hands in the air and flashing a radiant smile, Mamitu Daska broke the Finish Line tape in Folsom Field of the University of Colorado to win the women's competition with a time of 33 minutes and 6.5 seconds. It was Mamitu's third victory at the fifth-largest road race in the world, traditionally held on Memorial Day. The Ethiopian runner is a two time silver medalist at the IAAF World Cross-Country Championships and she has also won both the Dubai and Houston Marathons. At the BolderBOULDER on Monday, she seized the lead early in the race and was never challenged by the remainder of the field. Janet Cherobon-Bawcom of the United States took second (33:23.57), while American Olympic marathon bronze medalist Deena Kastor finished third in 33:28.48.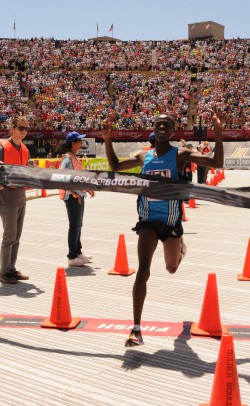 Allan Kiprono of Kenya, who is coached by Take The Magic Step's Dieter Hogen, won the men's race in 29:54.43 and helped Kenya to a second place finish in the International Team Challenge. "Winning the individual race and coming in second with my friends and training partners Lani Rutto and John Korir in the team competition made Memorial Day 2012 a day to remember for all of us," the 2012 Lilac Bloomsday 12K and Cherry Blossom Ten Mile Run winner told Take The Magic Step® afterwards.
"Living and training here in Boulder for several months every year makes it special for us to compete in the BolderBOULDER. The conditions for the race were tough. It was warm and windy, so nobody wanted to push the pace. Before the race, my coach told me to make it my day. I was confident and when I started pushing hard after 5K there was no more resistance from the Ethiopians who are always hard to beat. I can't wait to come back next year for another great race with my team."
Second place went to Tadese Tolo (Ethiopia) in 30:03.73, with his fellow countryman Brihanu Gedefa four seconds back in third (30:07.14).
In the non-elite citizen's run, former Romanian Olympic marathoner, Nuta Olaru won in 35:07.2. "I'm happy," a beaming Nuta told the Daily Camera Website. "At the start line there were so many good runners. Japanese runners, Romanian runners, USA runners, and I'm happy." American Josh Eberly broke the Finish Line tape in the men's citizen's race division with a time of 31:10.05.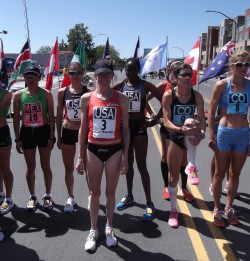 But elite results and fast times aside, there was plenty of energy and many incredible stories unfolding further back in the pack. The Boulder Running Company, one of the city's largest running stores, hosts the Beyond Limits Program, which assists 60-70 developmentally disabled people to train for and participate in the race. This charity program has been going on strong for the past 14 years. Every spring its founders Henry Guzman and Sherri Brown train with their disabled athletes twice a week for ten weeks. Beyond Limits' goal is for every runner in the program to finish the BolderBOULDER and inspire others with disabilities to do things they never thought they could.
Along with charity runners, a different group of equally determined athletes took to Boulder's Streets on Monday. They call themselves the BolderBOULDER Boldest Club. This stalwart group, which consisted in 2011 of just 68, has completed every BolderBOULDER since its first edition in 1979. "It's very special. I'm very proud of it. I really am," said member Stephanie McKay to reporters from the Daily Camera. In 2011 she was one of only nine women in the club; she finished this year—her 34th participation—with a time of 59:00.25 minutes.
Each year, the Dick's Sporting Goods BolderBOULDER 10K continues to make good on its longstanding commitment to minimize waste. According to organizers, 3.8 tons of untouched food is donated to the Community Food Share and 1,000 extra race shirts are donated to poor areas throughout the world.
And in keeping with the spirit of Memorial Day, organizers hosted eight satellite races that were held in conjunction with the original on military bases throughout the world. "It's exciting that those men and women are interested to run overseas, and then to have them be our guests at the BolderBOULDER the following year on Memorial Day," commented race director Cliff Bosley to the Daily Camera. "Staging the BolderBOULDER on Memorial Day is special."
Article Archive