A Look Back, A Look Ahead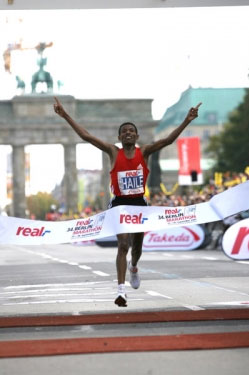 With a world record in the marathon, exciting world championships on the track, roads and grass, and the conclusion of the first World Marathon Majors, 2007 was a great year to be a fan of distance running.
With 2008 being an Olympic year, it promises to be at least as exciting. With that in mind, we gave some Take The Magic Step™ team members and friends a difficult task: Pick the most memorable race from 2007, and select the race in 2008 you're most looking forward to.
Uta Pippig, founder of Take The Magic Step, LLC
2007: Paula Radcliffe's fantastic comeback in the New York City Marathon with a little girl in her life! Great to see her running as a mom.
2008: The U.S. Olympic Marathon Trials in Boston. To see Joan Benoit Samuelson running, someone who has lived the running dream, competing with ambitious young runners who are so close to realizing their dreams as well after many long weeks of hard training for the U.S. Olympic Trials.
Bill Rodgers, marathon legend
2007: The men's Olympic Marathon Trials. It was, in fact, the most exciting race I have seen in years! It is terrific to see American distance runners get the limelight for once in such a memorable fashion. The Marathon Trials were given popular visibility in Central Park, New York City, and this race was the highest level Marathon Trials since the 1984 Trials.
2008: Being a 100% supporter of the Olympic Games, and being a sort of Bostonian, I am looking forward to similar results for our women at the Olympic Trials. The move of the Olympic Trials Marathon to New York City and Boston is the most significant step forward for American distance running in some years.
Scott Douglas, Take The Magic Step writer
2007: Ryan Hall's victory at the U.S. Olympic Marathon Trials. What a pleasure to witness not only a phenomenally gifted runner have his day of days, but also to see up close how much he enjoyed it.
2008: The women's Olympic Marathon Trials in April. Two of my training partners will be in the race. They're both in their mid 30s with kids, and do most of their training at 5:30 a.m. The field will be full of inspirational women like that, and I look forward to watching them have their well-deserved moment in the spotlight.
Matt Taylor, creator of ChasingKIMbia
2007: U.S. Olympic Men's Marathon Trials: Ryan Hall's dominating performance, Dathan Ritzenhein giving us a glimpse of his marathon potential, Brian Sell proving that both talent and hard work are needed, and the tragic death of Ryan Shay.
2008: The Olympic distance races (1500m, 5000m, 10,000m, marathon). There are several Americans who have the chance to medal. It's no easy task, but U.S. performances are continuing to improve across all the distance events. Someone will surprise us. Who will it be?
Jörg Wenig, athletics journalist
2007: The Berlin Marathon, because besides Haile's world record, there now is the chance of a future German world-class marathon runner. More than ten years after Uta's famous wins, Irina Mikitenko could be on her way to a great international marathon career. Placing second, she ran the fastest ever debut by a German (2:24:51).
2008: The Olympic marathons because these races are always very special and unique. There has been such a lot of drama and surprise in many of these races in the past.
Jutta Meier, Take The Magic Step translator
2007: Haile's run to the marathon world record at the Berlin Marathon. Being woken up by the helicopters hours before the race, feeling the excitement in the whole city, racing through Berlin on my bike to see him at different points of the course and watching him run at ease and finally breaking the record was so inspiring that I decided to also run a marathon next year…
2008: … which is not going to happen due to back problems, but I will run the half marathon (as a compromise) in April in Berlin, and as it is my first one, this is the race that I am looking forward to most in 2008.
Andy Edwards, athletics and sports commentator, Take The Magic Step contributor
2007: The women's marathon at the World Champs in Osaka. A thrilling contest in such tough conditions of heat and humidity and, refreshing after the big city marathons, the absence of pacemakers meant that we were looking at racing pure and simple, with no question of "Are the pacemakers on target?"
2008: The men's Olympic Marathon in Beijing. I don't consider Gebrselassie the favorite by any means, not least because of the absence of pacemakers. That means a very different race, as in my first answer.
Christoph Kopp, Elite Race Director of Frankfurt Marathon and other races
2007: For me the Dresdner Kleinwort Frankfurt Marathon was the highlight of the year since we never had such a depth of great results with six men breaking 2:10.
2008: I hope that we will be successful in Frankfurt again in the New Year. While I think that the Olympic marathon races will be very interesting I expect the best quality results to come from the World Marathon Majors.
Janett Walter, Take The Magic Step nutrition writer
2007: The most memorable race or races were the marathons (Boston, Chicago and New York) the KIMbia athletes participated in. Knowing the guys and seeing all the hard work and commitment of them, as well as coach Dieter Hogen, makes watching these races even more exciting than they already are and very memorable from a personal point of view.
2008: The Boston Marathon is the race I look forward to the most. Growing up and seeing Uta running it makes it very special to me even today.
Article Archive