A Kenyan Duel to Remember at this Year's Chicago Marathon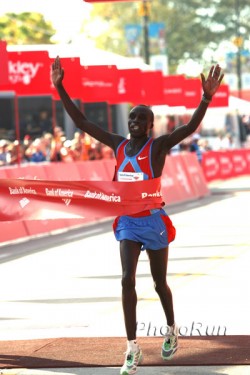 When Sammy Wanjiru set that famous breakneck pace in the Olympic Marathon this past summer—a pace so fast in the 75-degree temperatures that no one predicted he could hold it—he unknowingly set a new precedence for warm-weather marathoning: he demonstrated that it is indeed possible to run aggressively and fast in the heat and win. On Sunday, 26-year-old Kenyan, Evans Cheriuyot, reinforced this notion in the 31st running of the Bank of America Chicago Marathon by clocking a 2:06:25 in unseasonably warm and humid temperatures (over 70 degrees Fahrenheit at the finish). This was the 6th triumph in a row at Chicago for a Kenyan man.
Like the Olympic marathon, the pace was brutal from the moment the starting gun sounded. The lead pack went out in the first 5 kilometers in a mind-numbing 15:00 and didn't let up from there. It was so fast, it even dropped the race's pre-arranged rabbits—going under 30 minutes for 10K (29:24), sub 60 minutes for 20K (59:15), and on track for a sub 2:05 marathon at the half (1:02:27).
Racing alongside Cheriuyot the entire way were fellow Kenyans David Mandango and Emmanuel Mutai. After the 25K mark, the race took on a new dynamic. Mutai was the first to drop back. Despite gallantly, holding on with Cheriuyot and Mandango all that way, he couldn't maintain the suicidal, sub 4:50-per mile pace.
It then became a footrace between Mandango and Cheriuyot—both still clocking sub 30-minute 10K-pace. Mandango surged first—after the 35K, he took the lead up a slight hill.
Cheriuyot flagged—dropping as far back as 30 feet near the 1:50 mark. The race looked like it was Mandango's for a mile, but Cheriuyot, the winner of last year's Milan Marathon, a 59-minute half-marathoner and racing his second marathon of his life, refused to give in. He caught back up to Mandango and then dropped him-securing a 17-second lead at the 40K mark and crossing tape the victor. At the post-race press conference, Cheriuyot recalled this decisive moment as follows: "He [Mandango] was looking side [to] side…Me: I was feeling to push the pace."
Mandango, the fourth-place finisher of this year's London Marathon held steady and crossed the line in second place (2:07:37). Third place went to the Kenyan, Timothy Cherigat (2:11:39).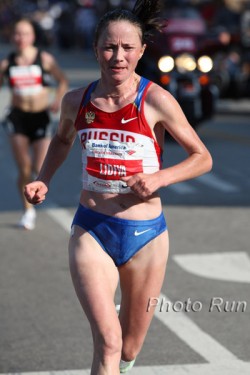 In the women's race, it was a good day for the Russian contingent. The winner of the 2007 Boston Marathon, 34-year-old Lidiya Grigoryeva (2:27:17) finished first, running an incredible 3-minute negative split for the second half. The whole race, she battled back and forth against her teammate Alevtina Biktimirova, the two exchanging the lead, until the 35K mark when Grigoryeva hammered it home for the win. Biktimirova finished second with a very respectable sub-2:30 performance (2:29:32). Kiyoko Shimahara from Japan placed third in 2:30:19. Romania's Constantina Tomescu-Dita, the Olympic Marathon champion, finished in fourth (2:30:57). Defending champion, Ethiopia's Berhane Adere, finished 10th in 2:34:16.
"The race developed slowly today which worked in my favor," said Grigoryeva (through a translator). "The pace started picking up and I was lucky that my friend [Biktirmirova] was there. I was very confident in my speed. That played a big role in my race."
Elite runners aside, a total of 35,000 runners competed in Sunday's race. By all accounts, despite the warm conditions, this year's marathon was much more runner-friendly than last year's marathon which had to be stopped at the four-hour mark, because of 88-degree temperatures.
Men's Top 10
| | | |
| --- | --- | --- |
| 1. | Evans Cheruiyot, KEN | 2:06:25 |
| 2. | David Mandago, KEN | 2:07:37 |
| 3. | Timothy Cherigat, KEN | 2:11:39 |
| 4. | Wesley Korir, KEN | 2:13:53 |
| 5. | Martin Lauret, NED | 2:15:10 |
| 6. | Emmanuel Mutai, KEN | 2:15:36 |
| 7. | Mike Reneau, USA | 2:16:20 |
| 8. | William Kipsang, KEN | 2:16:41 |
| 9. | Daniel Njenga, KEN | 2:17:33 |
| 10. | Richard Limo, KEN | 2:18:48 |
Women's Top 10 
| | | |
| --- | --- | --- |
| 1. | Lidiya Grigoryeva, RUS | 2:27:17 |
| 2. | Alevtina Biktimirova, RUS | 2:29:32 |
| 3. | Kiyoko Shimahara, JPN | 2:30:19 |
| 4. | Constantina Tomescu-Dita, ROM | 2:30:57 |
| 5. | Desiree Davila, USA | 2:31:33 |
| 6. | Colleen De Reuck, USA | 2:32:25 |
| 7. | Bezunesh Bekele, ETH | 2:32:41 |
| 8. | Paige Higgins, USA | 2:33:06 |
| 9. | Kate O'Neill, USA | 2:34:04 |
| 10. | Berhane Adere, ETH | 2:34:16 |
Tadese and Kiplagat Complete the Hat Trick in the World Half-Marathon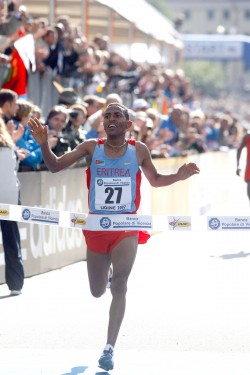 Zersenay Tadese and Lornah Kiplagat continue to be the standard bearers when it comes to the half-marathon. The Eritrean, Tadese, and the former Kenyan, Kiplagat (who has been running for the Netherlands since 2003), each won the gold medal for the third time in a row at this year's championships. Only Tegla Loroupe of Kenya has previously achieved this feat at the World Championships (from 1997 to 1999). This year, the World Championships were combined with the annual Rio de Janeiro Half-Marathon which attracted 15,000 participants.
In warm conditions topping 68 degrees Fahrenheit, Zersenay Tadese won by a wide margin in 59:56—almost two minutes ahead of the second and third-place finishers, Kenyan Patrick Makau Musyoki (61:54) and Ahmad Hassan Abdullah (Qatar/61:57). Lornah Kiplagat was equally dominant in defending her title. The 34-year-old finished in 68:37 with over a minute lead over the Ethiopian Aselefech Mergia (69:57) and Pamela Chepchumba (70:01) from Kenya.
Zersenay Tadese dominated from the start of the men's race. After going through 5K with a 12-runner pack in 14:06, he was soon out on his own. Tadese reached 10K in 27:55 and by then he had a lead of almost half a minute over the chase pack comprised of Stephen Kibiwott, Patrick Makau Musyoki, Ahmad Hassan Abdullah, and Albert Chepkurui. Tadese continued to build on his lead as the struggle for silver and bronze unfolded behind him.
Lornah Kiplagat held off the contingent of Kenyan and Ethiopian runners in the women's race. While runners from East Africa claimed the first eight places, the top spot was out of reach. Just like Tadese, Kiplagat surged ahead of her rivals early on. She broke free around the 7K mark, reaching 10K in 31:30 with a ten-second lead over the Ethiopians, Aselefech Mergia and Genet Getaneh, and the Kenyans, Peninah Arusei and Pamela Chepchumba. (Chepchumba won the bronze medal last year.)
The women's race unfolded similar to the men's: the defending champion pressed on ahead while the contest for silver and bronze heated up. At 20K, the chase group still consisted of Mergia, Getaneh, Arusei and Chepchumba. At the finish Getaneh was two seconds short and Arusei, who won both the Berlin Half-Marathon as well as the city's 25K race this Spring, was eleven seconds away from taking a bronze medal.
© Copyright 2008-2022 by Take The Magic Step®. All Rights Reserved.
Article Archive