Wilson Kipsang's Olympic Dream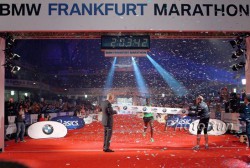 When Wilson Kipsang of Kenya crossed the finish line at the BMW Frankfurt Marathon last October, the clock inside the German city's Festival Hall showed 2 hours, 3 minutes, and 42 seconds—just four seconds off the world record. His compatriot Patrick Makau had run 2:03:38 in Berlin just a month previously, and if Wilson had covered each kilometer a mere tenth of a second faster (a hundredth of a second faster for each 100m) he, not Patrick Makau, would have been the world-record holder. However, this was not the closest margin in marathon history. In 1985, Britain's Steve Jones came within a second of the world best of 2:07:12 set by Carlos Lopes of Portugal six months earlier in Rotterdam.
The 29-year-old Wilson was initially disappointed at not setting a new record, but that feeling was short-lived when it became apparent how fast he had just run. "I'm very happy with the time. I'll try to do it [break the record] next year," he said. "This has given me even more motivation. It is always good to run against strong opposition. When you win a race with such a high-class field, it gives you a lot of self-confidence." And he was already focused on "my next big goal—the Olympic Games in London next summer."
In spite of that fabulous time in Frankfurt, the Kenyan Federation has yet to select Wilson for their Olympic marathon squad. For the moment he has to settle for being included in a group of half a dozen provisionally-nominated athletes. The competition in Kenya is so fierce that the Federation wants to wait to make its decision until after this year's series of spring marathons—which explains Wilson's entry in the Virgin London Marathon on April 22. In that eagerly-awaited race, he will compete against his rival, Patrick Makau.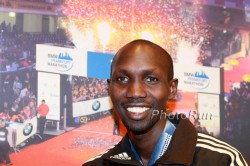 It was back in 2010 that Wilson made a name for himself when he ran to a new course record in Frankfurt. His goal had been to do it by going under 2:06:14 (the record at the time), but he ended up clocking a blazing 2:04:57. "I was confident because I had trained very hard. I knew that I'd done everything to achieve success," he admitted. "It is like taking an exam in school—if you don't start practicing until the night before, it is too late. You have to prepare well and then you can be confident."
Wilson's success comes in part from his weekly training volume of 140 to 200 kilometers a week. He lives in Iten, Kenya, and trains there with a group of other top runners. Among them are Wilson Chebet—who won the 2011 ABN AMRO Rotterdam Marathon in 2:05:27 and will also run in London on April 22—and, occasionally, Patrick Makau. Wilson does not have a regular coach. "We organize our own training programs," he explained. "The key aspect is that we follow the schedule to the letter. If we do that, we don't really need a coach."
In the build-up to his near-record of 2:03:42, Wilson made some changes to his workout schedule. "I did more quality training [speedwork] before the Frankfurt Marathon in 2011 than in the previous year," he said.
Wilson grew up about 31 miles from Iten and comes from a farming family. At approximately 7,660 feet above sea level, Iten is a haven for world-class Kenyan runners. Yet, surprisingly, Wilson didn't reap the benefits of this altitude training as a youth, because he grew up in the valley and didn't run much as a child, either. "I only started to notice in secondary school competitions that I had talent," he said.
It took a few more years before he began to train seriously. Following school, he started out working as a farm-product salesman. "After three years I wanted to do something different," Wilson recalls—and he began a training program in Iten. "I was 21 and wanted to see what I could do in running and I knew other runners who trained in Iten," he explained.
By then it was 2003, and Paul Tergat had set a new world marathon record in Berlin. "That was great motivation for me and many Kenyan athletes," said Wilson. "I watched the race on television and saw that running was a great sport and that you could earn a living from it. Paul Tergat's career also inspired me. Of course, I didn't know if I could do it. But I hoped I could achieve that kind of level and worked hard for it."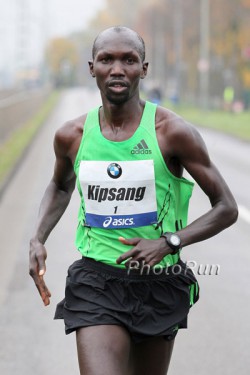 Wilson enjoyed success racing in Kenya, but he still didn't have a manager. Through the help of training partners, he made contact with the Dutch manager, Gerard van de Veen. Then he got a bit of a lucky break with his first European race in 2007. A Kenyan athlete who was due to run the Jever Fun Run in Schortens, a town in Northern Germany, was injured so, at short notice, Gerard van de Veen sent Wilson instead to compete in the 10-mile event. Another of the Dutch manager's Kenyan athletes had assured him that Wilson was in good shape. "I got an email from one of my runners in Kenya saying he had a strong new guy, and could I take him on," Gerard van de Veen now recalls. "I didn't have space, so I said no. I'd organized races in Europe for three young guys, but at the last minute one of them got injured, so I said to Wilson, 'Here is your chance.'"
And he took it! The last-minute substitute not only won the race, but also set the course record and established a world-leading time for the distance. "I was lucky and took my chance," Wilson recalls.
He is investing part of his prize money and appearance fees from running in building property in Kenya. He is also coaching his runner wife, Doreen, the mother of their three children. "She is doing very well," says the Frankfurt Marathon winner proudly.
Up to now, Wilson has represented Kenya just once in a global championship—the 2009 World Half Marathon Championships in Birmingham, England where he missed a bronze medal by just eight seconds, finishing fourth in 60:08 minutes. He is also one of the fastest runners of all time for the half marathon: his best of 58:59, which he set finishing second at the Ras Al Khaimah race in the United Arab Emirates in 2009, makes him the seventh-fastest in history.
However, it is the marathon where Wilson Kipsang's future lies. His performance in the classic distance, winning his last three races—all in course records—after his debut marathon in Paris in 2010 affirms that the Kenyan runner has a bright future ahead of him.
Wilson Kipsang's Marathons:
| | |
| --- | --- |
|  Time (Hours)  |  Place/Event |
|  2:07:13 |  3. Paris 2010 |
|  2:04:57 |  1. Frankfurt 2010 (Course Record) |
|  2:06:13 |  1. Lake Biwa/JPN 2011 (Course Record)  |
|  2:03:42 |  1. Frankfurt 2011 (Course Record) |
© Copyright 2012-2022 by Take The Magic Step®. All Rights Reserved.
Article Archive