35,000 Runners Battle the Wind in the Tokyo Marathon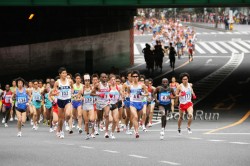 The Tokyo Marathon has come a long way since its inception two years ago. It used to be just an elite race for men only, but now has attracted over 35,000 runners, making it the largest marathon ever staged in Japan.
Similar to the inaugural race two years ago, conditions slowed down the times. This was unfortunate, since the race directors had postponed the race by a month this year in the hopes of getting more favorable weather.
In 2007, runners had to contend with freezing rain, but Sunday it was a strong headwind which caused problems for the elite runners and slowed down the winning time compared to Swiss runner Viktor Röthlin's 2:07:23 hour victory last year.
The decisive point in the men's race came at 36 kilometers. The 29-year-old Kenyan, Salim Kipsang, picked up the pace when he crossed a bridge and was able to drop both his rivals: Sammy Korir (Kenya), whose best time of 2:04:56, makes him the third-fastest marathoner of all time, and the Japanese runner, Kensuke Takahashi. Four kilometers from the finish, Korir and Takahashi were both overtaken by Kazuhiro Maeda of Japan who had made up a lot of ground. But Maeda was never posed a threat to Kipsang.
Salim Kipsang, who set his personal best of 2:07:29 at the 2007 Berlin Marathon, crossed the line in 2:10:27 for the biggest win of his marathon career. In 2005, he won the Paris Marathon in 2:08:04, but last year he wasn't much of a presence in the international marathoning scene.
Kazuhiro Maeda took second place with 2:11:01 hours. Kensuke Takahashi placed third in 2:11:25. Sammy Korir finished fourth in 2:11:57.
For the first time, this year's Tokyo Marathon included a women's elite field. This inclusion means that the Tokyo Marathon has now fulfilled all the necessary criteria for possible membership in the World Marathon Majors Series. In recent years, the organizers had held off from offering a women's race, because it would have conflicted with the long-established elite women's marathon in November. This race will no longer take place, however.
The newly minted women's marathon resulted in a home win: the 29-year-old Mizuho Nasukawa won with an impressive 2:25:38. It was her first victory in a major road race, but it still didn't mean she qualified for the World Championships, because the women's event was not part of the Japanese series of trial races.
Despite windy conditions, Nasukawa chipped nearly 5 minutes off her previous best time of 2:29:49. She ran a smart race—opting to draft behind a group of men after she had taken the lead shortly before 30K. Over three minutes behind was Yukari Sahaku (Japan/2:28:55) in second place. Third was Reiko Tosa of Japan, bronze medalist at the 2007 World Championships in Osaka, in 2:29:19. Alevtina Biktimirova (Russia) finished fourth in 2:29:33.
Pacemaker Benjamin Kiptoo Surprises the Field at the Rome Marathon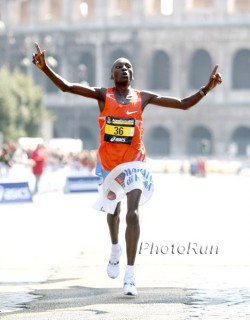 It's rare but it does happen from time to time. In yesterday's running of the Rome Marathon, a pacemaker upset the favorites. The surprise rabbit was the Kenyan, Benjamin Kiptoo. He broke the tape in 2:07:17 hours—a course record and the fastest marathon ever run on Italian soil. This year, only Haile Gebrselassie (Ethiopia) has run faster than Kiptoo with his victory in Dubai in 2:05:29. There was also a surprise in the women's race where the Ethiopian, Firehiwot Dado, took the title with 2:27:08.
And like the Tokyo Marathon, the decisive moment came at 35K. Both Benjamin Kiptoo and his fellow pacemaker and compatriot Joseph Ngeny decided not to drop out of the race. Instead, they broke away from Philip Manyim and Paul Kirui. Kiptoo's winning time was a two minute improvement over his old PR which was 2:09:24.
Paul Kirui moved up to take second place in 2:08:23. "After 25 kilometers I felt good, so I had a go," Benjamin Kiptoo explained to the IAAF Web site afterwards. The winner and runner-up both train with the same group that is managed by Italian coach, Dr. Gabriele Rosa. The top ten places in Rome went to Kenyans. Joseph Ngeny was third in 2:08:41 and Hosea Rotich finished fourth with 2:09:47.
In the women's race, Italian hopes were resting on Anna Incerti who improved her best time to 2:27:42 when she won the Milan Marathon last year. Incerti had also won the Rome Ostia Half-Marathon three weeks before. But it wasn't to be her day. The Italian encountered problems after 30K and could only finish fifth. However, her time of 2:29:33 was still the second occasion in which she has run under 2:30.
The winner, Firehiwot Dado, finished two minutes ahead of Incerti. Her marathon best going into the race was 2:37:34 so she took ten minutes off her personal best—an incredible accomplishment! Before Sunday, she had never been much of a factor on the international scene. Tetyana Filonyuk (Ukraine/2:27:43) and Haile Lema Kebebush (Ethiopia/2:28:08) finished second and third respectively.
Martin Lel und Kara Goucher Demonstrate Their Fitness in Lisbon
Martin Lel and Kara Goucher gave a clear sign in Lisbon that they are in top form for their April marathons. The Kenyan, who will go into the London Marathon on April 26 as defending champion, won the Lisbon Half-Marathon in 59:56 minutes. Kara Goucher dominated the women's race in Portugal, winning in 68:30. The American is preparing for the Boston Marathon on April 20.
The men's race in Lisbon turned into a four-way contest. At the end Martin Lel emerged as the clear winner but the three runners behind him finished within ten seconds of the champion. Jaouad Gharib (Morocco), who has often been on the losing end against Martin Lel in major marathons and will also be running in London, showed highly promising form. He also broke the hour on the fast Lisbon course, clocking 59:59. Kenyans took the next finishing positions: Robert Cheruiyot was third in 60:05 and Gideon Ngatuny fourth in 60:06.
It certainly wasn't a good day for the Olympic Marathon champion, Sammy Wanjiru. The Kenyan, who will also be running the London Marathon, had to settle for seventh place, well down the field in 61:23. Wanjiru holds the world record for the half-marathon with 58:33.
Kara Goucher, who finished third in her marathon debut in New York last year, ran from the front of the race in occasionally windy conditions. After going through 15K in 49:34, the U.S. record holder for the distance (66:57) increased the tempo and finished in 68:30. Alice Timbilili was second (69:00), ahead of her Kenyan compatriot Jane Kiptoo (69:07). The two-time ING New York City Marathon champion Jelena Prokopcuka (Lithuania), was fourth in 69:58.
Viktor Röthlin Forced to Withdraw from London Marathon
Europe's current best male marathoner had to withdraw from the London Marathon on April 26. Viktor Röthlin is suffering from a pulmonary embolism which means he has to cease all training for four weeks according to his Web site. A pulmonary embolism is a serious medical condition that can lead to lung tissue failing to function.
Röthlin had originally intended to continue altitude training in Kenya until March 20 as part of his preparations for running the London Marathon. But the 34-year-old runner had to cut short his training camp and return to Switzerland for treatment. Well over a month ago, he had dropped out of the Ras Al Khaimah Half-Marathon in the United Arab Emirates, suffering from stomach problems.
In recent years, Röthlin had concentrated on preparing for the major championships. He surprised the running world when he won a bronze medal at the 2007 World Championships in Osaka. At the Olympic Games in Beijing he finished sixth as the leading non-African marathoner. He won the Tokyo Marathon in a personal best of 2:07:23 a year ago. This year, Röthlin wanted, for the first time, to concentrate on the top spring and autumn marathons and wasn't planning to run the World Championships.
© Copyright 2009-2022 by Take The Magic Step®. All Rights Reserved.
Article Archive