14,000 Women Follow the Footsteps of Two Boston Marathon Pioneers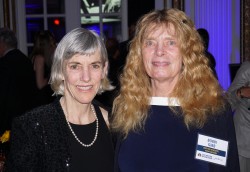 As the 121st Boston Marathon got under way on April 17, more than 14,000 women—incredibly, 46 per cent of the entire field—crossed the starting line of the fabled race. They represented the legacy of two amazing woman who dared to challenge the race's men-only barrier half a century ago.
The first was Bobbi Gibb, now 74 and an accomplished painter, sculptor and neuroscience researcher. In 1966 she just wanted to run the 26.2 miles between Hopkinton and Boston on Patriots Day, but her application was turned down because back then it was believed that no woman could run that far.
Undeterred, Bobbi traveled to Boston, hid in forsythia bushes close to the start—and scrambled out to join the men as the race began. Bobbi proved all the experts wrong by finishing in 124th place in impressive 3 hours, 21 minutes and 40 seconds.
Two Women Who Inspire Millions Worldwide to Run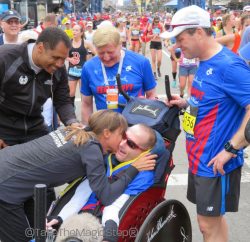 A year later—with the ban on women still firmly in place—Kathrine Switzer managed to get a bib number by using only her initials on her application. And she survived an attempt by a furious male official to shove her off the course to finish in 4:20.00.
By next year the front door to Boston was finally open. But few would have been brave enough to predict that 50-plus years later the number of women officially entered in the Boston Marathon would almost equal that of the men.
Both pioneering women were recognized for their historic feats this year. Uta—a three-time Boston winner—saw Bobbi, honored as Grand Marshall, lead the first of the 30,000 runners down Boylston Street. And she congratulated Kathrine, now 70 and reprising her 1967 run, as she crossed the finish line in 4:41:31.
On a day of high emotion, California's Jordan Hasay was inspired to a courageous and unexpected third place in the women's race by the memory of her mother, who passed in November. "I felt blessed that she was out there running every step with me," she said afterwards. And as American hero and former Boston winner Meb Keflezighi completed his final Boston Marathon (in 2:17:01) at age 41, he paused to honor the fans and pay special tribute to families and friends of some of the people who were affected by the tragic events of 2013.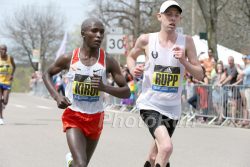 Temperatures—in the mid-seventies—mitigated against fast times. Hard to believe, given Kenyan dominance of the distance, Geoffrey Kirui, 24, became the first of his countrymen to win Boston in five years. But his victory came only after an epic dual over the first 23 miles with Galan Rupp, from Portland, Oregon.
With both men making their Boston debut, they dropped favorites one by one and as they hit Heartbreak Hill, Galan, the Rio Olympic Marathon bronze medalist, and Geoffrey were side by side and alone in the lead.
Geoffrey surged at 22 miles, but was matched by the American. Then the Kenyan sped up to the fastest mile of the day—4.28—and opened up a 12 second gap. He finished first in 2:09:37—21 seconds ahead. Said Galan, "He made a few good moves at the top of Heartbreak Hill and that got me." Japan's Suguru Osako, a 10,000-meter Olympian running his first marathon, was third in 2:10:28.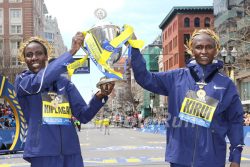 The women's race produced another great marathon finish, with Kenya's Edna Kiplagat, a 2-time IAAF World Champion, bursting away from the pack around the 19-mile mark and running alone to a 2:21:52 victory. Behind her came Rose Chelimo of Bahrain in 2:22:51. Jordan Hasay, 25, in third place, broke the American women's record for a debut marathon with her terrific 2:23:00.
The night before the race Uta paid a nostalgic visit to the finish line to talk to the helpers, volunteers, and late-working race organizers. "It was like coming home again," she smiled. In the 5K run two days before the marathon she joined nearly 10,000 other runners on the famous home stretch down Boylston Street, finishing in an impressive 21:22. And as usual she was back at the finish line on Marathon day to greet the runners and the 19 women and 13 men of the Hoyt Foundation, the charity runners she supported on their way to Boston. It was a tribute to the team, and despite the heat every one of them finished. Not only did the team members from all over the U.S. and Canada give it their all on the road between Hopkinton and Boston, but they shared in another triumph as they closed in on Team Hoyt's goal of $150,000 that will go towards helping special needs children.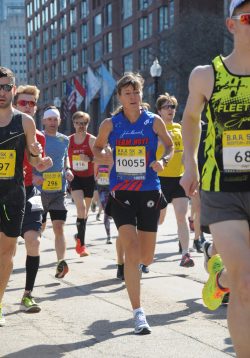 The runners of the Hoyt Foundation and those of the Dana-Farber Marathon Challenge—another charity close to Uta's heart—were among the 2,600 runners from 150 charities who pledged to each raise $5,000, and were expected to push the total raised since the Boston Marathon Charity program started in 1989 past an astonishing $200 million.
Team Hoyt was named for Dick and Rick Hoyt, the legendary father-and-son wheelchair racers who completed 32 Boston Marathons together. So celebrated are they that runners at the starting point in Hopkinton pass a statue of the duo! Dick finally retired from marathoning at 74.
This was the third year that his designated successor, 47-year-old dentist Bryan Lyons, pushed Rick—born 55 years ago with cerebral palsy—over the finish line on Boylston Street in close to five hours.
"I'll never forget the excited smile on Rick's face and his exuberance of joy as he and Bryan crossed the finish line. Greeting the runners of the Hoyt Foundation is so close to my heart," said Uta.
And she treasured the history made on this day. "It was a wonderful celebration of women's running," she said. "What Bobbi and Kathrine started so heroically 50-plus years ago was celebrated today as thousands of women crossed the finish line in Boston.
"Bobbi and Kathrine are pioneers who paved the road for millions of women runners worldwide."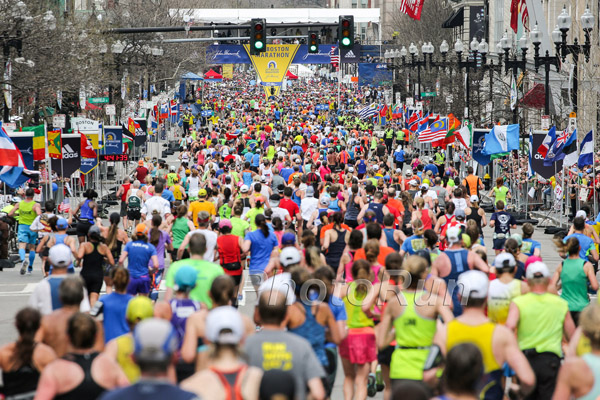 Reading Suggestions:
If you would like to start running, check the following 5K schedule: Run Your First 5K
© Copyright 2017-2022 by Take The Magic Step®. All Rights Reserved.
Article Archive