Uta and the STRIVERS Share Hopes and Dreams
By David Wright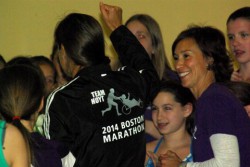 The sheer joy of running lights up the faces of these impressive middle school girls in Massachusetts—members of a unique program that is racing to change many lives for the better.
The purple uniforms of the STRIVERS Running Club for Girls have become a familiar and welcome sight in their home town of Natick, with more than 300 4th, 5th, and 6th graders so far going on to graduate—by completing a 5K race.
When Uta met the STRIVERS recently, she was so impressed that she surprised them three weeks later by flying in to join them in a Mothers Day race they organized to raise money for a host of charitable causes. "Their hopes and dreams have been channeled into running and I was mesmerized by what the team is achieving," she says.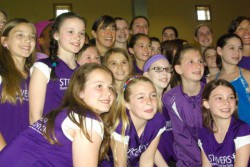 The STRIVERS club was founded five years ago by Colleen Phelps, a local mom with a passion for running and a record of seven fast marathon finishes. Its mission, she says, is "to build strong, confident, athletic, and community-loyal young women." When Uta met Colleen, she says, "It was immediately obvious that she was the soul of the program, and it was inspiring to be allowed to witness her dedication and commitment to these wonderful young girls."
Each spring and fall, Colleen and fellow coach Kathy Landry introduce a new team of girls to running. They also encourage them to strive for personal growth with the help of motivational speakers, nutritional seminars, and author-led discussion groups. And they promise parents, "This allows your daughters to strengthen their social skills, confidence, and self-esteem as young ladies."
The multi-faceted training regimen climaxes on graduation day—when the youngsters complete a 5K. The STRIVERS' success rate so far? 100 percent!
It is not just the girls who benefit: Along the way, successive STRIVERS classes have raised a staggering $50,000 for local charities and volunteered hundreds of hours to the Natick Service Council. Beneficiaries include autism research, a therapeutic horseback riding program for children, and Embrace a Family, a non-profit helping families impacted by cancer.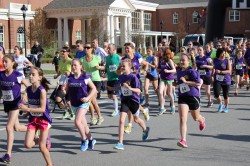 At the start of the Mothers Day race, the excited STRIVERS crowded around Uta. "They asked me, 'Can we run with you?'" she says. "I was so touched."
Colleen Phelps said, "Thank you Uta for inspiring an entire community."
And 12-year-old Juliana Green summed up the impact made by the three-time Boston Marathon champion when she told the Boston Globe, "I really liked Uta—she inspired me to run a marathon some day."

© Copyright 2014-2022 Take The Magic Step. All Rights Reserved.
Article Archive