1990—Uta Pippig's Start to a Great Running Career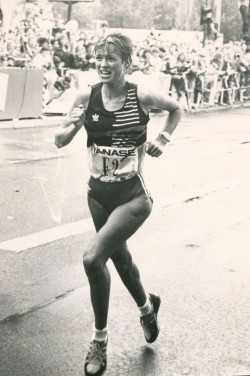 Uta Pippig won the Berlin Marathon in 1990 with a new course record of 2:28:37 hours. This was followed by more victories in Berlin. She also won the New York City Marathon once and the Boston Marathon four times. In 2002, she retired from competitive sports. Uta, who was born in Leipzig, now lives in Colorado (USA) most of the time. On September 27, she will fire the starting gun for the 42nd Berlin Marathon. Uta described her memories in an interview with Andreas Gandzior of the Berliner Morgenpost.
It is 1990, the first Berlin Marathon goes through East and West, you win in a new course record time and are running through the Brandenburg Gate—which thoughts come to your mind when you think of this historically significant run?

Uta: I can remember the boundless joy of the people, the relief, tears of joy. The fall of the Wall was a new beginning for many of us. We could actually run through the Brandenburg Gate into another future—together and full of hope.
Have you ever thought about what your career and your life might have looked like had the Wall not come down?
Uta: No, I didn't think about that. The freedom we were able to feel back then continues to have this enormous power—right up until today. This makes me look ahead and not backwards.
When you crossed the finish line as the winner in 1990, which was stronger—the joy that you won or the feeling of freedom which accompanied Germans nearly everywhere in the country in those months?
Uta: Of course it was the feeling of freedom. I was a running girl from Petershagen, a small town east of Berlin, who was able to participate in this marathon just like many of my running friends from the West. Finally. I was so excited that I could neither feel my legs—how fast they were moving—nor my breath or the exhaustion at the end of the race. And I was lucky to be successful at home. I saw all these people at the finish who were full of joy and enthusiasm. It was a very moving run, an unbelievable day, a time which has deeply impressed and reunited us.
Did you have to "pinch" yourself at the races in Boston and New York City later on in order to realize that you were running through the greatest cities of the world?
Uta: It really was like a dream. And the 90s went by so quickly—in marathon record pace. I sometimes wanted to stop the clock. When it had all slowed down a bit after the end of my career I returned to these cities and visited a few places: like the 'Peace Trail' in Boston, and I ran with friends in Central Park in New York, and at home in Berlin I chased after history's traces.
What is your connection to Berlin nowadays? You are a special guest at the marathon, will be giving the starting signal. Will there be time for private things? Will you be running a few loops in the Tiergarten for example or won't you have time for any of that?
Uta: I have deep, heartfelt feelings towards our city. I look into people's faces and I sometimes think I can feel a little of their sorrows and joys. Many grew up here like me and we have witnessed the change. I still have my apartment in Steglitz as I did 25 years ago. I go running along the Teltow Channel, catch up with friends. I also like running in the Tiergarten, the little oasis in the middle of the city. And I love showing friends from abroad our new Berlin.
Posted September 21, 2015